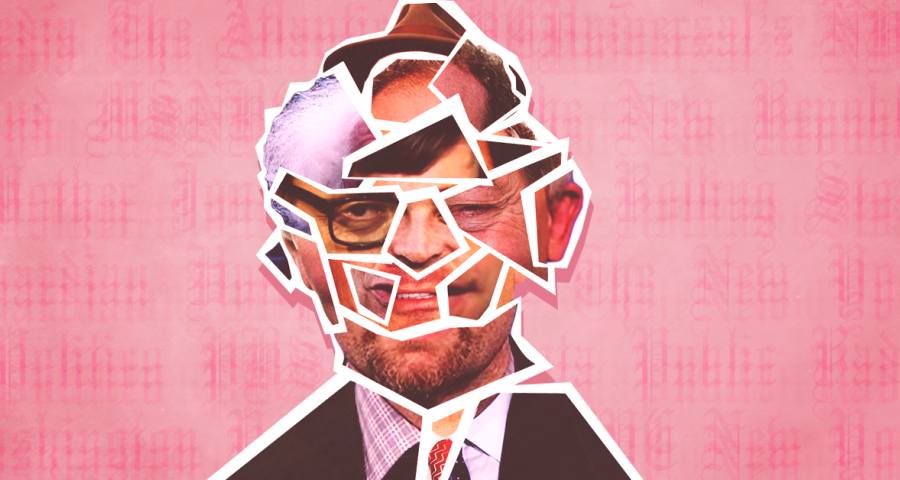 Research/Study
How news outlets have treated reports of sexual harassment in their own newsrooms
Since The New York Times published the first investigative report on October 5 about Hollywood producer Harvey Weinstein's sexual misconduct, at least 20 news outlets have grappled with reports of sexual harassment or assault by one or more of their own employees. (This is not to mention the Fox News-heavy list of high-profile media figures named in sexual harassment reports prior to this Weinstein moment: Roger Ailes, Bill O'Reilly, Eric Bolling, and others.)

The outlets -- ranging from the nation's top broadcast networks and leading print publications, to progressive-leaning, culture-heavy online outlets -- have elected to handle these reports in very different ways. Some, like NPR, have covered the allegations head-on, contributing exclusive reporting from within the newsroom and following up on the story long after other media outlets have moved on. Others have leaked internal statements, planned for other employees (often women) to first break the news publicly, or focused instead on the reports of misconduct in other newsrooms or in other fields altogether. In fact, the vast majority of recent stories about media figures' reported misconduct have been broken by other outlets.

Writers (also often women) are already doing the intellectual work of understanding the connections between news personalities harming others in secret while exhibiting misogynist tendencies in their public lives and in their developing of political narratives. Less has been said, however, about the messier internal decisions outlets must make beyond the polished messaging and final products they deliver to audiences.

So far, there does not appear to be a set of best practices for outlets to follow, particularly for addressing a topic that's already sensitive to discuss and involves both internal considerations (including employee protections) and external transparency. When the Columbia Journalism Review attempted to survey 149 newsrooms -- reaching out to journalists, freelancers, and human resources professionals -- hundreds of journalists participated and dozens (again, mostly women) shared stories of their own harassment. None of the newsrooms, though, chose to provide details of existing sexual harassment policies.  

Of course, we'll never know the full extent to which decision-makers in various media outlets allowed misconduct to persist before the recent flood of reporting forced their hands. Leadership at even the most conscientious outlets, then, can never be fully lauded for their reporters' efforts now. But here's how media outlets so far have handled sexual harassment and assault reports involving their own employees, both behind-the-scenes (from what we know) and publicly.

If you know of an internal or external media response that should be added, email pvogel@mediamatters.org. We will update this list periodically.

American Media/National Enquirer

On December 5, The Associated Press' Jake Pearson and Jeff Horwitz reported that Dylan Howard, American Media chief content officer and editor-in-chief of the National Enquirer, had been investigated in 2012 following complaints of workplace misconduct. Howard quit after the internal report was finalized and no evidence of "serious wrongdoing" was found. He was rehired a year later and promoted to a position at the company's New York office. Different details of the complaints against Howard for sexual comments and other inappropriate behavior, as well as encouraging reporters to have sex with sources, was corroborated by 12 different sources. The existence of the inquiry and report was confirmed by an outside investigator and a lawyer for American Media. Howard was previously implicated in Ronan Farrow's reporting on Harvey Weinstein's use of media to keep reports of his serial abuse of women from becoming public. The Farrow investigation included email exchanges between Howard and Weinstein that detailed efforts to discredit at least one of Weinstein's accusers; more details about the collaboration were later reported in The New York Times. A spokesperson for American Media Inc. said that the company "stands by" its 2012 investigation of Howard and referred to the new reporting as "baseless allegations."

The Atlantic

On October 24, Politico, The New York Times, and The Atlantic all published investigative pieces detailing reports of sexual misconduct against Leon Wieseltier, as well as Wieseltier's apology and firing from a new venture with Laurene Powell Jobs' Emerson Collective (also the majority stakeholder of The Atlantic). Wieseltier was serving as a contributing editor at The Atlantic at the time of the reporting, and was previously the longtime literary editor of The New Republic. The Atlantic's Adrienne LaFrance wrote in her October 24 piece that the publication's editor-in-chief "couldn't say whether Wieseltier would remain a contributor."

Three days later, The Atlantic published a lengthy investigative piece about Wieseltier's serial misconduct written by Contributing Editor Michelle Cottle. The piece included a first-hand account from the author's time at The New Republic, and reported that The Atlantic had announced internally that morning that it was "severing its ties" with Wieseltier. The publication also said in the internal memo it was removing Wieseltier's name from its masthead.

CBS

CBS addressed reports of sexual harassment by one of its employees more than a month before it announced Charlie Rose's firing. On October 26, Variety reported that Rick Najera, CBS' Diversity Sketch Comedy showcase director, had resigned "following an investigation into allegations that he made inappropriate comments to performers." CBS provided a statement to Variety saying it had previously investigated Najera and taken disciplinary action, but that new information had spurred a second investigation and Najera's resignation. 

On November 20, Irin Carmon and Amy Brittain detailed in a lengthy Washington Post investigation stories from eight women who said CBS This Morning co-host Charlie Rose "made unwanted sexual advances toward them, including lewd phone calls, walking around naked in their presence, or groping their breasts, buttocks or genital areas" while working at his PBS show. Additional women shared stories of Rose's misconduct with Business Insider and The New York Times following the initial report. In the hours after the Post report was published, CBS Evening News detailed the women's accounts and shared a statement from CBS saying Rose had been suspended. The following morning, CBS This Morning devoted three segments to the story, including an interview with Brittain, monologues from co-hosts Gayle King and Norah O'Donnell, and a (previously planned) roundtable discussion with women who had experienced workplace sexual harassment.

CBS News correspondent Bianna Golodryga soon reported that three additional women said Rose harassed them at CBS News. The investigation said the women did not report the misconduct to CBS' human resources. The report clarified, "We learned about these cases not from the HR department, but from our own investigation of his behavior." Golodryga again discussed Rose in a report about Matt Lauer's firing from NBC the following week. Politico's Michael Calderone reported that CBS' 60 Minutes did not mention Rose, who had been a contributor to the program, in its 50th anniversary special intro on December 3.

On November 26, The New York Post reported on a lawsuit from a former CBS employee "alleging rampant sex discrimination at the network," and implicating her former boss at 60 Minutes, Robert Klug. A CBS spokesperson told the Post that the employee's allegations were "wholly without merit."

CNN

On November 29, Washington Post reporter Paul Farhi tweeted that CNN had fired Teddy Davis, a senior producer for State of the Union, for "behavior 'that does not align with the standards and values of CNN." Farhi added that three women had made complaints about Davis. A CNN statement added that a "comprehensive investigation was conducted as soon as this matter was brought to our attention." Within hours, Jake Tapper, host of State of the Union, confirmed the Farhi tweet and added that he was "fully supportive of CNN's action." On December 5, Tapper tweeted that he did not "think news media should pat ourselves too hard on the back for ridding our newsrooms of high profile sexual predators," and pointed to the pattern of other outlets breaking stories before a reported harasser's employer took actions; he did not explicitly mention Davis. 

Fox News

On October 21, The New York Times reported that former Fox News host Bill O'Reilly had agreed to a $32 million settlement earlier this year with former Fox legal analyst Lis Wiehl. Wiehl had stated that O'Reilly engaged in "repeated harassment, a nonconsensual sexual relationship and the sending of gay pornography and other sexually explicit material to her." As part of the settlement, Wiehl signed an affidavit "stating that the two sides had resolved their dispute and that she had 'no claims against Bill O'Reilly concerning any of those emails or any of the allegations in the draft complaint.'" The $32 million settlement is the sixth known settlement O'Reilly or Fox has made related to sexual harassment complaints against him, and Fox News renewed O'Reilly's contract with the network in February with at least some knowledge of the numerous settlements.

In the 48 hours after the October Times story was published, Fox News devoted just one, five-and-a-half-minute segment on MediaBuzz to discussing the new $32 million settlement and Fox's decision to renew its contract with O'Reilly.

On November 2, Newsweek reporter Melina Delkic wrote about public reports of misconduct by Fox News' Juan Williams when he worked at The Washington Post. Williams was subsequently hired by NPR -- and eventually Fox News -- after the harassment complaints were made public (Williams no longer works for NPR). Fox News did not respond to a request for comment on the Newsweek piece.  

On November 30, a video of Bette Midler's interview with Barbara Walters in 1991 resurfaced in which Midler described Fox News' Geraldo Rivera assaulting her. Midler shared the video herself, and reiterated her story, also saying Rivera never apologized. The video's resurfacing coincided with Rivera publicly defending reported harassment and assault by NBC's Matt Lauer. The following day, Fox News said it was "troubled" by Rivera's comments and Rivera later tweeted apologies about his statements, as well as a (sort-of) apology to Midler.

Reports of serial sexual harassment by multiple high-level employees of 21st Century Fox pre-date the current post-Weinstein moment. For more extensive coverage of Fox News and 21st Century Fox actions related to reported misconduct by Roger Ailes, Bill O'Reilly, Eric Bolling, Charles Payne, and other current and former 21st Century Fox employees, click here, here, here, and here.

The Guardian

On November 10, BuzzFeed News' Mark Di Stefano reported that Ian Prior, The Guardian's digital editor, had been suspended pending an investigation into harassment complaints. (Earlier this year, BuzzFeed News reported on a workplace complaint that former Guardian US Deputy Editor Matt Sullivan had groped another employee at a work event.) The Guardian provided a general statement to BuzzFeed, but did not confirm the specific case related to Prior.

HuffPost

On November 14, Gizmodo's Melanie Ehrenkranz reported new details related to the treatment of a HuffPost employee who had been reported for sexual harassment by multiple employees. Ehrenkranz independently confirmed Gawker's reporting in 2014 that Arianna Huffington, the founder and then-editor-in-chief of the outlet, had taken measures to protect former Managing Editor Jimmy Soni when he was investigated for sexual harassment. Ehrenkranz's new reporting confirmed that, after a human resources investigation into Soni's conduct was initiated, Huffington worked to have Soni transferred to HuffPost India -- and that Huffington knew about Soni's actions prior to the investigation. Huffington, who stepped down as editor-in-chief in 2016, did not comment on the record for the Gizmodo story.

Minnesota Public Radio

On November 29, The Associated Press' Jeff Baenen reported that public radio personality Garrison Keillor had been fired by Minnesota Public Radio (MPR) over "allegations of improper behavior." It appears Keillor himself tipped AP about the firing, and suggested the reasoning for his termination was "more interesting and more complicated" than what MPR knew. MPR quickly confirmed the firing, releasing a statement that said an independent investigation was still ongoing. MPR President Jon McTaggart said, "While we appreciate the contributions Garrison has made to MPR and to all of public radio, we believe this decision is the right thing to do and is necessary to continue to earn the trust of our audiences, employees and supporters of our public service." MPR announced in the statement that it would no longer broadcast or rebroadcast programs featuring Keillor, and would change the name of Keillor's show, A Prairie Home Companion, which has been hosted by a new individual since Keillor retired from hosting it last year.

Mother Jones

On November 2, Politico's Michael Calderone reported that Mother Jones had investigated its Washington bureau chief David Corn in 2016 for "inappropriate workplace behavior" and that the magazine "would now probe the allegations further" in light of new information. CEO Monika Bauerlein and Editor-in-Chief Clara Jeffery both provided statements to Politico saying they had not seen the new information -- two emails from 2014 and 2015, around the time of the initial investigation -- but acknowledged addressing complaints of "inappropriate touching and comments" at that time. Politico also reported they said "they believe Corn has stopped those behaviors." Current and former Mother Jones staffers told Politico that they felt Corn's behavior was somewhat minor, but made the office culture uncomfortable for women. Others expressed concerns with how the organization handled complaints, though current staffers "indicated that concerns about Corn's behavior seem to have abated."

NBCUniversal's NBC News and MSNBC

In recent weeks, four NBCUniversal employees have been named for sexual misconduct. On October 26, TheWrap reported that Ken Baker, a correspondent for the NBC-owned E! News, was taken off the air pending an internal investigation into multiple reports of inappropriate text messages and an unwanted kiss. E! sent a statement to TheWrap for its report on Baker, saying, "We take all complaints of misconduct seriously." One month later, E! told TheWrap that the investigation into Baker's misconduct was ongoing, but that "unrelated to the investigation," Baker and the network had "mutually agreed that he will not be returning to his role on E! News."

Earlier in November, Variety wrote that Matt Zimmerman, the senior vice president of booking for NBC News who oversaw the department that likely invited reported serial predator O'Reilly to appear on Today with Matt Lauer, had been fired following reports he'd "engaged in inappropriate conduct with more than one woman at NBCU." The report included a statement from NBC News.

Also on October 26, CNN's Oliver Darcy published an investigative piece in which five women said then-NBC News analyst and MSNBC contributor Mark Halperin had sexually harassed or assaulted them while he worked as political director at ABC News in the 1990s to the mid-2000s. MSNBC issued a statement saying Halperin would leave his roles at both MSNBC and NBC News. More women came forward in subsequent reports, and the outlets later confirmed Halperin's contract with both had been terminated.

NBC and MSNBC both addressed the reports about Halperin on air. On October 27, Morning Joe co-host Mika Brzezinski made a statement about the show's former frequent guest: "I'll speak for both Joe [Scarborough] and myself here. Our hearts break for Mark and his family because he is our friend, but we fully support NBC's decision here. We want to know more about these disturbing allegations. We want to hear the stories. We need to know what happened. And we're not going to avoid the story just because he is our friend. We're going to cover it." The reports were also covered on Today, Megyn Kelly Today, and NBC Nightly News. Former CNN producer Eleanor McManus, one of the women who say Halperin harassed them, appeared on NBC's Megyn Kelly Today to discuss her experience.

And then there's Matt Lauer, the longtime co-host of NBC's Today. On November 29, The New York Times' Jim Rutenberg tweeted that NBC had fired Lauer for "inappropriate workplace behavior." Minutes later, co-host Savannah Guthrie and guest co-host Hota Kotb confirmed the report in an on-air announcement, saying the decision was made after receiving a "detailed complaint from a colleague about inappropriate sexual behavior in the workplace." The statement from NBC News Chairman Andy Lack, from which Guthrie read on air, also stated that the network had reason to believe the report was not an isolated incident. Lack has since announced an internal investigation into company policies.

Almost immediately after the initial announcement, several reporters confirmed that they'd been working on investigations of Lauer or were aware of investigations and that NBC knew about the coming stories as well. At least one reporter, Yashar Ali, said he'd spoken with women privately about Lauer months earlier. Later reporting, including the anticipated investigative pieces from The New York Times and Variety, added additional accounts of misconduct and said that NBC leaders and Lauer's co-hosts were aware of his serial misconduct for years prior. Lauer's misogyny was certainly no secret either -- he had publicly berated women, victim-blamed, and reinforced sexist stereotypes in interviews before. In 2012, when former co-host Ann Curry was reportedly pushed out of the network, Lauer and the "boys' club atmosphere" at Today were implicated. And Lauer's September interview with O'Reilly gave the former Fox News host space to attack a woman who had reported him for harassment and deny knowledge about the multiple settlements he'd reached for misconduct.

On December 8, co-host Mika Brzezinski announced on Morning Joe that MSNBC contributor former Rep. Harold Ford, Jr. (D-TN) would not make appearances on the network until reports of his misconduct were resolved. An MSNBC spokesperson made a similar statement about contributor Glenn Thrush, of The New York Times, in November. 

NBC has notoriously maintained silence on several reports related to harassment and assault by powerful men outside of its offices. Freelance NBC News correspondent Ronan Farrow publicly called out the network for passing on his months-long investigation into multiple reports of harassment and assault by Weinstein; the piece eventually ran in The New Yorker. Last fall, the network sat on the Access Hollywood footage depicting then-candidate Donald Trump bragging about committing sexual assault and was eventually scooped by another outlet. It subsequently waffled on firing its own employee, Billy Bush, for his participation in the damning exchange, eventually firing him 10 days later.

The New Republic

On October 30, The New York Times' Sydney Ember reported that The New Republic owner Win McCormack had announced in an internal staff communication that Hamilton Fish, the magazine's president and publisher, was "taking a leave of absence pending an investigation into complaints by female employees at the magazine." On November 3, Fish resigned from The New Republic and McCormack told staff that an internal inquiry into the complaints would continue.

A week earlier, Leon Wieseltier, former longtime literary editor for The New Republic, was named in investigative reports for serial sexual harassment during his time at the publication. In a statement to Politico, the former owner of The New Republic, Chris Hughes, said that he had been made aware of a harassment complaint against Wieseltier in 2014 and that the magazine had directed Wieseltier "to immediately cease any communication" with the employee named in the complaint. Wieseltier left the magazine shortly afterward, following "a dispute" with Hughes "over the magazine's direction."

Wieseltier has been very briefly mentioned in several New Republic pieces about sexual harassment in political and media spaces in recent weeks.

The New York Times

On October 31, The Washington Post's Paul Farhi published a report that NPR was investigating multiple reported incidents of sexual harassment by its head of news, Michael Oreskes, from when he worked as the Washington bureau chief at The New York Times. In the Post report, Farhi wrote that the two women who shared stories about Oreskes did not make complaints at the time because "both believed that their complaints would be ignored and would jeopardize any chance of working for the Times." Former top editor at the Times Jill Abramson confirmed a third account of Oreskes "pestering" a young woman in the office, and said she wished she had done more at the time to address his behavior. The Times gave a brief statement to Farhi, saying it "takes all allegations of sexual harassment seriously" and was "looking into it." The paper covered Oreskes' reported misconduct in several articles.

On November 20, Vox Editorial Director Laura McGann reported on New York Times White House correspondent Glenn Thrush's "history of bad judgment around young women journalists." McGann's report included her own first-person account in which she says Thrush touched and kissed her without consent in a bar, as well as three similar accounts from other women who were young reporters at the time of the reported incidents, which occurred while Thrush worked at Politico.

The same day, The New York Times published an article noting that it had suspended Thrush and detailing the Vox piece about his reported misconduct. The Times statement, quoted in its article, said that "the behavior attributed to Glenn in this Vox story is very concerning and not in keeping with the standards and values of The New York Times," and that it intended to "fully investigate." The piece also noted that the Times said it had begun the investigation the previous week, when it became aware of the upcoming Vox article. Employees reportedly learned about the accounts of Thrush's behavior when the Vox article was published, and stopped a meeting to read the piece. Executive Editor Dean Baquet sent an internal note to staff that day.

Politico's Michael Calderone wrote that Times staffers appeared divided or undecided about the appropriate consequences for Thrush's reported misconduct. At a November 30 event, Baquet discussed harassment cases more broadly, saying: "I don't think we yet know where the line is, except for the obvious cases. … It's going to be tricky to figure out where the lines are going to be. We're all going to have to take case by case." Baquet has also reportedly said the results of the ongoing internal investigation into Thrush's conduct would not likely be shared with the public, as it is a personnel matter.

In recent weeks, the Times has sometimes briefly referenced Oreskes and/or Thrush in several articles about other high-profile media figures named in sexual misconduct reports. On November 28, it published an op-ed from Bari Weiss that categorized the complaints about Thrush as "criminalizing behavior that we previously regarded as presumptuous and boorish." On December 2, it published an op-ed from Jill Filipovic discussing reported harassers' roles in media coverage of the 2016 election, including Thrush.

NPR

On November 2, Newsweek reporter Melina Delkic wrote about public reports of misconduct by Fox News' Juan Williams when he worked at The Washington Post. Williams was subsequently hired by NPR in 2000 even though the harassment complaints against him were public (NPR fired him for an unrelated matter in 2010). NPR did not comment for the piece.

On October 31, The Washington Post's Paul Farhi published a report that NPR was investigating multiple reported incidents of sexual harassment by its head of news, Michael Oreskes, from when he worked at The New York Times. The two women who shared stories with Farhi said they had reported the incidents to an NPR attorney in mid-October and the attorney had confirmed to them that the organization was looking into the reports. NPR said in the Post article it had placed Oreskes "on indefinite leave." The women said they were "motivated to come forward now by NPR's coverage of recent sexual harassment episodes," with one woman saying that Oreskes' oversight of the coverage was "hypocritical" and "sickening."

NPR reporters, led by David Folkenflik, covered the Oreskes reports repeatedly and doggedly after the initial Post article was published. In a report by Folkenflik later that day, current NPR employee Rebecca Hersher came forward to share her account of filing a formal complaint with the network's human resources division in October 2015 against Oreskes, revealing that his pattern of misconduct continued after his employment with The New York Times. Hersher said that "she felt satisfied with the company's response and that she experienced no retribution." NPR executives told Folkenflik they could not comment about individual cases. In the report, Folkenflik also detailed his own efforts to investigate and report on Oreskes in 2016 and the decision-making among reporters and editors at the time. In addition to internal staff communications, NPR CEO Jarl Mohn participated in an All Things Considered interview with reporter Mary Louise Kelly the following day, as Oreskes' forced resignation was announced.

Folkenflik again discussed the fallout at NPR on November 3, in a lengthy All Things Considered report detailing previous warning signs and flaws in the existing internal reporting mechanisms. In this piece, Folkenflik explained that he did not attend an off-the-record all-staff meeting because it was meant to serve as a forum for employees to share personal accounts; his unbiased report instead "relied on the accounts of six people who did participate." The Oreskes reports were also covered on Morning Edition several times and mentioned in subsequent pieces covering other high-profile men reported for sexual misconduct.

NPR's Weekend Edition Sunday on November 5 featured at least three separate segments related to workplace sexual harassment, all of which included the Oreskes story. In one piece, Lulu Garcia-Navarro interviewed a human resources consultant about the sexual misconduct reporting process; in a second, Folkenflik discussed the Oreskes reports with Garcia-Navarro. A third segment tackled varying definitions and understandings of sexual harassment.

On November 6, NPR Ombudsman Elizabeth Jensen discussed, at length, the numerous issues the NPR newsroom faced in covering misconduct reportedly perpetrated by its employee, against other employees. Jensen explained the process and protocols by which Folkenflik was able to report on the Oreskes story separate from his employer's corporate structure.

On November 16, Folkenflik and Merrit Kennedy reported that two other members of NPR leadership were the subjects of complaints for sexual misconduct. Though NPR Board Chairman Roger LaMay said he was choosing not to run for a third term, Folkenflik and Kennedy reported that he had, in fact, been "the subject of a complaint filed with NPR alleging past inappropriate behavior." They also reported that NPR had placed David Sweeney, who had been promoted after Oreskes' resignation, on "paid administrative leave as it reviews recent allegations about his conduct," and detailed stories of Sweeney's alleged misconduct from three journalists, two of which were current NPR staffers. On November 28, Kennedy and Folkenflik reported that Sweeney had left NPR. On December 2, Weekend Edition Sunday included an interview with a civil rights attorney about "the legal recourse for victims of sexual harassment."

PBS

On November 20, Irin Carmon and Amy Brittain detailed in a lengthy Washington Post investigation stories from eight women who said Charlie Rose, host of the eponymous news show broadcast on PBS, "made unwanted sexual advances toward them, including lewd phone calls, walking around naked in their presence, or groping their breasts, buttocks or genital areas" while working at his PBS show. Additional women shared stories of misconduct by Rose with Business Insider and The New York Times following the initial report. In the hours after the Post report was published, PBS announced it had suspended Rose and PBS Newshour featured an interview with Carmon about the Post piece.

The following day, 70 minutes after CBS (which also employed Rose) announced it had terminated the news host, PBS also cut ties with Rose and canceled distribution of his program. PBS Newshour briefly mentioned the reports about Rose that night with a report about a recent poll PBS conducted about the prevalence of sexual harassment, and an interview with writer Rebecca Traister and Maya Raghu of the National Women's Law Center. PBS Newshour's November 24 broadcast also included a discussion of sexual misconduct allegations that referenced Rose. On December 4, the network announced it would replace Rose's show by airing CNN International's Amanpour with Christiane Amanpour on an interim basis.

Politico

On November 20, Laura McGann, Vox editorial director and former Politico editor, reported on New York Times White House correspondent Glenn Thrush's "history of bad judgment around young women journalists" when he worked at Politico. McGann's report included her own first-person account in which she says Thrush touched and kissed her without consent in a bar, as well as three similar accounts from other women who were young reporters at the time of the reported incidents. McGann noted that "there was no conventional HR office at Politico at the time (a VP of human resources position was created there in 2016)," saying she instead discussed her concerns about Thrush with a colleague after the incident and subsequently shared her experience with a senior editor months later when she believed there were damaging office rumors about her. "I was under the impression nothing could be done," she wrote. A Politico spokesperson made a statement for McGann's Vox piece saying that the company's general counsel did not receive a formal complaint.

Rolling Stone

On November 10, BuzzFeed News' Mary Ann Georgantopoulos published a report in which a writer said that Rolling Stone publisher Jann Wenner had kissed him forcibly and offered him career advancements in exchange for sex in 2005. Wenner acknowledged he had made sexual advances toward the writer, but denied that a quid-pro-quo arrangement was discussed. A new biography of Wenner also included passages describing "his jovial sexual harassment" and an uncomfortable workplace culture; Wenner called the book "deeply flawed and tawdry."

Vice

On November 3, Jezebel's Hazel Cills reported on multiple allegations of violent sexual assault by writer Michael Hafford, who had previously written for the Vice Media women's vertical Broadly as a freelance columnist. One of the women came forward publicly in a series of Twitter posts in October, which alerted Vice human resources to Hafford's reported misconduct. A Vice spokesperson provided a statement for the Jezebel piece, saying Hafford was "banned from contributing to any of the company's properties."

On November 15, The Daily Beast's Brandy Zadrozny reported on the "sexual-harassment culture" at Vice Media as described to her by more than a dozen former and current employees. The story included on-the-record accounts of sexual harassment by two different Vice staffers at its Los Angeles bureau: then-bureau chief Kaj Larsen and then-Editor-in-Chief Jason Mojica. Zadrozny's report also focused on Vice's use of a "non-traditional workplace agreement" in which employees acknowledge they may be exposed to sexually provocative or disturbing material at work. According to former employee Phoebe Barghouty, both Larsen and Mojica often joked about or referred to the agreement before making inappropriate comments. Vice provided a statement for the Daily Beast article defending the non-traditional workplace agreement, but said, "It does not in any way sanction conduct that is disrespectful or biased, and we will investigate all allegations of such behavior." Vice also said it would review the incidents outlined in the Daily Beast report. Two days later, Zadrozny wrote that Vice Media held a staff meeting in which sexual harassment was not discussed, reportedly angering employees.

That same day, Mojica was suspended. HuffPost's Ashley Feinberg reported that Vice employees, including Mojica, learned of the suspension through outside reporting. Feinberg also spoke with seven current Vice employees who described "mounting frustrations with Vice management that have been compounded by the threat of a Times story that's been in the works for what appears to be months." The Awl's Silvia Killingsworth wrote that employees at Vice gaming site Waypoint and the Vice editorial union both issued statements about workplace culture in the aftermath of the Daily Beast article, and that those statements along with persistent rumors suggested an imminent New York Times investigative piece about Vice Media workplace culture and its co-founder and CEO Shane Smith.

On November 30, CNN's Brian Stelter reported that Vice Media had fired three employees "amid a probe into sexual harassment and improper workplace conduct." Stelter cited an internal memo, which did not name the employees terminated but did acknowledge that Vice has been investigating a "handful of workplace complaints."

Vox Media

On October 12, developer and writer Eden Rohatensky wrote in a first-person account on Medium that they had been sexually harassed by a supervisor at a previous job. Rohatensky's post did not name the supervisor or the place of employment, but the post was later "effectively confirmed" to be about Lockhart Steele, co-founder of Eater and Vox Media editorial director. Rohatensky also said they had reported the harassment internally, and was later told that an investigation had been conducted, multiple victims were identified, and Steele's "punishment was being told he could not drink at corporate events any longer. He had too many shares in the company. There was nothing they could do."

One week after Rohatensky published their account, The Awl reported that Vox Media had fired Steele and sent an internal memo referencing a Medium post by a former employee and an ongoing external investigation. Five days after this announcement, Eater's Amanda Kludt wrote that Steele had been fired and "that behavior is not part of our company culture, goes against our very mission, and will never be tolerated at Eater now or in the future."

In another internal staff communication from November 3, Vox CEO Jim Bankoff said the new investigation had found "more than one person experienced behavior from Lockhart Steele that was inappropriate and unacceptable," and said there were "stronger steps" Vox could have taken during a previous 2016 investigation. According to the same memo, a second person reported for harassment also resigned. HuffPost later reported that, among steps Vox has said it's taking to address workplace culture, the company will be changing its alcohol policy at company events. In an investigative piece on the conduct of The New York Times' Glenn Thrush weeks later, Vox Editorial Director Laura McGann briefly referenced Steele's firing.

The Washington Post

On November 2, Newsweek reporter Melina Delkic wrote about public reports of misconduct by Fox News' Juan Williams when he worked at The Washington Post in 1990s. Delkic noted that the Post reported on Williams' harassing comments at the time, but that 50 female Post employees had met with then-Executive Editor Leonard Downie Jr. to "object to the newspaper's lack of transparency surrounding what disciplinary measures it had taken." Williams said the Post leadership later apologized to him and he was invited to return to the newsroom, even though 116 Post employees had signed a letter denouncing his comments.

On November 29, The Associated Press' Jeff Baenen reported that public radio personality Garrison Keillor had been fired by Minnesota Public Radio (MPR) over "allegations of improper behavior." Keillor was also a columnist at The Washington Post syndicate beginning in 2016 -- he submitted pieces to the Post service under contract, but was not an employee in the newsroom. The Post ran the AP story about Keillor. The following day, editorial page editor Fred Hiatt announced that the Post syndicate and news service would no longer publish Keillor's columns, citing a breach in journalistic standards: Keillor had failed to disclose that he was under investigation for harassment as he wrote a column defending Minnesota Democratic Sen. Al Franken, who announced his resignation amid multiple complaints of sexual harassment and groping. Hiatt also said the paper was concerned about the investigation itself, but has not received any information from MPR beyond what was publicly available. Post reporters and columnists have covered or mentioned Keillor's MPR firing in several pieces since the AP report was published on November 29.

WNYC/New York Public Radio

On December 1, Suki Kim published an investigative report in New York magazine's The Cut vertical detailing multiple reports of harassment by longtime WNYC host John Hockenberry. Kim included her own first-hand account as a guest on his program, saying she had filed a complaint with Hockenberry's employer in February 2017 after months of receiving inappropriate emails from him. Kim also investigated if her experience had been isolated, and wrote that she quickly found it was not. Multiple women, including Kristen Meinzer, who is director of nonfiction programming at Panoply Media, described unwanted touching and harassing online messages from Hockenberry. Women of color who had worked with him, including his former co-hosts Farai Chideya and Celeste Headlee, described Hockenberry's bullying behavior. Laura Walker, the CEO and president of New York Public Radio, which owns WNYC, declined to comment for Kim's piece. NYPR's vice president of communications provided a brief general statement about the company's culture. Kim noted that Hockenberry had left his program, The Takeaway, in August, under vague circumstances.

On December 4, WNYC News' Ilya Marritz reported that Hockenberry had been let go following a "confidential allegation of harassment" and a "noticeable decline in his skills as an on-air talent." The WNYC investigation also found "two previous allegations of sexual harassment at The Takeaway that were not reported to top station executives." Marritz reported that top officials had been made aware of Hockenberry's conduct years before his departure. WNYC and Public Radio International (another producer of The Takeway) both refused to comment on the specifics of the decision not to renew Hockenberry's contract; a statement from NYPR said that the two entities had "agreed to communicate John's departure as his decision." The WNYC investigation also included numerous accounts of harassing behavior, inappropriate comments, and human resources inaction. "In the course of reporting this story," Marritz wrote, "four women approached WNYC News to say they recently filed harassment complaints with the station and have been dissatisfied with the response from human resources." The piece also included some more recent actions taken by NYPR CEO Laura Walker.

That night, WNYC aired a live special to discuss the reports about Hockenberry, though management again declined to participate. The following day, Walker appeared on The Brian Lehrer Show to discuss the corporate response further. The December 4 and December 5 editions of The Takeaway also discussed the Hockenberry reports, including interviews with Kim and Marritz. The December 5 edition of WNYC-produced On The Media blog also discussed the reports, included a lengthy excerpt from Walker's interview with Lehrer, and outlined management's previous attempts to avoid interviews before the Lehrer appearance.

On December 6, Hockenberry's former co-host Adaora Udoji wrote about her own experiences with Hockenberry in The Guardian, breaking a nondisclosure agreement to recount abuse and harassment by Hockenberry. Udoji also called for a full investigation to hold WNYC senior leadership accountable for a decade of apparent inaction.

The same day, WNYC reported that New York Public Radio had placed two other WNYC hosts on leave "effective immediately pending investigations into allegations of inappropriate conduct." The hosts are Leonard Lopate and Jonathan Schwartz. WNYC's report included a brief statement from Walker reiterating that the company took allegations very seriously.

Clarification: The original post referenced a tweet from a Politico reporter who appeared to be looking for tips related to sexual harassment within Politico. In a subsequent tweet, the reporter clarified she was soliciting tips related to harassment "on Capitol Hill and elsewhere in politics," on behalf of Politico.