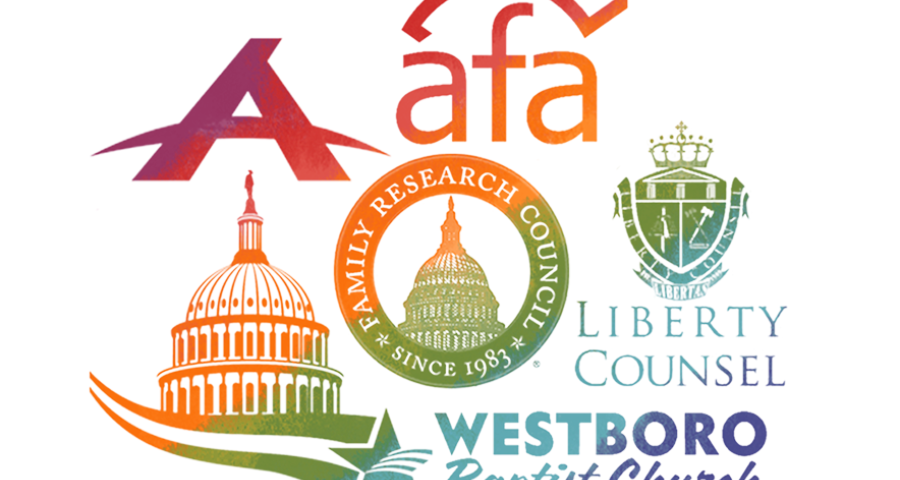 Research/Study
Top Media Outlets Have Failed To Accurately Label Designated Anti-LGBTQ Hate Groups
Six Years of Various Media Matters Studies Show Ongoing Problem With Reporting On Hate Groups
For more than half a decade, Media Matters has monitored broadcast, cable, print, and local media coverage of anti-LGBTQ hate groups, designated as such by Southern Poverty Law Center (SPLC). Reporters frequently fail to disclose this designation and provide no context about anti-LGBTQ hate groups and their extremism, instead simply labeling them as "Christian" or "conservative" organizations. Those same outlets, however, often refer to SPLC as an expert in tracking hate and extremism, and often use SPLC's "hate group" designation when reporting on other extremist ideologies, like white nationalist groups.

SPLC has long been regarded as an expert in monitoring domestic hate and extremism. Since 1990, SPLC has been releasing an "annual census" of U.S. hate groups. SPLC defines hate groups as organizations that "have beliefs or practices that attack or malign an entire class of people, typically for their immutable characteristics." But inaccurate or incomplete media coverage has allowed anti-LGBTQ hate groups to peddle the myth that they're labeled as hate groups only for their conservative or religious beliefs about sexuality and marriage. Yet SPLC has clearly stated multiple times that it designates organizations as "hate groups" when they knowingly spread "demonizing lies," engage in "baseless, incendiary name-calling," or actively work to criminalize LGBTQ people -- not because of biblical or conservative beliefs.

Media Matters' research shows that while major publications like The New York Times and The Washington Post often rely on SPLC's "hate group" designation to provide meaningful context about white nationalist groups, those same outlets often label designated anti-LGBTQ hate groups only as "Christian" or "conservative." Similarly, cable news networks have frequently invited anti-LGBTQ hate group representatives to comment on LGBTQ equality without providing context about their respective group's extremism. Since being designated as a hate group in February 2017, the mammoth anti-LGBTQ legal organization Alliance Defending Freedom has been featured prominently in the media with no reference to its extremism or efforts to criminalize LGBTQ people.

While some reporters -- like CBS's Bob Schieffer on Face the Nation -- have provided audiences with meaningful context by accurately identifying anti-LGBTQ hate group leaders as such during interviews, over half a decade of research by Media Matters shows that journalists more often than not fail to identify anti-LGBTQ hate groups as such. Failing to properly contextualize extremism often allows hate group representative to peddle debunked anti-LGBTQ lies, which has led outlets like NPR to acknowledge that "we have to do a better job" in identifying extremists.

Below are some of Media Matters' largest studies documenting how journalists report on hate groups.

NY Times and Wash. Post Failed To Properly Identify Or Contextualize SPLC's Major Anti-LGBTQ Hate Groups

A July 2016 Media Matters analysis revealed that between June 1, 2014, and June 30, 2016, The New York Times mentioned four anti-LGBTQ hate groups -- the Family Research Council, Liberty Counsel, the American Family Association, and Westboro Baptist Church --a total of 60 times and never clearly defined any of them as a current hate group. The paper most frequently labeled these hate groups as "conservative" (18 times or 30 percent of the total) or gave them no descriptor at all (14 times or 23 percent of the total). In Times coverage, anti-LGBTQ hate groups were most likely to be called "conservative" or given no designation at all.

One New York Times article in our analysis used the hate group designation for anti-LGBTQ group the World Congress of Families, but it also included a quote from the group denouncing the label. The article also included criticism of SPLC's authority and questioned its methodology. Finally, in a passing mention of the Family Research Council, the article falsely reported that SPLC designates hate groups based "on their stances on gay issues," rather than on their propagation of known falsehoods about LGBTQ people. No other article in our analysis attempted to question the authority of SPLC's classification or gave a platform to a hate group to defend itself. In fact, when reporting on white nationalist groups in the same period, the Times cited SPLC as an expert on tracking hate groups and frequently used the organization's hate group designation. Note: Not all percentages add up to 100 due to rounding. 

The Washington Post mentioned anti-LGBTQ hate groups 74 times during the study period. But it labeled them as hate groups only six times and failed to provide any context about their ideology 27 times. When it did label such groups, the paper was most likely (eight times) to call them "conservative" or contextualize them by mentioning their legal work such as with Liberty Counsel -- which represented the Kentucky county clerk, Kim Davis, who refused to issue marriage licenses to same-sex couples after the Supreme Court released its marriage equality ruling.

In 2015, Major News Outlets Failed To Identify The Hate Group Representing Kim Davis

A September 2015 Media Matters report found that major news outlets almost entirely failed to identify Liberty Counsel -- the group defending Rowan County clerk Kim Davis -- as an anti-LGBTQ "hate group," often referring to the group only as a "Christian" or "conservative" legal organization. The Washington Post was the only paper to identify Liberty Counsel as a hate group. An analysis of coverage from August 8 through September 11, 2015, revealed the following:

The Associated Press called Liberty Counsel a "Christian law firm" in four different articles.
Reuters characterized Liberty Counsel as a "religious" or "legal" "advocacy" group in five different articles.
The Washington Post identified Liberty Counsel as a "hate group" in one article -- but in three other articles, it described the group only as "Christian."
The New York Times twice referred to Liberty Counsel as a "conservative" group -- once mentioning that Liberty "has been on the front lines of the same-sex marriage fight for roughly two decades," and once calling it a nonprofit that works in "religious exemptions cases."

In October 2015, The Associated Press did note that Liberty Counsel has been labeled an anti-gay hate group. In response, Liberty Counsel President Mat Staver delivered a letter to the AP's assistant general counsel, Brian Barrett, that accused the AP of putting Davis and Liberty Counsel at risk of "death threats" and demanded that the article be permanently deleted.

One Hate Group Leader's Appearances Plummeted On CNN And MSNBC In 2013, But Held Steady On Fox News

A July 2014 Media Matters study found that Family Research Council (FRC) President Tony Perkins appeared significantly less frequently on CNN and MSNBC in the wake of petitions calling on the networks to stop hosting him. Perkins, whose organization has been labeled an anti-LGBTQ hate group, continued to appear frequently on Fox News. Media Matters examined coverage between August 1, 2012, and July 28, 2014. Graph includes data from a prior 2012 study on Perkin's appearances.

Cable News Networks Relied On Hate Group Leader For 2012 Primary Election Coverage

A November 2012 Media Matters analysis of cable news networks' coverage of the 2012 GOP primary between May 5, 2011, and August 28, 2012, found that the media outlets regularly called upon Perkins to provide commentary on behalf of social conservatives. Perkins made 56 appearances on CNN, Fox News, and MSNBC over the course of the primary, but never once was identified as the leader of an anti-LGBTQ hate group.

More Hate Group Coverage From Media Matters:

March 2017: Reporting On Trans Rights Supreme Court Case, Major Outlets Failed To Call Alliance Defending Freedom A Hate Group

February 2017: Major Publications Fail To Identify Anti-LGBTQ Hate Groups In Transgender Policy Coverage

December 2016: 19 Times Breitbart Cited A Discredited Hate Group To Spread Harmful Lies About Pediatric Medical Care

September 2016: Trump Just Finished Speaking At A Hate Group Conference; Why Didn't Top Papers Take Heed?

August 2016: FL Newspapers Largely Give Rubio A Pass On Scheduled Appearance With Anti-LGBT Extremists

April 2016: Major News Outlets Largely Fail To Identify The Hate Group Boycotting Target

December 2015: This Hate Group Leader Has Hosted Most Of The Republican Presidential Candidates On His Radio Show

August 2014: Megyn Kelly's Cozy Relationship With An Anti-Gay Hate Group Leader

December 2013: Only 10 Percent Of Louisiana Newspaper Articles About This Hate Group Leader Exposed His Extremism

April 2012: Meet Todd Starnes, Fox's Mouthpiece For Anti-Gay Hate Groups

December 2011: Cable News Networks Regularly Promote Anti-Gay Family Research Council On Air

Graphics by Sarah Wasko.