Media outlets' context-free headlines on AG Barr's "spying" claim help fuel right-wing falsehoods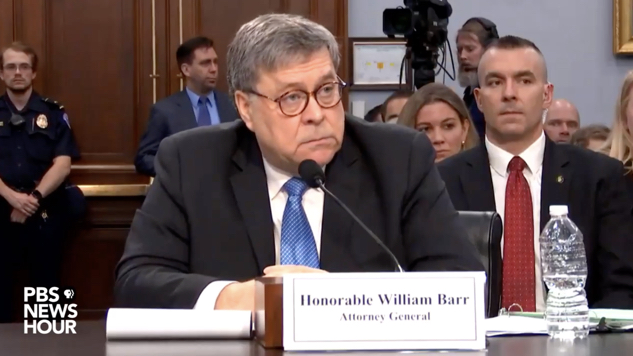 Update (4/11/19): This piece has been updated to include additional examples. 
Media outlets' headlines are not telling the full story in reporting on Attorney General William Barr's claim during a congressional hearing that he believes the FBI spied on the Trump campaign during the 2016 presidential election. Later in the hearing, Barr walked back his claim -- which had given legitimacy to a prominent right-wing conspiracy theory -- but that was left out of news headlines about Barr's testimony.
While discussing special counsel Robert Mueller's report during April 10 testimony before a Senate Appropriations subcommittee, Barr said, "I think spying did occur. The question is whether it was ... adequately predicated." The claim that President Donald Trump and his campaign were improperly surveilled by the FBI during the election is a prominent conservative media defense of Trump and a favorite narrative of right-wing conspiracy theorists -- even though there is no evidence it ever happened.
Barr's comment immediately made major news. But as attorney Luppe B. Luppen pointed out on Twitter, where he goes by @nycsouthpaw, Barr backed off his spying claim at the conclusion of the hearing:
As Luppen noted, Barr's initial claim dominated headlines at major news outlets:
In addition to The Washington Post, New England Cable News, The New York Times, and CBS News -- the outlets referenced by Luppen -- other major outlets also credulously quoted Barr's unsubstantiated claim. Here are some of the headlines that cited his initial allegation without noting that it was later walked back:
NPR: 
Careless headlines like these give cover to serial misinformers. For example, Fox News host and Trump adviser Sean Hannity reacted to Barr's spying claim at the hearing by saying on his radio show, "Now what really broke today that has both the media and Democrats freaking out is that the attorney general of the United States of America today confirmed, yes, that which we have been telling you is going on for a long time."