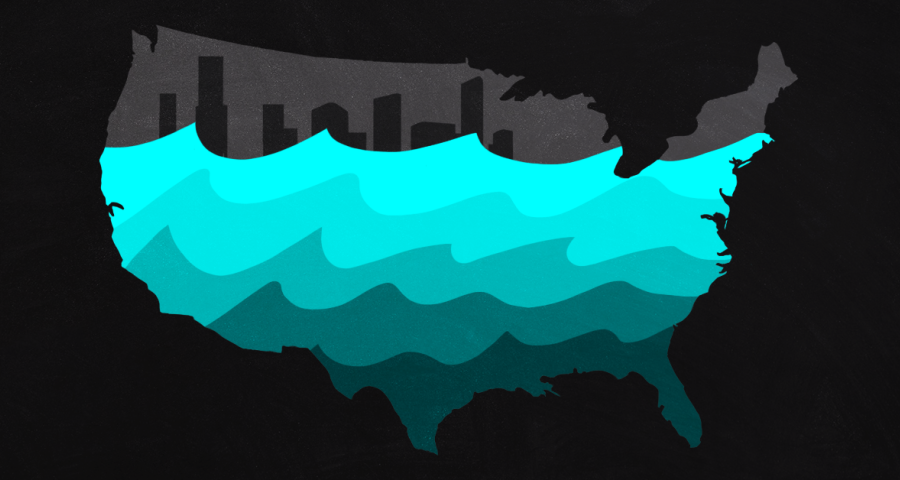 Research/Study
ABC, CBS, and NBC completely failed to mention climate change in coverage of major Midwest floods
After a bomb cyclone triggered historic floods that devastated large swaths of the Midwest, the major broadcast TV networks completely failed to explain how climate change influences such aberrant and extreme weather. Media Matters' analysis of coverage on the networks' morning and evening news programs and Sunday morning political shows found that ABC, CBS, and NBC did not mention climate change or global warming once during their combined 28 segments reporting on the floods.

The bomb cyclone and floods were right in line with climate scientists' projections

A bomb cyclone of "historic proportions" began raging across the Midwest on March 13. It unleashed a torrent of wind, snow, and rain that caused unprecedented flooding in Nebraska as well as floods in Iowa, Minnesota, Missouri, South Dakota, and Wisconsin, resulting in at least four deaths and $3 billion in losses. The floods destroyed hundreds of homes and affected millions of acres of farmland. Unfortunately, these disastrous outcomes align with the projections of climate scientists, a number of whom explained how climate change plays a role both in worsening events like bomb cyclones and in creating the conditions for flooding of the sort that followed in the storm's wake.

As climate scientist Michael Mann of Penn State told MSNBC, "As the oceans warm up, there's more moisture that's available to these storms to turn into record rainfall. That's what we saw with this bomb cyclone that was drawing on warm, moist Gulf air that led to extreme amounts of precipitation, both rain and snow. The snow then melted, and we got this extreme flooding." Climate scientist Kevin Trenberth of the National Center for Atmospheric Research also noted that the bomb cyclone was carrying large amounts of moisture from the Pacific to the Midwest and told Reuters that climate change played "a strong supporting role" in the resulting floods.

The bomb cyclone may also have been aided by a fluctuating jet stream. A study published in March 2018 found that a rapidly warming Arctic is linked to very wavy, slow jet stream patterns that are strongly correlated to an increase in extreme and aberrant winter weather events such as bomb cyclones and nor'easters. As Climate Nexus noted in the wake of the recent bomb cyclone, "The polar jet was extremely wavy across the northern hemisphere, and is consistent with the unusual jet stream behavior expected due to Arctic warming."

The flooding that followed the bomb cyclone was caused by a complex confluence of events that were also in line with scientists' projections about the consequences of climate change. As climate reporter E.A. Crunden wrote for ThinkProgress:

The historic flooding is the result of rain coupled with a considerable amount of pre-existing water on the ground. February brought a record-setting 30 inches of snow to the state, which locked in several inches of water. With eastern Nebraska's rivers already higher than usual following the state's fifth-wettest season in 124 years, the bomb cyclone unleashed a mountain of water, submerging parts of the region.

...

Connecting any one weather event to climate change is often impossible or incredibly challenging, but experts say the flooding is indicative of larger climate impacts. According to the government's National Climate Assessment (NCA) released last fall, the Midwest is likely to see an uptick in flooding associated with global warming.

Broadcast networks completely ignored how climate change affects bomb cyclones and flooding

Media Matters analyzed coverage of the Midwest flooding from March 18 to 25 on the morning and evening news programs and Sunday morning political shows on ABC, CBS, and NBC and found that none of their coverage mentioned climate change. During this period, ABC's weekday morning and evening news programs ran 11 segments on the flooding, NBC's also ran 11, and CBS' ran six. None of the networks' Sunday political shows even mentioned the flooding.

Some segments noted the unusual and historic nature of the Midwest floods, but they all did not connect the flooding to climate change.

Other news outlets neglected flood and climate reporting too

Cable news also fell down on the job. According to a Washington Post analysis, from March 15 to 19, the cable news networks covered both the Nebraska floods and climate change less than they covered President Donald Trump's disparaging comments about deceased Sen. John McCain and the feud between Trump and George Conway, the husband of Trump advisor Kellyanne Conway.

Newspapers and wire services did better than TV news in covering the floods and covering climate change, the Post found. Still, they were not exemplary either. The nonprofit End Climate Silence pointed out notable pieces about the flooding in The New York Times, USA Today, Reuters, The Washington Post, and other outlets that failed to mention climate change.

Some TV journalists demonstrated how to incorporate climate change into flood coverage

Here are two good examples of TV news segments that discussed climate change while covering floods. On MSNBC Live With Katy Tur on March 22, Tur hosted climate scientist Michael Mann to discuss a recent warning from the National Oceanic and Atmospheric Administration (NOAA) that 200 million Americans are at risk of experiencing flooding this spring. Mann also described how climate change worsens events such as the recent bomb cyclone and Midwest flooding.

And, on March 23, Soledad O'Brien hosted former Illinois state climatologist Jim Angel on her syndicated weekly show, Matter of Fact, to discuss the flooding in the Midwest and how climate change is making it more extreme.

Media Matters has conducted study after study documenting the failure of corporate TV news outlets to connect extreme weather events to global warming and has highlighted their tendency to neglect potential solutions to the climate crisis. Broadcast networks often report on extreme and aberrant weather, but they also need to report on how climate change increases the frequency and severity of extreme weather events. And they should report on possible solutions to climate-related problems before it's too late.

Methodology

Media Matters searched Nexis and iQ media for segments about the Midwest floods on national news broadcasts from March 18 through March 25, searching for the terms "flood," "flooding," or "bomb cyclone." We then searched those segments for the keywords "climate," "warming," "emission(s)," "carbon," "CO2," or "greenhouse gas(es)." Our analysis covered morning news shows (ABC's Good Morning America, CBS This Morning, and NBC's Today), nightly news programs (ABC World News Tonight, CBS Evening News, and NBC Nightly News), and Sunday morning political shows (ABC's This Week with George Stephanopoulos, CBS' Face the Nation, and NBC's Meet the Press). We did not count brief mentions, teasers, or rebroadcasts.