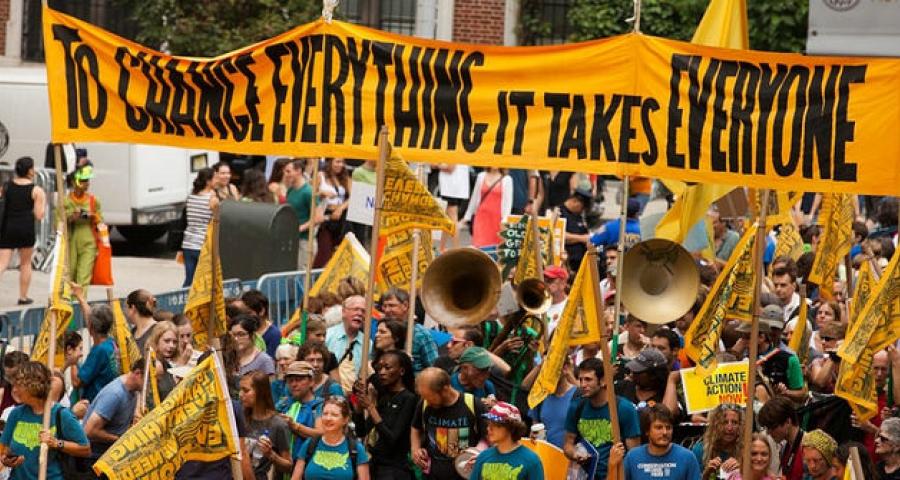 Research/Study
Minorities Largely Excluded From Climate Change Discussions On Sunday Shows
The African-American and Latino communities were badly underrepresented in climate change discussions on the network Sunday shows last year, according to a new Media Matters analysis, despite being among those who are most vulnerable to climate impacts.

Of the 33 guests invited onto the major broadcast networks' Sunday news shows to discuss climate change last year, only 12 percent were non-white. The climate change conversations on the Sunday shows, which often set the media and political agenda for the week, included only two African-Americans, one Latino, and one Asian-American. This is a gross underrepresentation of the African-American and Latino communities in particular. African-Americans and Latinos made up 6 and 3 percent of the Sunday show guests who were asked about climate change, respectively. According to the most recent U.S. Census, African-Americans comprise 13.2 percent of the country's population and Latinos comprise 17.4 percent.

Moreover, two of the four non-white guests -- including the only Latino -- were Republican presidential candidates who are also climate science deniers: Sen. Marco Rubio (FL) and retired neurosurgeon Ben Carson. In an April 19 interview on CBS' Face the Nation, host Bob Schieffer allowed Rubio to question the "percentage" of climate change that is "due to human activity," failing to point out in response that the vast majority of climate scientists say human activities are the primary factor in climate change. And on the February 8 edition of Fox Broadcasting Co.'s Fox News Sunday, host Chris Wallace asked Carson to respond to criticism from "some Democrats" that "there are some elements in the Republican Party, both candidates and voters, who deny science, whether it is vaccinations, or climate change or evolution." Carson did not address climate change in his response, and then Wallace moved on to a discussion of "politics."

The other African-American guest was American Meteorological Society president Marshall Shepherd, who was invited on Face the Nation on December 13 to discuss the landmark international climate agreement reached in December at a United Nations conference in Paris. The Asian-American guest was Center for American Progress President Neera Tanden, who appeared on a Fox News Sunday panel discussion of the Paris climate agreement, also on December 13.

Looking at the results by show, two of the four non-white guests -- Shepherd and Rubio -- appeared on CBS' Face the Nation, comprising one-third of Face the Nation's six total guests who were asked about climate change. The other two non-white guests, Carson and Tanden, appeared on Fox News Sunday, which hosted 18 total guests to discuss climate change in 2015. Neither ABC's This Week nor NBC's Meet the Press hosted a single non-white guest to discuss climate change in 2015. 

The African-American and Latino communities were largely left out of the climate change discussion even though climate change affects them disproportionately. The NAACP has noted that African-Americans are particularly at risk from climate impacts such as rising sea levels, food insecurity, and heat-related deaths because they are more likely than whites to live in urban and coastal areas. New Hispanic immigrants are also more vulnerable to the impacts of climate change, according to the National Climate Assessment, due to "[l]ow wages, unstable work, language barriers, and inadequate housing."

Furthermore, minority communities have the most to gain from the shift away from dirty fossil fuels to a clean energy economy. A report from the Natural Resources Defense Council found that low-income communities face disproportionate health impacts from fossil fuel pollution, and that shifting to low carbon energy sources can lessen these impacts. In 2014, a report from the NAACP found that nearly three-quarters of African-Americans live within 30 miles of a coal-fired power plant. African-Americans are three times more likely than white Americans to die from asthma-related causes, according to the U.S. Department of Health and Human Services (HHS), and Hispanic children are 40 percent more likely to die from asthma than non-Hispanic whites.

This may help explain why African-Americans and Hispanics in the U.S. overwhelmingly support acting on climate change, according to multiple polls. And why prominent civil rights organizations have expressed support for the the Obama Administration's flagship climate policy, the Clean Power Plan -- including the NAACP, The League of United Latin American Citizens, the National Council of La Raza, and many more.

The lack of minority voices in the Sunday shows' climate coverage is in line with a broader lack of diversity on the Sunday shows that Media Matters has continued to observe. According to a new Media Matters study of diversity on the Sunday shows in 2015, the percentage of guests on the four network Sunday shows -- and CNN's State of the Union -- who were people of color ranged from 17 percent on Face the Nation to 25 percent on Meet the Press. And no more than a quarter of the guests on any of the Sunday shows were people of color in 2014, either.

Civil rights and environmental justice advocates have previously spoken out against the underrepresentation of communities of color in the media. Prominent advocates for the nation's Latino community have highlighted how the media's nearly complete lack of Latino representation ranges from the dearth of Latino voices and perspectives included in English-language news to the absence of substantive coverage of issues that matter most to Latinos.

As Elizabeth Yeampierre, the executive director of the environmental justice organization Uprose, has explained to Media Matters, "understanding the intersectionality" between climate change and social justice is "really important. We can't pick, we can't choose. It all matters to us, all of these issues."

Yeampierre further wrote in The Guardian:

Those of us from low-income communities of color are on the frontlines of the climate crisis. US cities and towns that are predominantly made up of people of color are also home to a disproportionate share of the environmental burdens that are fueling the climate crisis and shortening our lives.

*This post has been updated to incorporate the newly-published study of diversity on Sunday shows in 2015.