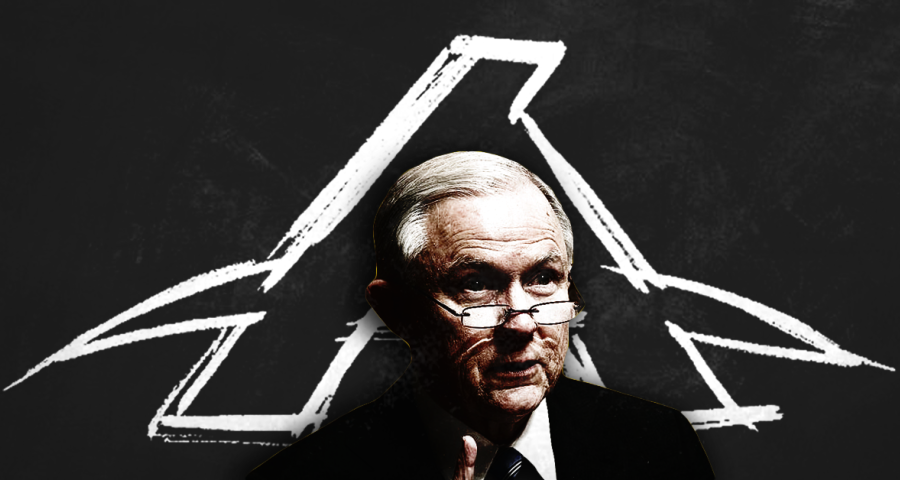 Research/Study
Trump and Sessions issue anti-LGBTQ religious exemptions guidance, fulfilling promise to hate group Alliance Defending Freedom
The Trump administration released new guidance on October 6 making it easier for people or businesses to discriminate against LGBTQ people under the guise of "religious freedom." In July, Attorney General Jeff Sessions promised anti-LGBTQ hate group Alliance Defending Freedom (ADF) -- which has been instrumental in passing similar laws across the country -- that the Justice Department would release such guidance.

According to BuzzFeed, the new guidance "says the government cannot unduly burden people or certain businesses from practicing their faith, noting, 'The free exercise of religion includes the right to act or abstain from action in accordance with one's religious beliefs.'" The guidance includes "twenty principles" of religious liberty, including one that allows religious employers to "employ only persons whose beliefs and conduct are consistent with the employers' religious precepts." In other words, it gives license for religious employers to discriminate against LGBTQ individuals, single mothers, divorced persons, and other groups. It also says that protections for so-called "religious liberty" would apply to individuals "providing or receiving social services, education, or healthcare; … seeking to earn or earning a living; … employing others to do the same; … receiving government grants or contracts; or … otherwise interacting with federal, state, or local governments." A separate principle in the guidance says it applies "not just to individuals, but also to organizations, associations, and at least some for-profit corporations," and yet another says the government cannot "second-guess the reasonableness of a religious belief." In sum, the broad memo "could give people of faith -- including government works and contractors -- a loophole to ignore federal bans on discrimination against women and LGBT people," according to BuzzFeed.

Sessions promised guidance along those lines in July when he addressed ADF in a closed-door speech that was eventually leaked to the right-wing, rabidly anti-LGBTQ website The Federalist. NBC News reported that during the speech, Sessions said President Donald Trump "has also directed me to issue guidance on how to apply federal religious liberty protections. The department is finalizing this guidance, and I will soon issue it." Sessions continued, "The guidance will also help agencies follow the Religious Freedom Restoration Act. Congress enacted RFRA so that, if the federal government imposes a burden on somebody's religious practice, it had better have a compelling reason." NBC News spoke with numerous LGBTQ advocates who "suggested Sessions was more interested in protecting the right to discriminate than the freedom of religion." BuzzFeed also reported that the Justice Department "consulted with religious and political groups with a history of opposing protections for LGBT people," including ADF. The report noted that ADF has championed and embraced a strategy of "ambiguity in religious policies in the past, believing the scope can be litigated in court."

ADF is the largest anti-LGBTQ hate group in the nation and has played an instrumental role in enacting other discriminatory anti-LGBTQ "religious freedom restoration" acts in states across the country, including Mississippi's law, which is expected to go into effect Tuesday. The Human Rights Campaign (HRC) has called the Mississippi law "by far the most sweeping and devastating state law to be enacted against LGBTQ people in the country," adding that "under this law, almost any individual or organization could justify discrimination against LGBTQ people, single mothers, unwed couples, and others." The Washington Post reported in July 2016 that ADF "played a key role in helping Mississippi's legislature and governor write, promote and legally justify" the bill. The Post noted that ADF's involvement was "notable … because state officials did not disclose aid from the organization" and that a lawyer challenging the bill said it "adopted many of the identical passages" in ADF's "model executive order." A lawsuit against the law stalled it from going into effect until this month. ADF attorneys "are part of the legal team representing Gov. Phil Bryant in the lawsuits," according to ADF.

In Iowa, ADF worked with a state senator on legislation modeled after Indiana's 2015 Religious Freedom Restoration Act, signed by now-Vice President Mike Pence. The American Civil Liberties Union of Iowa successfully worked with partner groups and businesses to block its introduction. ADF has also fought for and helped enact numerous other such acts in states across the country: It helped write Arizona's SB 1062, which was ultimately vetoed; one of its lawyers testified in favor of Kansas' religious freedom act, which passed in 2013; another one of its lawyers testified in defense of a failed religious freedom restoration act in Colorado; it "had a hand in" writing a proposed religious freedom restoration act in Georgia; it promoted a religious freedom restoration act in Arkansas; and it helped "advise" Indiana lawmakers during the state's debate over its own act. ADF's Kellie Fiedorek stood behind then-Gov. Pence when he signed the bill into law.

ADF has supported a number of other extreme anti-LGBTQ positions, including criminalizing homosexuality. ADF (then called the Alliance Defense Fund) formally supported the criminalization of sodomy in the U.S. in 2003 when it filed an amicus brief in Lawrence v. Texas defending state sodomy laws in which it called "same-sex sodomy … a distinct public health problem." When the court struck down anti-sodomy laws, ADF called the ruling "devastating."

The group is also leading the national campaign for "bathroom bills" targeting transgender youth and is representing plaintiff Jack Phillips in the upcoming Masterpiece Cakeshop v. Colorado Civil Rights Commission Supreme Court case. The case may similarly determine whether businesses serving the public have the right to discriminate against LGBTQ people under the guise of "religious" or "artistic freedom." On October 6, in what was seen by some as an "unusual move," the Justice Department filed an amicus brief with the Supreme Court siding with ADF and its client in that case. ADF has demonstrated time and time again a commitment to chipping away at LGBTQ equality and turning members of the community into second class citizens, and Friday's guidance by the Justice Department shows the group has powerful, like-minded allies in the Trump administration.

Rebecca Damante contributed research to this report. Headline changed for clarity.