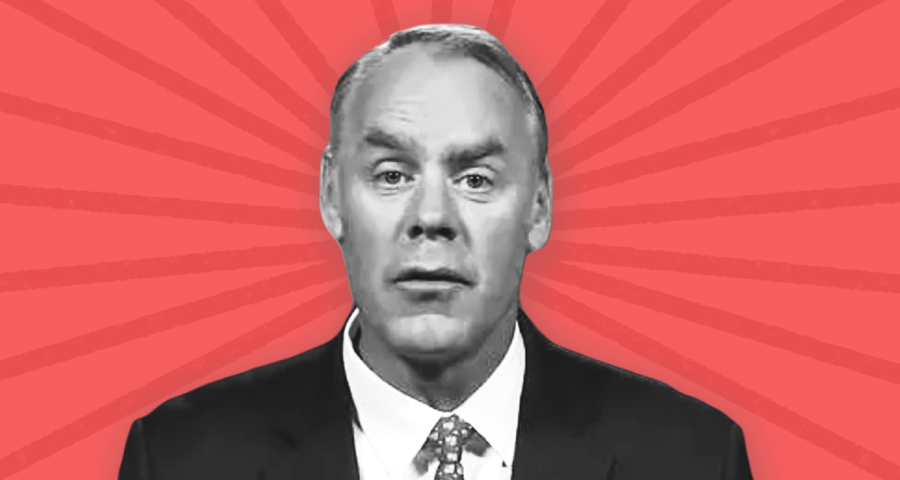 Research/Study
A timeline of scandals and ethical shortfalls at Ryan Zinke's Interior Department
Journalists have uncovered a long list of the interior secretary's questionable actions and controversies
This post was updated on November 6, 2018, to incorporate additional news reports.

Interior Secretary Ryan Zinke's ethically questionable behavior has triggered at least 17 government investigations into his conduct. Journalists took the lead in documenting many of Zinke's ethical lapses. The following is an overview of original reporting on scandals and controversies at the Department of Interior (DOI) under Zinke:

July 26, 2017, Anchorage Daily News: Zinke threatened to pull support for projects in Alaska after Sen. Lisa Murkowski voted "no" on Obamacare repeal. On July 26, Zinke called Alaska's two senators, Lisa Murkowski (R) and Dan Sullivan (R), to inform them that Murkowski's vote against repealing the Affordable Care Act jeopardized administration support for projects in Alaska, including expanding oil drilling. Sullivan called Zinke's message "troubling," and Murkowski told E&E News, "It was a difficult call." The DOI's inspector general opened an investigation into the incident, then dropped it in late August after the senators refused to discuss it with investigators. The Government Accountability Office also opened an investigation, but then dropped it in June 2018 because DOI did not cooperate, Politico reported. "Interior did not provide us with any information on the substance of the telephone calls. In light of this, we lack the requisite facts on which to base a legal opinion," Thomas Armstrong, GAO's general counsel, wrote to two House Democrats who requested the investiation last year.

September 28, 2017, Politico/Wash. Post: Zinke gave a speech to a hockey team owned by a campaign donor, then chartered a $12,000 flight home. Zinke traveled to Las Vegas on June 26 to give a motivational speech to a hockey team at the behest of team owner Bill Foley. After the speech, Zinke flew on a charter flight that cost taxpayers over $12,000 to an airport near his Montana home, aboard a plane owned by oil and gas executives. An inspector general report released on April 16, 2018, found that Zinke and his aides failed to relay important details about the trip to ethics officers, including Foley's role as one of Zinke's largest campaign contributors and the fact that the speech was unrelated to Zinke's work as interior secretary. According to Politico, Foley donated $7,800 to Zinke's 2014 congressional campaign, while employees and political action committees associated with his financial services company donated another $166,860. The inspector general also found that the $12,000 charter flight "could have been avoided."

October 5, 2017, Politico: Zinke's participation in a Republican fundraiser in the Virgin Islands raised ethics concerns. During what DOI labeled an official trip to the U.S. Virgin Islands, Zinke attended a fundraiser for the Virgin Islands Republican Party in March 2017. Donors paid up to $5,000 per couple for a picture with him. After concerns were raised, the Virgin Islands Republican Party reimbursed taxpayers for the trip.

November 20, 2017, Politico: Zinke's wife used Interior staff and resources to coordinate her travel with her husband's. Lola Zinke relied on DOI staff to ensure her travel arrangements allowed her to accompany the interior secretary during some of his official events and trips, including ones to California, Alaska, Norway, and Greenland. "While the department says Lola Zinke paid her own way, the records show Interior used staff time to coordinate some of her activities while traveling with her husband," Politico reported. One ethics expert called that "an ethically gray area." Some ethics watchdogs are also concerned that Lola Zinke is using her access to high-level events to further her own political career; until recently, she served as campaign chair for a Republican Senate candidate, and she worked on the Trump campaign and transition teams. The DOI's inspector general tried to investigate whether these actions and other travel arrangements by Ryan Zinke constituted an abuse or misuse of government resources, but the investigation was stymied "by absent or incomplete documentation for several pertinent trips and a review process that failed to include proper documentation and accountability," according to a memo released on November 15.

December 7, 2017, Politico: Zinke spent $14,000 on helicopter rides so he could attend a swearing-in and ride horses with Vice President Mike Pence. Zinke put taxpayers on the hook for a pair of helicopter trips that blurred the line between his professional and personal obligations. On June 21, he attended the swearing-in of his congressional replacement, Rep. Greg Gianforte (R-MT), then took an $8,000 helicopter ride to an emergency management exercise in West Virginia. On July 7, Zinke took a $6,250 round-trip helicopter flight from Washington, D.C., to Yorktown, VA, to guarantee he was back in time to go horseback riding with Pence and Sen. Roy Blunt (R-MO). The inspector general's office declined to confirm an investigation into these specific helicopter rides, but spokesperson Nancy DiPaolo told CNN on December 8, "We are taking a comprehensive look at the secretary's travel since he took office."

December 29, 2017, Newsweek: Zinke spent almost $40,000 in wildfire preparedness funds for a helicopter tour of Nevada. On July 30, days after firefighters managed to largely contain the Whittier Fire in California, Zinke used nearly $40,000 from wildfire preparedness funds to pay for a helicopter tour of Nevada that did not include any visits to fire zones. DOI initially told Newsweek the tour was "in full compliance of all federal regulations." But after Newsweek provided Interior officials with documentation showing the tour was paid for with funds "earmarked for such uses as worker pay and to purchase equipment," DOI admitted the helicopter tour "was charged to the account in error" and said it would pay for the ride from "a more appropriate account."

January 22, 2018, HuffPost: Zinke failed to disclose his shares in a firearms company and signed orders that could have benefitted the firearms industry. As nominee for interior secretary, Zinke neglected to inform the Office of Government Ethics that he retained 1,000 shares in PROOF Research, a rifle and weapons-parts manufacturer founded in Zinke's hometown. Cabinet appointees are required to disclose all assets worth $1,000 or more. Although there is some dispute about the value of Zinke's shares, HuffPost notes that Zinke's long relationship with the company may have resulted in the company getting special access at Interior. Zinke provided consulting services to PROOF from 2011 to 2012. As interior secretary, he met with PROOF CEO Larry Murphy and a company lobbyist about a month after he was confirmed. Zinke also enacted policy changes -- such as rescinding the ban on lead ammunition and expanding hunting access at wildlife refuges -- that could benefit the firearms industry.

February 1, 2018, Politico: Interior appeared to cave to pressure from MGM to stonewall a casino proposal backed by two Native American tribes. The Mohegan and Mashantucket Pequot tribes received indications from Interior officials in May 2017 that the department would clear the way for the tribes to build a casino in Connecticut, about 12 miles from MGM Resorts International's nearly $1 billion casino complex in Massachusetts. But MGM launched an aggressive lobbying campaign to convince Interior's political appointees to change course, including outreach to Zinke via multiple meetings and phone calls with two Nevada Republican lawmakers closely allied with MGM. MGM lobbyists were invited by Zinke for a social visit two weeks before the agency was to decide on the tribes' request. MGM lobbyists also met with Deputy Interior Secretary David Bernhardt, whose former firm also lobbies for MGM. Bernhardt signed an ethics agreement barring him from "participating in matters involving his former employer," according to ThinkProgress. On September 15, DOI informed the tribes that it would delay its decision, even though federal law requires it to decide yes or no within 45 days. Records obtained by Politico show that "career staffers were circulating what they labeled 'approval' letters just 48 hours before their political bosses reversed course and refused to either OK or reject the tribes' application." The DOI's inspector general has opened an investigation into the incident.

February 21, 2018, Mother Jones: Scientists resigned in protest after their agency violated ethical guidelines to give Zinke sensitive oil and gas research ahead of its public release. The head of the U.S. Geological Survey's energy and minerals program, Murray Hitzman, resigned in protest on Dec. 17, 2017, after his agency bowed to pressure to provide Zinke with sensitive data about oil and gas deposits in Alaska before it was released publicly. The deputy associate director of the energy and minerals program also left the agency in part over pressure to violate ethical guidelines. Although DOI asserted its authority to see any scientific research the department produces, "numerous current and former Interior officials, however, say the department's position raises serious ethical issues—particularly when it comes to energy and mineral assessments, which contain valuable economic data that have the potential to move markets," Mother Jones reported. Rep. Betty McCollum (D-MN), the ranking member of the House Interior, Environment, and Related Agencies Subcommittee, asked DOI's inspector general to investigate whether department officials committed any ethical violations in requesting the data.

March 9, 2018, AP: Interior planned to spend nearly $139,000 to upgrade Zinke's office doors. Interior officials approved a contract to renovate "three sets of double doors in the secretary's office, including two doors that open onto a corner balcony with a spectacular view of the Washington Monument and the National Mall," The Associated Press reported. Though Zinke scoffed at questions about the excessive price of the renovations during a Senate hearing on March 13, two days later he told the House Committee on Natural Resources that he negotiated the price down to $75,000. Despite this, House Oversight Chairman Trey Gowdy (R-SC) sent Zinke a letter on March 22 asking for a briefing "on the need to replace the doors" and asking for "details on the acquisition process, bidding and receipts," according to Reuters.

March 11, 2018, USA Today: Zinke's trip to Pennsylvania to announce $56 million in grants during a close campaign may have violated the Hatch Act. Toward the end of a tight campaign for Pennsylvania's 18th congressional district between Democrat Conor Lamb and Republican Rick Saccone, Zinke went to nearby East Bethlehem to announce $56 million in grants to clean up abandoned mining sites in the area. The entire event "had the feel of a hastily arranged news conference/town hall meeting/political opportunity," according to the local Observer-Reporter. Saccone was among the politicians present, while his challenger did not attend. The U.S. Office of Special Counsel is weighing a request to investigate whether Zinke's trip was designed to benefit Saccone politically.

March 15, 2018, AP: Zinke stacks wildlife-trade advisory board with trophy hunters. Zinke appointed trophy hunters, including some with direct ties to the Trump family, to the International Wildlife Conservation Council, an advisory board tasked with rewriting federal rules to allow the importation of body parts from slain African elephants, lions, and rhinos. The Associated Press reported, "A coalition of more than 20 environmental and animal welfare groups objected that the one-sided makeup of the council could violate the Federal Advisory Committee Act, which requires government boards to be balanced in terms of points of view and not improperly influenced by special interests." Most board members belong to hunting clubs or the National Rifle Association (NRA), and one member co-owns a private hunting reserve with Donald Trump Jr. and Eric Trump. The Trump administration officially lifted a ban on importing elephant parts from Zimbabwe and Zambia on March 1.

March 21, 2018, Politico: Zinke had a security detail during his two-week vacation in Greece and Turkey. Ryan and Lola Zinke's two-week vacation in Greece and Turkey to celebrate their 25-year wedding anniversary also included a security detail, according to records obtained by Politico. Besides these bare facts, the public still does not know important details about this arrangement including "exactly how many security personnel accompanied the couple, who paid for them, how much they cost or whether they traveled with Zinke and his wife, Lola, for the entire trip," Politico reported.

March 26, 2018, Wash. Post: Zinke filled a new outdoor recreation advisory panel with members who could benefit from DOI decisions. At the urging of industry representatives, Zinke established the "Made in America" Outdoor Recreation Advisory Committee last November and appointed "officials representing companies with National Park Service contracts, such as those in the hospitality sector, as well as those from the manufacturing, fishing, boating and all-terrain-vehicle industries," according to The Washington Post, which obtained records about the committee via the Freedom of Information Act (FOIA). Two of Zinke's nominees to the panel were flagged by Interior staffers as having potential conflicts of interest because their companies hold some of the National Park Service's largest concessions contracts, but they were appointed anyway.  

March 27, 2018, Politico: Florida's offshore drilling exemption may have been intended to benefit Gov. Rick Scott's Senate campaign. On January 4, 2018, Zinke announced a controversial proposal to allow offshore drilling in many new coastal areas, including off the coast of Florida. Five days later, Zinke exempted Florida from the expanded drilling plan after a supposedly spur-of-the-moment encounter in the Tallahassee airport with Florida Gov. Rick Scott. But records reviewed by Politico in March "showed that top officials from the offices of both Scott and the Interior secretary were in regular contact for several days leading up to the sudden announcement, contradicting the supposed spontaneous event that portrayed Scott as protecting Florida's environment." According to The Washington Post, "The whole episode seems to have been designed to demonstrate Mr. Scott's power and influence, by having him appear to summon the interior secretary to his state and bring him to heel in an afternoon." Scott announced his Senate candidacy on April 9, 2018. The next day, CNN reported the U.S. Office of Special Counsel is investigating whether Zinke's Florida announcement violated the Hatch Act.

March 28, 2018, Talking Points Memo: Zinke's mass reassignment of career Interior employees may have violated federal anti-discrimination laws. Last July, Zinke initiated the reassignment of 35 Senior Executive Service members at DOI, of which 27 were ultimately transferred. Many were told to "either accept a new placement on the other side of the country or in a role unrelated to their background, or leave the agency," according to Talking Points Memo. The DOI's inspector general concluded the reassignments occurred "without a written plan or clear criteria, and without consulting with the departmental leadership," which created the perception that staff were reassigned for "political or punitive reasons." Because a third of those reassigned are Native American, DOI may have violated federal anti-discrimination laws, as well as its own Indian Preference rules, as TPM later reported. Zinke has reportedly told senior staff that diversity is not important. After a congressional hearing in March, he was also accused of racial insensitivity for responding "Oh, konnichiwa" to Rep. Colleen Hanabusa (D-HI) after she shared the experience of two of her grandfathers who were held in internment camps during World War II.

April 6, 2018, Reveal: National Park Service deletes climate change from months-delayed report on sea-level rise. "National Park Service officials have deleted every mention of humans' role in causing climate change in drafts of a long-awaited report on sea level rise and storm surge," according to an investigation conducted by The Center for Investigative Reporting and published on its Reveal website. DOI oversees the National Park Service. Cat Hawkins, the head of the National Park Service's climate change response program, made the deletions, in possible violation of Interior rules prohibiting political appointees from influencing scientific and scholarly activities. The report was also delayed for 10 months, which hindered park managers' ability to access the latest research about how to mitigate the effects of extreme weather and sea-level rise on their parks. Zinke told the House Committee on Natural Resources in March, "I didn't change a paragraph — a comma — in any document and I never would." DOI's inspector general is investigating the matter.

April 16, 2018, HuffPost: Oil industry rep uses perch on DOI advisory group to push "wish list" of regulatory rollbacks. Under Zinke, advisory groups at DOI have been packed with industry representatives who want looser regulations. Kathleen Sgamma, president of the Western Energy Alliance (WEA), a lobbying group that represents 300 oil and gas companies, chairs one such group, which is tasked with recommending how Zinke should manage federal lands for fossil fuel development. The group's recommendations, which included regulatory rollbacks that had been on WEA's wish list for years, was initially drafted by Tripp Parks, WEA's head of government affairs. According to HuffPost, "A document obtained under the Freedom of Information Act reveals that Parks created the draft recommendations one day before Sgamma circulated them to committee members overseeing the working group." The Sierra Club's legal director told HuffPost, "It's a very clear instance of regulatory capture."

June 13, 2018, Wash. Post: DOI canceled a study of the health effects of mountaintop-removal coal mining with little justification, the department's inspector general found. After DOI last August halted a major public health study being conducted by the National Academies of Science on the impacts of surface coal mining on nearby residents, Rep. Raúl Grijalva (D-AZ) sent two letters to Zinke requesting information about the stoppage. Grijalva received no answer, so he requested an investigation by the DOI's inspector general, which then found that "Departmental officials were unable to provide specific criteria used for their determination whether to allow or cease certain grants and cooperative agreements." Records obtained by Pacific Standard show that before DOI stopped the study, Deputy Assistant Secretary Katharine MacGregor "had no fewer than six meetings with the most powerful mining players in the country. In both April and May of 2017, she met with the National Mining Association. In March and June, meanwhile, she met with Arch Coal, a long-time practitioner of mountaintop removal mining in Appalachia."

June 19, 2018, Politico: Zinke and the chairman of Halliburton could both benefit from a proposed real-estate deal in Montana. A foundation created by Zinke is helping to pave the way for a large commercial development that is backed by David Lesar, the chairman of energy-services giant Halliburton. According to Politico, the Great Northern Veterans Peace Park Foundation -- established by Zinke and currently run by his wife Lola -- agreed to allow 95 Karrow LLC, the Lesar-backed entity, to build a parking lot on land that had been donated to the foundation for creation of a park. The Zinkes also personally own land that's adjacent to the proposed development, potentially making that land much more valuable if the proposed development deal were to go through. The deal raises ethical concerns because Halliburton's business could be substantially affected by decisions made by DOI. Zinke met with Lesar and the project's other developers at Interior headquarters last year, Politico reported on June 21. Lesar and Zinke have had a relationship for years -- Lesar and his wife donated $10,400 to Zinke's first House campaign in 2014. On June 18, DOI's deputy inspector general confirmed that her office had opened an investigation into whether Zinke violated conflict-of-interest laws.

June 26, 2018, Reuters: Zinke's promotion of Trump's campaign slogan may have violated the Hatch Act. During a meeting of the Western Governors Association on June 26, Zinke tweeted a photo of one of his socks, which was emblazoned with Trump's face and his campaign slogan "Make America Great Again." Zinke deleted that tweet and then posted a follow-up tweet that crossed out "Make America Great Again" yet still showed Trump's face -- and then he deleted that one too. Those tweets may have violated the Hatch Act, which prohibits some forms of political activity by federal employees, Reuters reported. The U.S. Office of Special Counsel announced in March that because Trump has confirmed his candidacy for reelection, federal employees are prohibited while on duty from wearing or displaying items with the phrase "Make America Great Again" or non-official pictures of Trump. On July 9, CNN reported that the Office of Special Counsel opened a case file on whether Zinke's tweet violated the Hatch Act.

July 6, 2018, HuffPost: Former NRA lobbyist working for Zinke may have committed multiple ethics violations. Benjamin Cassidy, a former NRA lobbyist who joined the Interior Department in October 2017, may have violated ethics rules by attending at least two meetings with Zinke that involved issues Cassidy had recently lobbied on. Cassidy attended a February 2018 meeting on "international conservation," a discussion that most likely focused on issues such as hunting and animal trophy imports. While still employed with the NRA in 2017, Cassidy lobbied Congress on legislation dealing with animal trophy imports. Cassidy, whose official title is senior deputy director for intergovernmental and external affairs, should have signed Trump's ethics pledge that bars former lobbyists in the executive branch from participating for two years in any matters on which they lobbied in the two years before starting an administration job. Another potential ethics violation occurred in March, when Cassidy attended a pair of private receptions Interior held for members of the International Wildlife Conservation Council, which includes an NRA employee and a former NRA board member, HuffPost reported on July 16. Cassidy served as the council members' primary contact during their visit to Washington, D.C., for the receptions. Although it is not clear if Cassidy played a role in selecting members of the council, member Cameron Hanes thanked Cassidy as well as Zinke for including him. Cassidy "appears to be in violation of the prohibition on working on matters on which you've lobbied," an ethics expert told HuffPost.

July 20, 2018, CNN: Zinke kept meetings off of public calendar. Zinke's publicly released schedule omitted or obscured the details of about a dozen meetings. CNN compared email conversations between Zinke and his scheduler (made available through FOIA requests) to the calendars that the Interior Department released and found numerous discrepancies between the two. Zinke had previously undisclosed meetings with lobbyists, lawmakers, and interest groups. For example, CNN found that in May 2017, a meeting listed on his schedule with Rep. Chris Collins (R-NY) also included three executives from Delaware North, a contractor who does business with national parks. Rep. Raul Grijalva (D-AZ), ranking member of the Natural Resources Committee, called for an investigation. In September, CNN followed up on this reporting and found that nearly 50 meetings in May and June 2018 were vaguely described, making it difficult for the public to determine what he was doing and who he was meeting with. And in October, CNN reported that his calendar omissions actually dated to his very first day in office, and that some of the newly discovered omissions included meetings with representatives from energy companies whose activities DOI regulates.

July 23, 2018, Wash. Post: Zinke and aides rejected evidence that supported creation of national monuments and sought out evidence that didn't -- and then tried to conceal strategy from the public. Zinke's team selectively tailored a review of national monuments last year to dismiss the benefits of monuments and emphasize the value of activities such as logging and energy development on public lands, according to thousands of pages of email correspondence inadvertently released by the Interior Department's FOIA office. The DOI retracted the documents the next day and released redacted versions. In the first version, for instance, draft economic reports on monuments under scrutiny included information on the Interior Department's "ability to estimate the value of energy and/or minerals forgone as a result of the designations," but that information was redacted from the second batch of emails. In another instance, officials marked this statement about an Oregon national monument as eligible for redaction: "Previous timber sale planning and development in the [expansion area] can be immediately resumed." The review came in response to an executive order from Trump last year that instructed Zinke to scrutinize 27 national monuments established over a period of 21 years. It led Trump to dramatically shrink two national monuments in Utah.

October 16, 2018, The Hill: Zinke replaces DOI deputy inspector general with Republican political operative. The Hill reported that DOI Deputy Inspector General Mary Kendall was being replaced by Suzanne Israel Tufts, a political appointee at the Department of Housing and Urban Development (HUD) who had previously worked as a lawyer and liaison for the Trump campaign. Tufts will now be acting deputy inspector general. Kendall, who oversaw DOI's watchdog investigations and audits team for 10 years, only learned that she was being replaced when a colleague showed her an email sent by HUD Secretary Ben Carson to his agency's staffers. The move is seen as highly unusual, particularly as Zinke has been the subject of 14 government investigations into his conduct as secretary, including half a dozen that are ongoing. Michael Bromwich, a former inspector general for the DOJ, tweeted, "Politicizing the oversight function is dangerous, especially in the absence of any Congressional oversight. Changing IGs in the midst of multiple serious investigations of the agency's head should raise alarm bells everywhere." And Rep. Raúl Grijalva (D-AZ), ranking member of the House Natural Resources Committee, stated, "This stinks to high heaven. Secretary Zinke and the Interior Department are awash in wave after wave of scandal and corruption, and they decide now is the perfect time to get rid of the current IG."

October 16, 2018, The Hill: DOI was reportedly poised to replace deputy inspector general with Republican political operative, then reversed course after outcry. The Hill reported on October 16 that DOI Deputy Inspector General Mary Kendall was being replaced by Suzanne Israel Tufts, a political appointee at the Department of Housing and Urban Development (HUD) who had previously worked as a lawyer and liaison for the Trump campaign. Tufts would become acting deputy inspector general, according to The Hill. Kendall has overseen DOI's watchdog investigations and audits team for 10 years, and has been running investigations into a number of Zinke's questionable activities. She first learned that she was to be replaced when a colleague showed her an email sent by HUD Secretary Ben Carson to his agency's staffers. The reported personnel shift prompted a public outcry. Rep. Raúl Grijalva (D-AZ), ranking member of the House Natural Resources Committee, said, "This stinks to high heaven. Secretary Zinke and the Interior Department are awash in wave after wave of scandal and corruption, and they decide now is the perfect time to get rid of the current IG." Two days later, on October 18, DOI told CBS that the shift was not happening and reports about it were "false." On October 19, CBS reported that Tufts resigned from her position at HUD.

October 18, 2018, Wash. Post: Zinke's travel arrangements raised red flags among DOI ethics officials. A report by DOI's Office of Inspector General detailed how Zinke's travel practices violated department policy. The DOI's solicitor office approved Zinke's wife Lola to travel with him in government vehicles for free. Although DOI policy prohibited this practice, Zinke changed the policy this summer. And in order to further legitimize her taxpayer-funded travel, Zinke asked DOI staffers to research how his wife could get a volunteer job with the department. The report also found that a DOI security detail accompanied Zinke and his wife on a vacation to Turkey and Greece last year, at a cost of $25,000. Although this was determined not to be in violation of policy, the report did note the significant cost to taxpayers. An Interior spokesperson denied any wrongdoing on Zinke's part, stating that he "follows all relevant laws and regulations and that all of his travel was reviewed and approved by career ethics officials and solicitors prior to travel."

October 30, 2018, Wash. Post: Interior watchdog refers Zinke investigation to Justice Department. DOI's acting inspector general has referred one of its probes into Zinke's behavior to the Justice Department, and prosecutors will now determine if it warrants a criminal investigation. According to The Washington Post, individuals close to the matter did not specify which investigation was referred. The Office of Inspector General is currently conducting at least three probes into Zinke's conduct as interior secretary, including his role in a Montana real estate deal with the Halliburton chairman and his department's decision to block a casino proposal backed by Native American tribes. Walter Shaub, Trump's former director of the Office of Government Ethics, told Politico that this is a major development: "What I can say is, Inspectors general don't tend to refer matters to the Department of Justice unless they think that it's likely there's been a criminal violation."

October 31, 2018, HuffPost: Zinke compared Robert E. Lee to Martin Luther King Jr. Speaking in Kentucky at a ceremony designating Camp Nelson as a new national monument to black Civil War soldiers, Zinke likened Confederate General Robert E. Lee to Martin Luther King Jr. Zinke referred to the placement of the Martin Luther King Jr. Memorial in Washington, D.C., which is near both the Lincoln Memorial and Arlington National Cemetery, the site of Lee's former plantation. Zinke said, "I like to think that Lincoln doesn't have his back to General Lee. He's in front of him. There's a difference. Similar to Martin Luther King doesn't have his back to Lincoln. He's in front of Lincoln as we march together to form a more perfect union. That's a great story, and so is Camp Nelson." Local Kentucky newspaper The Jessamine Journal posted the speech on Facebook. A year previously, in an interview with Breitbart, Zinke defended Confederate monuments and said none of them would be removed from federal land.

November 5, 2018, Wash. Post: Zinke violated an ethics pledge by working on issues related to his family foundation's land holdings. In January 2017, after he was nominated to be interior secretary, Zinke pledged to step down as president of a foundation he created, the Great Northern Veterans Peace Park Foundation, and refrain from matters pertaining to it for one year. But according to The Washington Post, in August 2017 Zinke exchanged emails with a city planner in Whitefish, MT, and told him he could construct a disc-golf course on the foundation's land. In earlier messages in the same email exchange, Zinke criticized a Politico article that linked his foundation to a property deal with the chairman of Halliburton. Additionally, his foundation's 2018 annual report still showed that Zinke continued to serve as a foundation officer, though he later said that was in error.