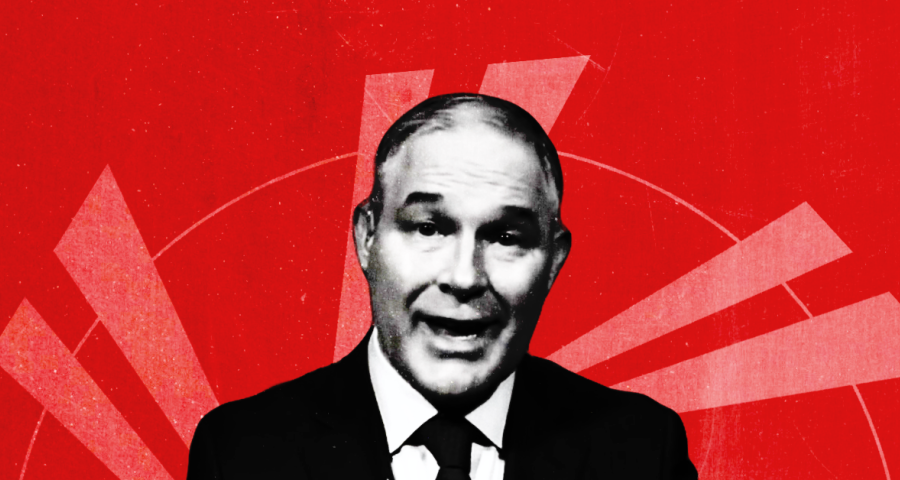 Research/Study
STUDY: EPA chief Scott Pruitt has given more interviews to Fox than to all other major TV networks combined
Pruitt shares the Trump administration's preference for Fox News and right-wing media
Environmental Protection Agency Administrator Scott Pruitt has appeared on Fox News twice as often as on other cable and broadcast networks combined, and he has frequently granted interviews to right-wing talk radio shows and other climate-denying outlets, Media Matters has found.

Pruitt's media strategy is right in line with that of his boss. During the 2016 presidential campaign, Donald Trump eschewed mainstream media outlets; it's a pattern his administration has continued since the election, favoring conservative and right-wing media outlets that are friendly to President Trump's agenda. By following the same approach, Pruitt has been able to push misinformation, avoid tough questioning, and appeal to the president's political base.

Pruitt appeared on Fox News twice as often as he did on CNN, MSNBC, ABC, CBS, and NBC combined

Scott Pruitt has been a guest on Fox News a total of 12 times since his confirmation. From February 17, when he was sworn in, to August 14, Pruitt made twice as many appearances on Fox News (12) as he did on CNN, MSNBC, ABC, CBS, and NBC combined (6).* With the exception of two appearances on Fox News Sunday, Pruitt rarely faced tough questions on Fox News and was able to use the network as a platform for pushing misleading talking points without rebuttal. Pruitt appeared most frequently on Fox & Friends, Trump's favorite show, which some journalists have criticized as "state TV" and "a daily infomercial for the Trump presidency" for its sycophantic coverage of the president and his administration. Pruitt made the following appearances on Fox News:

By comparison, Pruitt made only six appearances on the other major cable and broadcast television networks combined. From the time Pruitt took the helm at the EPA through August 14, he was a guest just six times total on CNN, MSNBC, ABC, and NBC, and he made no appearances at all on CBS. On each of these non-Fox programs, Pruitt faced questions either about whether Trump still believes climate change is a hoax or about Pruitt's own views on climate change. In response, Pruitt either avoided answering the question or repeated his "lukewarmer" stance that climate change is happening but we don't know how much is human-caused. In all but one of these appearances, Pruitt repeated false or misleading talking points about the Paris climate agreement. Here are Pruitt's guest appearances on cable news and broadcast networks other than Fox:

*Pruitt's appearance on Meet the Press aired on both NBC and MSNBC, but for the purposes of this study, we only counted it as an NBC appearance.

Pruitt has been a frequent guest on national right-wing talk radio shows

Pruitt has also been a frequent guest on nationally broadcast right-wing talk radio shows since his confirmation, Media Matters found. We examined the top 10 shows listed on Talkers.com's Top Talk Audiences list, as well as numerous shows broadcast on the SiriusXM Patriot channel, and found the following:

All of these hosts or outlets have denied climate change:

MICHAEL SAVAGE (HOST): Please explain to me how come ancient core samples from the Antarctic show that there was climate change going on hundreds of thousands of years before man industrialized. [Whitehouse] would not have an answer for us, Mr. Pruitt. The science is fake science that they've been foisting upon a gullible public.

SCOTT PRUITT: You know what's interesting, Michael? There was a great article in The Wall Street Journal to your point, by Steven Koonin, a scientist at NYU, called "red team/blue team." I don't know if you saw it or not. But he proposed that we should have a red team/blue team approach with respect to CO2. We should have red team scientists and blue team scientists, in an open setting, debate, discuss, and have an open discussion about what do we know, what don't we know, and the American people deserve truth.

SAVAGE: Amen to that, because we've had no debate whatsoever. All Obama told us was 98 percent of scientists agree. So what? There was a time when 100 percent of scientists said the Earth is flat. Did that make them right?

PRUITT: No, look, I mean the reason there's not consensus, through policy in Washington, D.C., is because, truly, the American people don't trust what has happened in the past several years with respect to regulatory policy and this issue.

 

Pruitt's right-wing radio appearances have extended beyond nationally broadcast shows. E&E News reported in May that Pruitt appeared on "the local morning talk radio show of a North Dakota blogger who described the Obama administration's EPA as an enemy to the well-being of his state." ThinkProgress noted that during a "state listening tour" in North Dakota earlier this month, "Pruitt stopped by the conservative talk radio show What's On Your Mind to share his thoughts on a number of EPA-related issues." During that conversation, Pruitt referred to the "so-called settled science" of climate change.

And on August 10, Pruitt appeared on a Texas radio show, Politico reported, where he said his staff will assess the "accuracy" of a major federal climate report that's been drafted by scientists from 13 agencies. "Frankly this report ought to be subjected to peer-reviewed, objective-reviewed methodology and evaluation," he said, ignoring the fact that the report has already undergone extensive peer review. Pruitt also used his appearance on the show to cast doubt on climate science in general.

Pruitt has given interviews to other climate-denying outlets, including online publications and cable business shows

In addition to his June interview on Breitbart's radio show, Pruitt granted the Breitbart website an interview in March.

Pruitt also sat for a lengthy video interview in July with the fossil fuel-funded Daily Caller, another denialist online outlet. And he gave an interview in May to The Daily Signal, an online news outlet run by the Heritage Foundation, a conservative think tank that casts doubt on climate change.

Besides his appearances on cable news shows, Pruitt also went on cable business shows and networks that serve as platforms for climate denial -- most notably CNBC's Squawk Box, where he told climate-denying host Joe Kernen that he did not believe carbon dioxide is a primary contributor to global warming. Pruitt has also frequently given interviews on Fox Business Network, which mirrors Fox News' denialist stance on global warming. Pruitt made the following appearances on the Fox Business Network:

One appearance on Cavuto: Coast to Coast on March 9.
One appearance on The Intelligence Report with Trish Regan on April 12.

Pruitt's courting of conservative media is "on an entirely different level" from predecessors

Scott Waldman of E&E News reported that after "weeks of blowback" from Pruitt's appearance on Squawk Box, the EPA chief "shifted his media appearances to friendlier venues," a move that "allowed him to tee off on a favorite series of talking points: Obama's energy policy was 'America second,' energy industry innovations have reduced the U.S. carbon footprint, the so-called war on coal is now over, EPA's job is to encourage business growth in concert with the environment, and the era of punitive action against energy companies is over." Waldman also noted that Pruitt's "courting of conservative media is on an entirely different level" from previous EPA administrators. From Waldman's article:

To be sure, all administrations seek out friendly press. President Obama talked about health care on the "Between Two Ferns" comedy program with Zach Galifianakis, which Republicans criticized as undignified. And former EPA Administrator Gina McCarthy granted exclusive interviews to left-leaning outlets like Mother Jones and Grist.

But critics say Pruitt's courting of conservative media is on an entirely different level.

[…]

Liz Purchia, a former EPA spokeswoman under the Obama administration, said it's extremely unusual to place an administrator only on partisan outlets. She noted that McCarthy regularly interacted with reporters from outlets that produced coverage EPA officials did not appreciate.

[…]

"Only talking to far right-wing media outlets, they are only talking to a small group of Americans that regularly follow them, and they are intentionally going to reporters who will only ask them questions they want to hear and aren't speaking to the broader American people about their actions," Purchia said.

In Mother Jones, Rebecca Leber also reported that "since taking office, Pruitt has almost exclusively relied on a small number of conservative media outlets to tell an upbeat version of his leadership at the EPA, with occasional detours into the Sunday news shows," creating "an echo chamber cheerleading the EPA's regulatory rollbacks, Trump's withdrawal from the Paris climate agreement, and its newfound anti-science denial."

Leber also quoted Purchia remarking on how Pruitt's approach to media interviews "isolates him from most Americans and instead plays to Trump's base":

Liz Purchia, an Obama-era EPA communications staffer, says the EPA's attention to right-wing audiences resembles Trump's tactics at the White House. "They're tightly controlling [Pruitt's] public events and interviews, which isolates him from most Americans and instead plays to Trump's base," Purchia said in an email. "They're not trying to use communications tactics to reach a broad audience."

Charts by Sarah Wasko

Methodology

Media Matters searched the following terms in Nexis, iQ Media, and TVEyes to find Scott Pruitt's on-air TV appearances from the date of his swearing in as EPA Administrator on February 17 to August 14: "Pruitt," "EPA administrator," "E.P.A. administrator," "EPA chief," "E.P.A. chief," "EPA head," "E.P.A. head," "head of the EPA," "head of the E.P.A.," "head of the Environmental Protection Agency," "Environmental Protection Agency Administrator," or "Administrator of the Environmental Protection Agency." We did not count instances of networks airing Pruitt's appearance at the White House's June 2 press briefing.

For radio appearances, Matters Matters searched the same terms in Veritone for the top 10 programs in Talkers.com's Top Talk Audiences list and the following programs that air on SiriusXM Patriot: Breitbart News Daily, David Webb Show, Brian Kilmeade Show, and The Wilkow Majority.