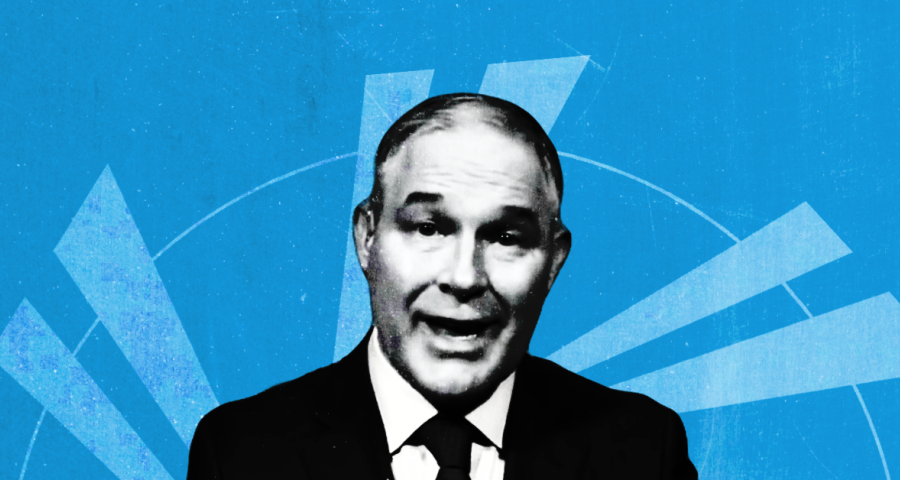 Research/Study
Scott Pruitt appeared on Fox more than twice as often as other major TV networks combined in his first year at EPA
Fox News, meanwhile, largely ignored controversies about Pruitt's extravagant travel
In his first year as the administrator of the Environmental Protection Agency, Scott Pruitt appeared on Fox News more than twice as often as he did on the other major cable and broadcast networks combined. During the same period, Fox News devoted significantly less coverage to controversies about Pruitt's costly travel than the other major cable news outlets, CNN and MSNBC.

Pruitt's preference for appearing on Fox News is part of a wider trend that extends across the Trump administration, with Fox News serving as the go-to network for administration officials. Fox News' habit of ignoring unflattering news about Pruitt is also in line with the network's tendency to ignore negative stories about President Donald Trump and his administration.

In first year as EPA head, Pruitt appeared on Fox News more than twice as often as on the other major networks combined

Scott Pruitt appeared on Fox News 16 times in his first year at EPA. A previous Media Matters study examining Pruitt's first six months after taking office on February 17, 2017, found that he appeared on Fox News twice as often as he did on CNN, MSNBC, ABC, CBS, and NBC combined. He continued that trend in his second six months in office, making four more appearances on Fox and only one additional appearance on a non-Fox outlet, CBS. In total, during his first year, he appeared 16 times on Fox and only seven times on the other networks combined.

Pruitt rarely faced tough questioning during his appearances on Fox, with the exception of two interviews by Chris Wallace on Fox News Sunday. During most of Pruitt's Fox appearances, he advocated for and defended the president's decision to withdraw from the Paris agreement, though he also went on the network to defend his rollbacks of other Obama-era environmental protections.

The Fox program he appeared on most often was Fox & Friends, a show that wields agenda-setting influence with the president. Here are all of Pruitt's Fox News appearances from his first year at the EPA:

*The segment on Your World with Neil Cavuto on October 17 used footage from an interview Pruitt did earlier on the same day on the Fox Business Network program Cavuto: Coast to Coast.

Pruitt made just seven appearances on the other major cable and broadcast TV networks combined. In his first year leading the EPA, Pruitt made only seven appearances total on ABC, CBS, NBC, CNN, and MSNBC. In the majority of these, he defended U.S. withdrawal from the Paris climate accord, as he did during his Fox appearances. In other cases, he broadly discussed his agenda and priorities and defended rollbacks of environmental regulations.

Here are Pruitt's appearances on the major broadcast TV networks, CNN, and MSNBC during his first year:  

Fox News devoted significantly less coverage to Pruitt's controversial use of taxpayer money than CNN and MSNBC

On September 27, The Washington Post published an article about Pruitt taking "at least four noncommercial and military flights since mid-February, costing taxpayers more than $58,000."

The story received extensive mainstream media coverage, including on other cable news networks. During the week after the story broke, from September 27 to October 3, CNN and MSNBC aired 32 and 31 segments on the controversy, respectively, often mentioning other cabinet members' high travel expenses as well. But Fox News aired just seven segments about Pruitt's costly charter and military flights. In one Fox segment, on the September 29 episode of Your World with Neil Cavuto, correspondent John Roberts stated, "Scott Pruitt took four, maybe five charter flights. Those were all approved by the EPA Office of Ethics, and he has come up with a full explanation for those. … It's my belief that the other departments, Interior, Treasury, EPA, whatever, are allowed to do those private flights, as long as they have pre-approval for that."

On February 11, 2018, The Washington Post again detailed Pruitt's exorbitant spending in an article headlined "First-class travel distinguishes Scott Pruitt's EPA tenure." The Post reported that Pruitt racked up $90,000 in taxpayer-funded travel costs during one stretch in early June, and that figure did not include the additional travel costs for Pruitt's round-the-clock security detail. CBS News reported two days later that Pruitt broke with a government policy that officials fly on U.S. airlines by traveling on the luxury Emirates airline on a return trip from Milan, Italy. The story gained further traction after the EPA changed its tune about whether Pruitt had a blanket waiver to travel first class and clarified what security threats justified Pruitt's use of first-class travel.

Yet in the week following the Post's article, from February 11 to February 17, Fox News did not mention the renewed controversy over Pruitt's travel costs even once.* CNN and MSNBC, by contrast, aired four and eight segments on his travel, respectively.

*Fox News did air two segments on the latest Pruitt travel controversy on the February 19 episode of Shepard Smith Reporting and the February 28 episode of Special Report with Bret Baier, but these segments were aired more than a week after the Post story and fell outside the one-year time frame of our study.  

On business news networks, Pruitt appeared on Fox Business four times as often as on CNBC

Pruitt's preference for Fox extended to the Fox Business Network. On the cable business news channels, Pruitt again demonstrated a predilection for Fox, making eight appearances on Fox Business, while appearing only twice on competitor CNBC. Fox Business Network has exhibited strong pro-Trump leanings, as outlets including USA Today and Business Insider have reported.

Here are Pruitt's appearances on Fox Business shows:

Fox Business defended Pruitt by attacking a CNN report. After Pruitt gave numerous interviews to Fox Business, the network did Pruitt a favor. In October, it aggressively and baselessly attacked a CNN investigation into moves Pruitt made to help a proposed mine in Alaska right after meeting with the CEO of the mining company pushing the project. The network aired four segments in two days that criticized CNN's story and defended the mine. On all four segments, the hosts and interviewees did not dispute any of the specific facts reported by CNN, but they used highly charged language to try to discredit the story, calling CNN's investigation a "smear," a "hit piece," and "dishonest reporting." (In January, Pruitt reversed his decision and reinstated restrictions on the mine project. Fox News did not report on this reversal.)

Pruitt gave numerous interviews to right-wing radio programs and a variety of print outlets

Pruitt frequently appeared on radio shows hosted by climate change deniers like Brian Kilmeade and Michael Savage. Media Matters' previous study on Pruitt's first six months in office found that he made half a dozen appearances on popular right-wing talk radio programs hosted by people who deny climate science. He continued that pattern in his second six months, making appearances on programs including The Rush Limbaugh Show (where he was interviewed by guest host and climate denier Mark Steyn), The Hugh Hewitt Show, The Savage Nation, The Brian Kilmeade Show, The David Webb Show, and Breitbart News Daily.

Pruitt's print and online interviews included some mainstream outlets. While Pruitt leaned heavily on right-wing outlets when doing TV and radio, he granted interviews to a wider variety of newspapers, magazines, wire services, and online publications. Some of those interviews were with conservative outlets, including National Review, The Daily Caller, and The Daily Signal. Some were with the business press, like The Wall Street Journal and Bloomberg. And some were with prominent mainstream outlets, including The Washington Post, TIME, USA Today, Reuters, and The New York Times podcast The Daily.  

Still, overall, Pruitt heavily favors conservative media when trying to push out his talking points. As Mother Jones recently reported in an in-depth profile of Pruitt, the EPA under his direction "has mostly focused on spreading its message through the right-wing media, talking frequently to Fox News and conservative radio hosts while dismissing less favorable coverage as fake."

Pruitt's preference for right-wing media is continuing into his second year at the EPA. In the 16 days since his one-year anniversary, he has given interviews to the Christian Broadcasting Network, The Daily Signal, and Fox News.

Methodology

Media Matters searched the following terms in Nexis and iQ Media to find Scott Pruitt's on-air TV appearances from the date of his swearing in as EPA administrator on February 17, 2017, to February 17, 2018: "Pruitt," "Pruett," "EPA administrator," "E.P.A. administrator," "EPA chief," "E.P.A. chief," "EPA head," "E.P.A. head," "head of the EPA," "head of the E.P.A.," "head of the Environmental Protection Agency," "Environmental Protection Agency Administrator," or "Administrator of the Environmental Protection Agency." We did not count instances of networks airing Pruitt's appearance at the White House's June 2 press briefing.

We also used the same terms to search cable news networks' coverage of Pruitt's travel controversies from September 27 to October 3 and from February 11, 2018, to February 17, 2018. We did not count instances of networks airing White House briefings that discussed these controversies.