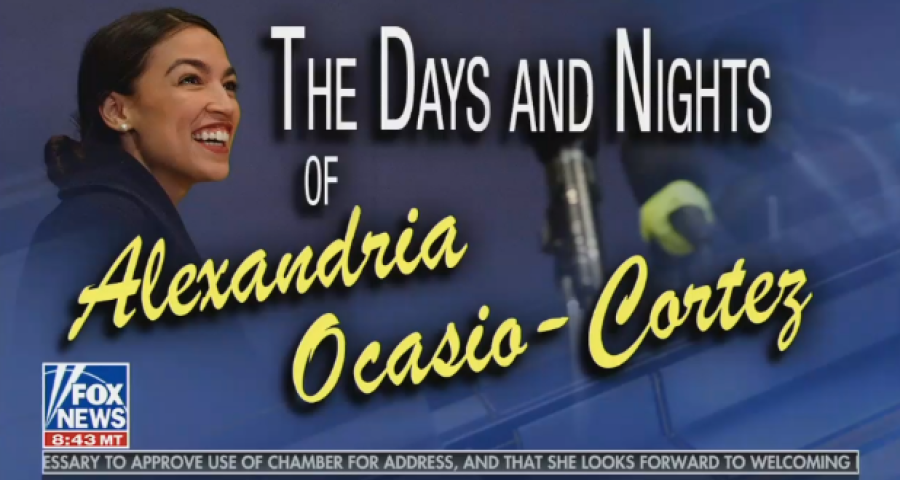 Research/Study
Prime-time Fox shows have mentioned Rep. Alexandria Ocasio-Cortez over 4 times more than Senate Majority Leader Mitch McConnell
Sean Hannity alone mentioned Ocasio-Cortez more than all prime-time shows combined referenced McConnell
Since the beginning of this year, Fox News' prime-time cable lineup -- Tucker Carlson Tonight, Hannity, and The Ingraham Angle -- has obsessed over freshman Rep. Alexandria Ocasio-Cortez (D-NY) while virtually ignoring Senate Majority Leader Mitch McConnell (R-KY) as he presided over the longest government shutdown in U.S. history.

Media Matters reviewed every mention of Ocasio-Cortez and McConnell in January and found that these three shows together mentioned Ocasio-Cortez 120 times and aired 27 segments focused on the congresswoman. By contrast, the shows mentioned McConnell only a combined 27 times and aired zero segments focused on the majority leader.

Melissa Joskow / Media Matters

Right-wing media are obsessed with Ocasio-Cortez. Vice reviewed conservative attacks on the congresswoman, concluding that "Ocasio-Cortez is a young woman of color from New York City who proudly identifies as a socialist -- perfect grist for the right-wing media mill." Vanity Fair made a similar point about the conservative fixation with Ocasio-Cortez, and The Atlantic noted that "conservatives seem particularly intent on proving that her working-class background is fraudulent."

Media Matters has cataloged these right-wing media attacks again and again. We have reported on conservative radio host Rush Limbaugh comparing Ocasio-Cortez to Hitler, Stalin, and Pol Pot; Fox News host Bill Hemmer mocking Ocasio-Cortez's Green New Deal; The Ingraham Angle host Laura Ingraham deriding Ocasio-Cortez for having "minority privilege" on Ingraham's podcast; and NRATV host Grant Stinchfield stating that Ocasio-Cortez "doesn't have any mental capacity to actually reason."

In Fox News' prime-time coverage of Ocasio-Cortez, host Sean Hannity was by far the most fixated: In January, he mentioned her by name 46 times -- that's more than twice per show. No other person during Fox News' prime time even came close. Behind Hannity was host Tucker Carlson with 16 mentions, then Ingraham with 12 mentions.

In total, the three shows spent about one hour and 28 minutes in segments focused on Ocasio-Cortez. The Ingraham Angle devoted the most time, with just over 34 minutes of discussion. Hannity followed with approximately 33 minutes, and Tucker Carlson Tonight spent nearly 20 minutes on the congresswoman.

Melissa Joskow / Media Matters

But McConnell was hardly mentioned at all, and when he was, the mention was always in passing. Fox's prime-time shows held no lengthy discussions about McConnell hiding on the sidelines during the longest government shutdown in U.S. history. Likewise, they had no discussions about the Senate majority leader's derision at attempts to make voting easier or his remarks that making Election Day a holiday was an attempted Democratic "power grab." Throughout the month, Ingraham mentioned McConnell by name just five times, Hannity mentioned him only three times, and Carlson made no mentions at all.

Of the 27 total mentions of McConnell, six of them occurred when Fox aired a clip in which Ocasio-Cortez said McConnell's name repeatedly. In the video, the congresswoman was asking, "Where's Mitch?" which is more than can be said of Fox's hosts.

Ocasio-Cortez was commonly mentioned in segments about the "radical left," "socialism on the rise," and "progressives gone wild." Hosts and guests on Fox's prime-time shows pejoratively referred to her as a socialist, a radical, or both. Hannity once called her "O-scare-io-Cortez," as if that was some kind of witty pun on her name.

These segments criticized her support of a Green New Deal, derided her Medicare-for-all policy position, and mischaracterized her call for raising marginal tax rates -- even though majorities of Americans support all three. But they also spent time talking about her dance moves; one Ingraham Angle segment about the congresswoman was called, "The Days and Nights of AOC."

All the while, McConnell oversaw the longest government shutdown in U.S. history -- 35 days total -- which the Congressional Budget Office estimated cost the U.S. economy $11 billion.

Methodology

Media Matters searched the SnapStream video database for any mentions of "Ocasio-Cortez," "Ocasio," "Cortez," "AOC," or "McConnell" (including spelling variations) from January 2 to January 31, 2019, on Fox News Channel's weeknight prime-time lineup: Tucker Carlson Tonight, Hannity, and The Ingraham Angle. The network did not air new episodes of its prime-time shows on January 1 due to the holiday.

We counted segments, which we defined as instances where Ocasio-Cortez or McConnell was the stated topic of discussion. We also coded "significant discussion" as a segment, which we defined as two speakers discussing Ocasio-Cortez or McConnell with one another. This definition includes host monologues, guest panels, or interviews that discussed or focused on either person. Only the relevant speech within each segment was timed.

We also counted mentions, which we defined as each time Ocasio-Cortez or McConnell was specifically mentioned by name.