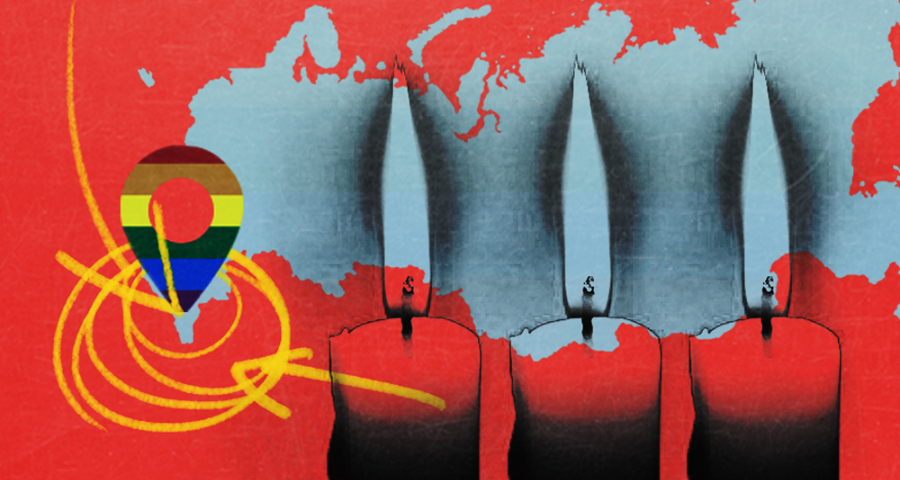 Research/Study
The imprisonment and execution of gay men in Chechnya has been virtually ignored by evening cable and broadcast news
In the four months since The New York Times first reported that authorities in Chechnya "were arresting and killing gay men," evening cable and evening broadcast news programming has virtually ignored the story. Between April 1 and July 31, there were only three significant mentions in total across six networks -- two news packages and one brief exchange -- about the ongoing human rights abuses.

On April 1, The New York Times reported that "Chechen authorities were arresting and killing gay men." Citing independent Russian newspaper Novaya Gazeta, the Times' Andrew Kramer wrote that "men were detained 'in connection with their nontraditional sexual orientation, or suspicion of such,'" and that "more than 100 gay men had been detained" so far. The report added that Novaya Gazeta "had the names of three murder victims, and suspected many others had died in extrajudicial killings," and it noted that authorities posed "as men looking for dates" on social networking sites to lure in victims. Many gay men have fled the region as a result. The Times report quoted a spokesperson for Chechen leader Ramzan Kadyrov who denied the existence of gay people in Chechnya, calling the reports "absolute lies and disinformation." "You cannot arrest or repress people who just don't exist in the republic," he said. Kadyrov has since been interviewed for HBO's Real Sports with Bryant Gumbel by reporter David Scott, and according to The Washington Post, during the conversation, he "laugh[ed] dismissively at questions about the allegations" and said that gay men "are not people":

In his interview with Scott, Kadyrov initially laughs dismissively at questions about the allegations. "Why did he come here?" he says to someone off camera. "What's the point of these questions?" But as Scott presses him, Kadyrov talks angrily about the reporters and activists who write about LGBT rights in Chechnya.

"They are devils. They are for sale. They are not people," he says. "God damn them for what they are accusing us of. They will have to answer to the almighty for this."

A Media Matters analysis of CNN's, MSNBC's, and Fox News' weekday evening programming from 5-11 p.m. and ABC's, CBS', and NBC's flagship evening news programs -- both weekend and weekday -- found virtual silence across the networks regarding the abuse of LGBTQ people in Chechnya. There were only three significant mentions of the story across all six networks between April 1 and July 31 and one short exchange in a broader discussion about the United States' position on human rights around the world.

Sarah Wasko / Media Matters

Over the last four months, CNN was the only cable network to air a full segment dedicated to the subject, as well as one brief exchange during a separate interview. A special April 24 evening edition of CNN's The Lead with Jake Tapper aired a package in which reporter Matthew Chance covered the subject. During the May 4 edition of CNN's Anderson Cooper 360, there was also a brief exchange between host Anderson Cooper and guest Sen. John McCain (R-AZ) in which Cooper mentioned German Chancellor Angela Merkel's request to Russian President Vladimir Putin to intervene and help protect gay people in the country. McCain did not comment on the atrocities in Chechnya specifically during the exchange.

Of the three broadcast flagship programs, there was no significant mention of Chechnya's abuses on weekdays. On April 23, however, the Sunday edition of NBC Nightly News devoted a segment to the topic featuring reporter Lucy Kafanov. 

During the segment on The Lead, host Jake Tapper noted that the story was not "getting enough attention," and Matthew Chance reported that the journalist who broke the story was "fleeing the country" after she received threats for her reporting. He also said that at least five other reporters at her newspaper have been killed since 2000 "in mafia-style hits." The package also featured video of a victim speaking out about what Chance described as "horrifying abuse," detailing the torture by authorities:

UNIDENTIFIED MALE: They tied wires to my hand and put metal clippers on my ears to electrocute me. When they shock you, you jump high above the ground. [via Nexis]

NBC's report also featured interviews with a victim of the abuse in Chechnya, as well as another journalist from Novaya Gazeta. The victim, who used a pseudonym, detailed being "dragged … out of a car," beaten, and told that "gays shouldn't exist in Chechnya." NBC's Kafanov added that in addition to the reporting by Novaya Gazeta, the abuses had been corroborated by human rights groups.

Prominent world leaders have spoken out against the human rights abuses in Chechnya, including Merkel and newly elected French President Emmanuel Macron. Major human rights groups such as the Human Rights Campaign (HRC), Amnesty International, and Outright International have also launched campaigns in support of LGBTQ Chechens. Despite this international condemnation -- and human rights groups' calls for President Donald Trump to comment -- the president has not spoken publicly about the allegations or condemned Chechnya's actions. It should be noted that newly appointed United Nations Ambassador Nikki Haley and State Department spokesperson Heather Nauert have issued statements on the reports.

Chechnya's brutal attacks against and murders of queer men in the region have become an international human rights issue, but the American public would not know that by watching the evening news. Though NBC's and CNN's pieces provided solid reporting, one package on each network's evening programming over a four-month span is not enough, and the utter silence of ABC, CBS, MSNBC, and Fox News does a disservice to their viewers.

Methodology:

Media Matters searched Nexis transcripts of CNN's, MSNBC's, and Fox News' weekday 5-11 p.m. programming between April 1 and July 26 for mentions of the words "Chechnya" or "Chechen" or "Kadyrov" or "Russia" within 20 words of the terms "gay" or "LGBT" or "homosexual" or "lesbian" or "bisexual." Media Matters also searched Nexis transcripts for those terms appearing on ABC's, CBS', and NBC's nightly news programs ABC World News Tonight, CBS Evening News, and NBC Nightly News, including the Saturday and Sunday editions of those shows. Media Matters also searched iQ media for those terms appearing on MSNBC's 6 p.m. programming and the weekend broadcast news shows.

Mentions of those terms were included in the analysis if the human rights abuses of gay, bisexual, and queer men in Chechnya were mentioned as the stated topic of conversation or if there was significant discussion of the topic. "Significant discussion" is defined as a back-and-forth exchange between two or more people; passing mentions were not included in the analysis.