HuffPo: NY Post Fires Editor Critical Of Racist Obama-Stimulus Cartoon
The Huffington Post's Sam Stein reported this afternoon that the New York Post has confirmed that an "editor who spoke out against a controversial cartoon the paper ran comparing the author of the president's stimulus package to a dead chimpanzee has been fired from her job."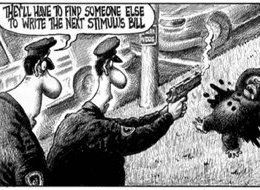 More from Stein's report:
Sandra Guzman was quietly dismissed from her position as associate editor last week for reasons that are being hotly debated by personnel inside the company. An official statement from the New York Post, provided to the Huffington Post, said that her job was terminated once the paper ended the section she was editing.

"Sandra is no longer with The Post because the monthly in-paper insert, Tempo, of which she was the editor, has been discontinued."

Employees at the paper -- which is one of media mogul's Rupert Murdoch's crown jewels -- said the firing, which took place last Tuesday, seemed retributive.

Guzman was the most high-profile Post employee to publicly speak out against a cartoon that likened the author of the stimulus bill (whom nearly everyone associated with President Barack Obama) with a rabid primate. Drawn by famed cartoonist Sean Delonas, the illustration pictured two befuddled policeman -- having just shot the chimp twice in the chest -- saying: "They'll have to find someone else to write the next stimulus bill."

"I neither commissioned or approved it," Guzman wrote to a list of journalist colleagues shortly thereafter. "I saw it in the paper yesterday with the rest of the world. And, I have raised my objections to management."

The remark from Guzman was a rare instance of dissension within the halls of the paper making its way into the public domain. And sources at the Post now say it cost her a job.