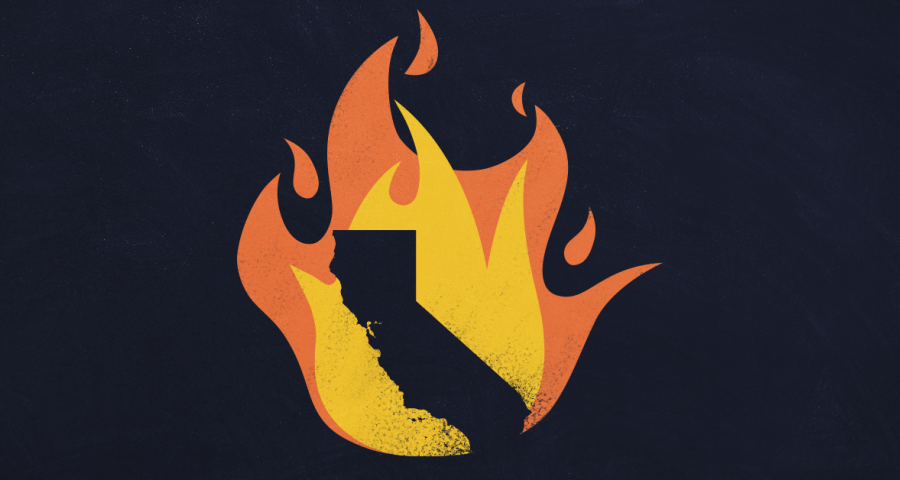 Research/Study
National broadcast TV news mentioned climate change in less than 4 percent of California wildfire coverage
While ABC, CBS, and NBC again dropped the ball, local TV news programs in California brought up climate change numerous times during wildfire reporting
This month's catastrophic California wildfires garnered significant media coverage, with major national news programs on ABC, CBS, and NBC airing more than 100 segments about the unfolding disasters. But Media Matters found that just 3.7 percent of those segments mentioned the link between climate change and worsening wildfires. That's a minuscule improvement over their coverage of Western wildfires this summer, when the networks incorporated climate change into less than 2 percent of their segments.

On the local level, TV news programs on California stations included discussion of climate change in numerous segments about the ongoing wildfires. News shows on major TV network affiliates in the state's three largest media markets aired 44 episodes that addressed how climate change exacerbates wildfires.

Climate change is a critical factor contributing to the growing severity of wildfires in the United States, according to researchers. Scientists have documented an increase in both the number of large fires and the total area burned per year in the U.S. Fifteen of the 20 largest wildfires in California's history have occurred since 2000, as rising temperatures in the West have lengthened wildfire season by several months. Jonathan Overpeck, a climate scientist and dean of the University of Michigan's environmental school, told The Associated Press that the increasing severity of fires is "much less due to bad management and is instead the result of our baking of our forests, woodlands and grasslands with ever-worsening climate change."

NBC mentioned climate change in just two segments, while ABC and CBS each made only one mention

The three national broadcast TV networks -- ABC, CBS, and NBC -- aired 107 segments about the California wildfires on their major morning and evening news programs from November 8 to 13. Only four of these, or 3.7 percent, included discussion of climate change. NBC aired two of the segments that mentioned climate change, while ABC and CBS aired one each.

Melissa Joskow / Media Matters

Both of NBC's climate change mentions came from weather anchor Al Roker on the November 12 episode of Today. During the show's 7 a.m. hour, Roker discussed the factors that have made the fires so bad: "July was the hottest month ever recorded in California. That hot weather dries out the vegetation. They've had no rain to speak of really in the last three months. Parched conditions. And this is all due to climate change." He noted that the annual number of large fires in the state has more than tripled since 1970, and that there have been six times as many acres burned per year on average since then. He made many of the same points in a later segment during the same episode. Here's the first segment:

CBS' climate change mention came on the November 11 episode of CBS This Morning, during a segment by WCBS New York weather anchor Lonnie Quinn. He said researchers believe that "both forest management and the changing climate play a role" in worsening wildfires. "California's temperatures have increased 2 to even 3 degrees over the last century," he explained. "Making matters worse, there was a five-year drought from 2011 to 2016. That drought killed more than 129 million trees. That's just fuel for the current fires that are out there."

ABC's coverage was the weakest, seeming to downplay the effect of climate change on the wildfires. On the November 10 episode of ABC's Good Morning America, anchor Eva Pilgrim said to ABC senior meteorologist Rob Marciano, "It seems like these fires are getting worse and worse every year. Is this climate change? What's the deal with all this?" Marciano responded, "This summer we saw excessive heat waves and drought in some cases, you can link a little bit of that to climate change. But this is a Santa Ana season, so this is not unusual to get winds blowing flames like this, and this is a dry season as well."

Even this fleeting mention of climate change is a slight improvement for ABC, which rarely brings up climate change at all in its coverage of extreme weather. During this past summer's dramatic wildfire season, ABC's coverage didn't mention climate change a single time, and the network made no mention of climate change earlier this year in its coverage of both a deadly heat wave and Hurricane Florence.

CBS and NBC also did poorly when it came to incorporating climate change into their reporting on this summer's wildfires in the Western U.S., even though they didn't completely strike out like ABC. From June 21 to September 21, the main morning and evening news programs on ABC, CBS, and NBC aired a combined 471 segments discussing the wildfires, and only nine of them, or 1.9 percent, mentioned climate change -- six on CBS and three on NBC.

California local news shows mentioned climate change numerous times in their wildfire coverage

Media Matters also analyzed news coverage of the wildfires on local affiliates of ABC, CBS, NBC, and Fox in the three largest California media markets: Los Angeles, San Francisco-San Jose-Oakland, and Sacramento-Stockton-Modesto. From November 8 to 13, we found 44 news show episodes that mentioned climate change in relation to the wildfires -- 16 in Los Angeles, and 14 each in the Sacramento and San Francisco areas. Over half of these episodes featured a clip of California Gov. Jerry Brown blaming climate change for the destructiveness of the wildfires during a November 11 press conference.

One example of such coverage came from Los Angeles' KTTV Fox 11 noon news program on November 12. The segment was wholly focused on Brown's comments about climate change and wildfires:

A more muddled example aired on Sacramento's KXTV ABC 10 Morning Blend show. The segment discussed a tweet from President Donald Trump that blamed the fires on poor forest management. The hosts noted Brown's comments about climate change, then invited viewers to take a poll and vote for either forest management or climate change as the bigger contributor to the fires. Most of the poll takers selected forest management:

Both of these segments would have been better if they had informed viewers of what scientists and other experts actually say: Climate change is a significant contributor, and, in the case of the current fires, forest management is not.

Still, it's notable that many local news stations made a point of discussing climate change in the context of the fires. Local stations have a greater responsibility than national ones to report on the immediate dangers that wildfires pose to their community members, including evacuation orders and specific details about how fires spread. And yet this month in California, many local programs still found time to report on how climate change worsens wildfires. There's no excuse for national networks not to do the same.

Methodology

Media Matters searched Nexis and iQ Media for broadcast network TV news segments that covered wildfires using the search terms wildfire(s), forest fire(s), or fire(s), and then we searched within those segments for mentions of climate change or global warming. Our analysis covered morning news shows (ABC's Good Morning America, CBS This Morning, and NBC's Today) and nightly news shows (ABC World News Tonight, CBS Evening News, and NBC Nightly News) from November 8-13. For local California coverage, we searched IQ Media for news shows between 4 a.m. and midnight on affiliates of ABC, CBS, NBC, and Fox in the media markets of Los Angeles, San Francisco-San Jose-Oakland, and Sacramento-Stockton-Modesto.