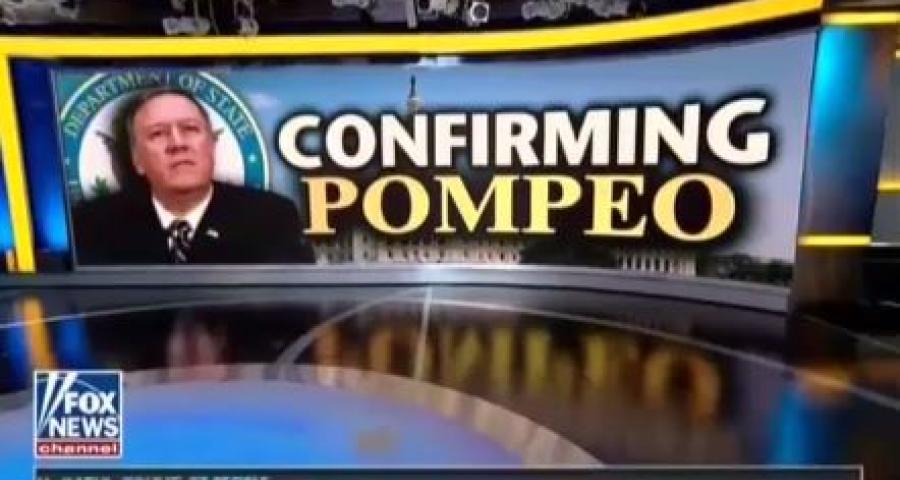 Research/Study
Cable news outlets are largely ignoring Mike Pompeo's anti-Muslim and anti-LGBTQ record
While briefly mentioning these issues a few times, Fox News has never substantively discussed them
Since President Donald Trump announced he would nominate current CIA Director Mike Pompeo to be secretary of state, weekday cable news shows have virtually ignored Pompeo's anti-Muslim and anti-LGBTQ history. MSNBC and CNN have made occasional note of his anti-Muslim and anti-LGBTQ record, but neither outlet has offered much substantive discussion of Pompeo's bigoted views. Fox hardly mentioned Pompeo's bigoted views and largely downplayed Democratic criticism of his record as manufactured outrage designed as an excuse to block his confirmation.

But Pompeo's record of espousing lies about Islam and denouncing LGBTQ rights has led some lawmakers to question whether he could credibly represent the United States as the country's top diplomat to other nations.

Pompeo has a cozy relationship with both renowned Islamophobe Frank Gaffney and the anti-Muslim hate group ACT for America, which awarded Pompeo its highest honor in 2016 for being "a steadfast ally." Pompeo has also spread a number of lies about Muslims, calling them a "threat to America" and claiming that "they abhor Christians."

On LGBTQ rights, Pompeo has called the Supreme Court decision on same-sex marriage a "shocking abuse of power," disparaged same-sex parents, attacked workplace protections and inclusion efforts for the LGBTQ community, and in response to the legalization of same-sex marriage, lamented that "we'd endorsed perversion and called it an alternative lifestyle." Pompeo also has ties to the anti-LGBTQ hate group Family Research Council (FRC), having appeared on the group's radio show at least six times, and has earned support from a number of other anti-LGBTQ hate groups.  

Experts have explained that Pompeo's views of Islam could hinder his ability to conduct diplomacy with Muslim-majority countries and even galvanize the followers of terrorist organizations. LGBTQ advocates have emphasized the secretary of state's "crucial role" in advancing LGBTQ rights globally, noting that Pompeo's confirmation could "result in the United States overlooking, minimizing, or ignoring even the most blatant examples of human rights abuses abroad."

From March 13 to April 23, Pompeo's anti-Muslim views came up only three times on Fox News: two passing mentions on Shepard Smith Reporting and one on The Daily Briefing with Dana Perino when a guest chalked up the criticism to Democrats nit-picking in an effort to block Trump's nomination. Comparatively, MSNBC had just eight mentions and CNN had six, the majority of which did not include details about Pompeo's views. MSNBC aired one segment in which host Ali Velshi outlined how Pompeo has "chummed around with some very deeply anti-Muslim groups," offering examples of Pompeo's alarming history.

As for Pompeo's anti-LGBTQ record, it came up five times on Fox between March 13 and April 23, with no detailed discussion of the issue. MSNBC mentioned his anti-LGBTQ views briefly six times and discussed it at length just once in a panel. Similarly, CNN mentioned them briefly four times and held just one panel discussion that provided deeper context.

Nearly every mention of Pompeo's anti-Muslim and anti-LGBTQ views on Fox came with the suggestion that Democrats were raising the issue only to obstruct the confirmation of Trump's nominee, a talking point that occasionally shined through on CNN as well. But Fox's silence on Pompeo's record was particularly jarring, with some Fox contributors using airtime to lobby senators to confirm him.

Methodology

Media Matters searched SnapStream between March 13 and April 23 for "Pompeo," "Muslim," "Islam," "Frank Gaffney," "ACT for America," "Brigitte Gabriel," "gay," "LGBT," "LGBTQ," "homophobic," and "same-sex" and counted all mentions of Pompeo's anti-Muslim and anti-LGBTQ views on Fox News, CNN, and MSNBC from 6 a.m. to midnight on weekdays. 

Brianna January contributed research to this report.

April 24, 5:35 pm -- This post has been updated with two additional mentions.