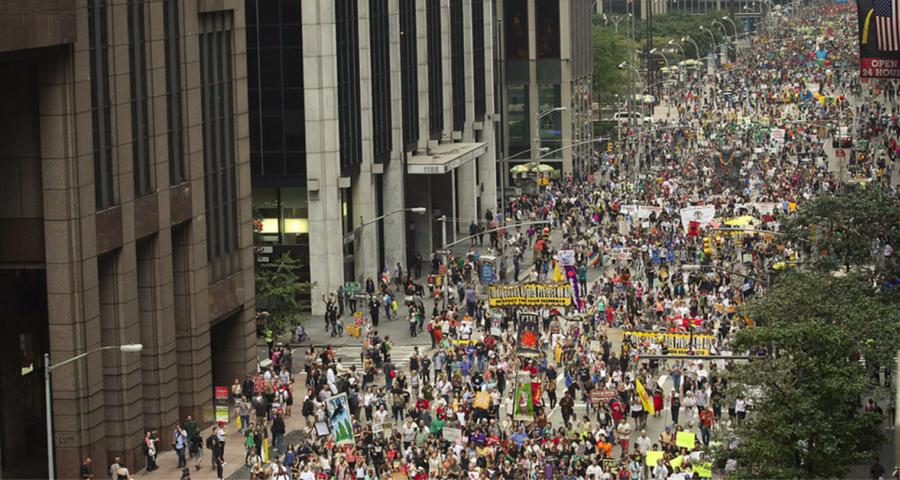 Research/Study
Sunday News Shows Ignore Historic Climate March
No Mention Of The People's Climate March On Meet The Press, Face The Nation, State Of The Union, Or Fox News Sunday
Sunday news shows on NBC, ABC, CBS, CNN and Fox failed to cover the People's Climate March, a massive protest against climate change being held September 21 in New York City in conjunction with events in more than 150 countries worldwide.

Meet the Press, Face the Nation, State of the Union, and Fox News Sunday ignored the event, which is being touted by participants as "the largest mobilization against climate change in the history of the planet." The Nation editor and publisher Katrina vanden Heuvel briefly mentioned the march on ABC's This Week while arguing that national security concerns surrounding climate change are not receiving adequate attention.

Environmental group 350.org has estimated that "hundreds of thousands" of people will participate in the event. According to MSNBC.com, "participants include dyed-in-the-wool environmental activists, but also elected officials, union members, nationwide community organizing groups, LGBT groups, members of indigenous communities, students, clergy members, scientists, private citizens, and a plethora of other concerned parties" all representing 1,400 partner organizations.

While environmentalists and others march in New York, activists worldwide will participate in 2,700 events held across more than 150 countries. The march comes days before world leaders will meet on September 23 at the United Nations to hold a climate summit. United Nations Secretary General Ban Ki-moon will join marchers during the September 21 event in New York, saying at a news conference, "I will link arms with those marching for climate action."

This momentous event, however, was of little interest to Sunday news shows, which devoted zero segments to the march. The event was mentioned just once on ABC's This Week:  

METHODOLOGY:

Media Matters searched for the terms "climate," "global warming," and "march" on ABC, CNN, NBC, CBS, and Fox on September 21.