Fox & Friends didn't discuss Trump aide Rob Porter's history of reported domestic abuse but mentioned Obama 18 times
Fox News' evening shows also virtually ignored the allegations against Porter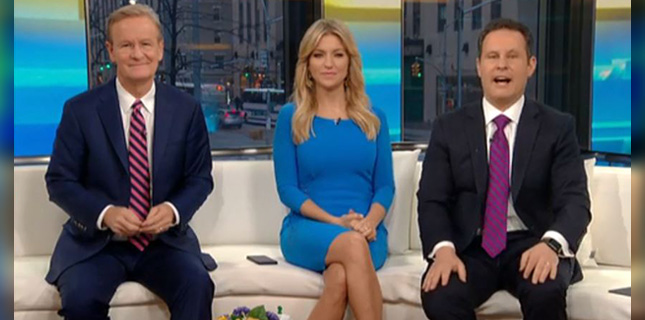 Fox & Friends didn't mention that a top White House aide has abruptly resigned amid allegations of physical domestic abuse, but found time to attack former President Barack Obama by name about various pseudo-scandals at length.
Rob Porter, a top White House aide with direct access to President Donald Trump, resigned abruptly on February 7 amid allegations of years of domestic abuse, including physical violence, from two ex-wives. After the allegations were first reported by the Daily Mail, CNN interviewed both women, who detailed years of physical and emotional abuse in their respective marriages over a ten-year period, including punching, choking, and throwing fits of rage.
White House chief of staff John Kelly initially released a statement of support for Porter, calling him "a man of true integrity and honor" (in a new statement, he condemned the abuse); shortly after, media began reporting that Kelly had prior knowledge of the abuse allegations, which were part of why Porter was denied his FBI security clearance. Since the story broke, a third, unnamed woman who currently works in the federal government and previously dated Porter has said she suffered "repeated abuse" by him as recently as 2016. Though he has resigned, Porter denied all allegations, calling them "outrageous" and "simply false."
From the time the story broke on Wednesday through 9 a.m. Thursday, Fox mentioned Porter's name ten times over four shows (seven of the mentions occurred in just two reports). Fox first covered the allegations only after White House press secretary Sarah Sanders was pressed on the allegations in the February 7 White House briefing. Fox's prime-time shows did not mention Porter at all aside from a brief report on the 6 p.m. hour. Fox & Friends the following morning also didn't mention Porter.
While Fox & Friends didn't find time to report on the resignation of a top aide close to Trump stemming from domestic abuse allegations, the show hosts did mention former President Barack Obama by name 18 times in relation to various contrived scandals, including Uranium One and the private text messages of two FBI employees.
Methodology:
Media Matters searched SnapStream for mentions of "Porter" on Fox News between February 6 and February 9, 2018 and "Obama" on the February 8 edition of Fox News' Fox & Friends. Pronouns "he," "his," and "him" were excluded. Mentions of Porter by White House press secretary Sarah Sanders during the live airing of the press briefing were also excluded.