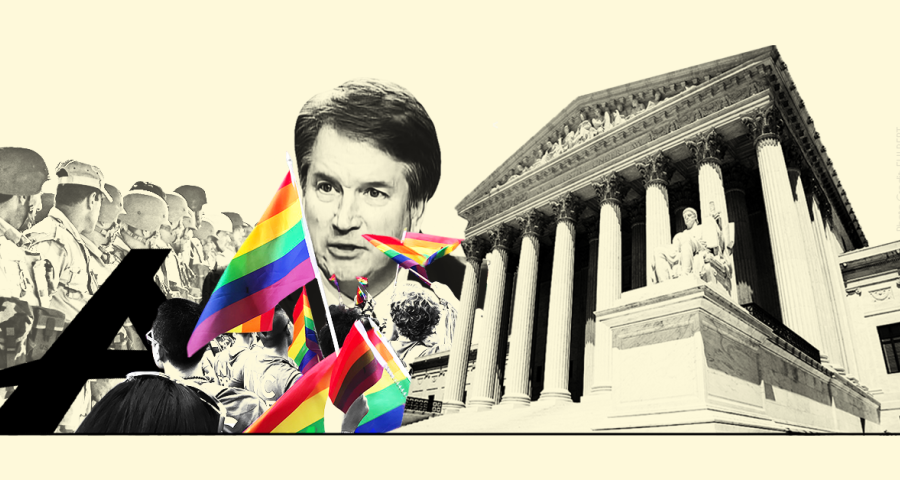 Research/Study
These are the LGBTQ-related cases the Supreme Court could take up this term
The Trump-Pence administration asked the Supreme Court to review trans military ban cases. There are several other LGBTQ-related cases it could decide to take up this session.
The Trump-Pence administration has once again asked the Supreme Court to take up one of its policy priorities and bypass lower courts in what has been called an "unusual" move -- this time, to expedite a ruling on its proposed policy banning openly transgender service members from serving in the military. And that's just one of several LGBTQ-related cases the Supreme Court could hear this session, with other topics including employment discrimination, trans-inclusive school facilities, and religious exemptions for businesses. Extreme anti-LGBTQ group Alliance Defending Freedom has connections to several of those cases.

Though there has been media coverage of the trans military ban cases, several other important cases that may reach the high court fly under the media's radar. Here's a look at LGBTQ-related cases that may be heard by the Supreme Court this term:

Employment discrimination under Title VII

Religious exemptions for businesses

Trans-inclusive school facilities

Trans military ban

In July 2017, Trump announced on Twitter that he planned to ban transgender people from serving in the military, reversing a 2016 policy change by the Obama administration that allowed trans people to serve openly. In March, the Trump-Pence administration released its official policy. In developing the plan, the administration reportedly relied on a panel of "experts" that included the vehemently anti-trans activist Ryan T. Anderson and Tony Perkins, president of the extreme anti-LGBTQ group Family Research Council. There have been four lawsuits filed against the ban, and according to CNN, "District courts across the country have so far blocked the policy from going into effect. The 9th Circuit Court of Appeals heard arguments in one challenge earlier this fall and the DC Circuit will hear arguments in early December."

The Department of Justice (DOJ) has asked the Supreme Court to review three of the cases, bypassing lower courts: Doe v. Trump, Stockman v. Trump, and Karnoski v. Trump. According to The Advocate, Doe "is pending before the U.S. Court of Appeals for the District of Columbia Circuit," and the other two are pending before the 9th Circuit. Neither appeals court has ruled on any of these cases, but the 9th Circuit has heard arguments in one challenge already.

The Guardian reported that the Trump-Pence administration's request "is the fourth time in recent months the administration has sought to bypass lower courts that have blocked some of its more controversial proposals and push the high court, which has a conservative majority, to weigh in quickly on a divisive issue." The New York Times noted that the DOJ's request for the Supreme Court to review the issue is unusual, as it "does not ordinarily intercede until at least one appeals court has considered an issue, and it typically awaits a disagreement among appeals courts before adding a case to its docket." According to the Supreme Court's rules, it should take up an issue "only upon a showing that the case is of such imperative public importance as to justify deviation from normal appellate practice and to require immediate determination in this court."

Speaking to The Washington Post, several lawyers challenging the ban have "said there is no reason for the court to abandon its usual policy," and according to The Daily Beast, if the Supreme Court does review the issue, it "would theoretically only be considering whether or not to lift the injunctions that have been placed on the rollout of the transgender troop ban" while the lower courts continue to debate the legality of the ban itself. However, there is also a chance that the high court could find a way to rule directly on the ban's constitutionality.

Employment discrimination under Title VII

There are three cases that the Supreme Court could take up involving interpretations of workplace protections under Title VII of the 1964 Civil Rights Act, which "prohibits employment discrimination based on race, color, religion, sex and national origin."

The primary debate around Title VII involves whether protections from sex discrimination also encompass sexual orientation and gender identity, particularly as the Supreme Court has already ruled that employers cannot discriminate based on gender stereotypes. In May 2017, Congress introduced the Equality Act, a bill that would explicitly add sexual orientation and gender identity to existing civil rights laws, including the Civil Rights Act.

In October 2017, the DOJ issued a memo that said (emphasis original), "Title VII's prohibition on sex discrimination encompasses discrimination between men and women but does not encompass discrimination based on gender identity per se, including transgender status." Of the three Title VII cases that the Supreme Court might take up, one involves a trans woman who was fired for her gender identity, and the other two involve men who were fired for their sexual orientation.

The first case, R.G. & G.R. Harris Funeral Homes v. Equal Employment Opportunity Commission, involves a transgender woman named Aimee Stephens, a funeral director who was fired after coming out to her longtime employer. The 6th U.S. Circuit Court of Appeals ruled in her favor based on Title VII protections, saying, "It is analytically impossible to fire an employee based on that employee's status as a transgender person without being motivated, at least in part, by the employee's sex" and that "discrimination 'because of sex' inherently includes discrimination against employees because of a change in their sex."

The influential and extreme anti-LGBTQ group Alliance Defending Freedom (ADF) is representing the funeral home at the center of the case, and ADF's lawyers asked the Supreme Court to take up the case in July.

In October, the DOJ filed a brief in support of the funeral home. It issued a similar brief in favor of ADF's client in the Masterpiece Cakeshop case decided last session. Solicitor General Noel Francisco signed the Harris Funeral Homes brief and argued in support of ADF's client in Masterpiece Cakeshop. ADF had identified Francisco as one of its more than 3,200 allied attorneys in several press releases in 2016, but the group later claimed that this had been "our mistake" and that he was not in fact an allied attorney. ADF shows a distinct lack of transparency about who its allied attorneys are, and another group even filed a Freedom of Information Act request to determine Francisco's exact relationship with ADF.

In a second case, Zarda v. Altitude Express, skydiving instructor Donald Zarda sued his employer Altitude Express for firing him in 2010 after he "told a female student that he was gay." (Zarda died four years after he filed the suit.) The 2nd U.S. Circuit Court of Appeals ruled in his favor in February of this year, deciding that Title VII "prohibits discrimination on the basis of sexual orientation." Altitude Express and its lawyers petitioned the case to the Supreme Court in May.

In a third case, Bostock v. Clayton County, Georgia, Gerald Bostock sued after "he was fired from his job as a child welfare services coordinator for a Georgia county's juvenile court system when his employer found out he is gay." The 11th U.S. Circuit Court of Appeals ruled against Bostock, saying that Title VII does not protect discrimination based on sexual orientation. In May, Bostock and his lawyer asked the Supreme Court to weigh in given a split in circuit courts' rulings on the matter.

The high court was originally expected to consider petitions to review the three Title VII cases on November 30, but it has since "delayed its timeline for considering whether to grant review." According to Bloomberg Law, "The court's next scheduled conference is Dec. 7, and it has no more conferences scheduled for December. The first conference of the new year is scheduled for Jan. 4." If it does not grant review by mid-January, the court would not be able to hold oral arguments for any of the cases during the current term, which began in October.

Religious exemptions for businesses

In June, the Supreme Court narrowly ruled in favor of ADF's client Jack Phillips, a Christian baker who refused to bake a cake for a same-sex couple, in Masterpiece Cakeshop v. Colorado Civil Rights Commission. The decision did not indicate how the high court should rule on other similar cases or on the larger question of whether businesses can deny services to LGBTQ people but rather ruled that members of the Colorado Civil Rights Commission had shown "hostility toward the sincere religious beliefs that motivated [Phillips'] objection." This next session, however, the Supreme Court could make a broader ruling on a similar case.

In Klein v. Oregon Bureau of Labor and Industries, the owners of the now-shuttered Oregon bakery Sweet Cakes by Melissa were fined $135,000 for refusing to bake a wedding cake for a lesbian couple, a violation of the state's nondiscrimination law. According to The Oregonian, the Oregon Court of Appeals ruled against the bakery owners and "upheld the order, and the state Supreme Court declined to hear the case earlier this year." Their lawyers -- from the anti-LGBTQ legal group First Liberty Institute (previously known as Liberty Institute) -- filed a petition for Supreme Court review in September. At least four of those lawyers have connections to ADF: Kelly Shackelford, the president and CEO of First Liberty Institute, and Hiram Sasser have both been identified as ADF allied attorneys, and Michael Berry and Stephanie Taub both participated in ADF's legal fellowship program.

Trans-inclusive school facilities

ADF has filed another petition asking the Supreme Court to weigh in on an LGBTQ-related issue in the Joel Doe v. Boyertown Area School District case. In that case, cisgender students represented by ADF sued their school district after Boyertown Area High School passed an inclusive policy that allows transgender students to use facilities that align with their gender identity. This differs from the high-profile Gavin Grimm v. Gloucester County School Board case, in which a trans student sued his school district for passing a discriminatory policy.

The 3rd U.S. Circuit Court of Appeals ruled in favor of Boyertown's trans-inclusive policy and against ADF's client in July, citing Title IX of the Education Amendments of 1972, which "prohibits discrimination 'based on sex' in federally funded educational programs." ADF has also attempted to leverage Title IX in its arguments, saying that the school's trans-inclusive policy would create a "hostile environment" in violation of Title IX because its cisgender clients would have to interact with trans students in school restrooms and locker rooms. ADF thus contended that cisgender students who feel "embarrassed and harassed" by being in the same restrooms as trans students would be discriminated against "on the basis of sex."

There are several potential outcomes if the Supreme Court does take up the case. The Daily Beast's Samantha Allen wrote that if the court ruled against the plaintiffs, it would likely decide "that local school districts like Boyertown cannot be barred from establishing transgender protections" rather than making a more sweeping decision "to affirm that all transgender students nationwide are protected under Title IX." However, Allen noted the increasingly conservative makeup of the court and contemplated what could happen if it ruled in favor of ADF's clients:

There's another outcome that has the potential to be catastrophic for a generation of transgender students: The Supreme Court—now with a conservative majority and two Trump picks—hears the case and agrees that transgender students cannot be protected by school policies. In the worst case, they agree that Title IX not only doesn't protect transgender students, but actually requires schools to discriminate against them.

Extreme anti-LGBTQ groups are emboldened by the new Supreme Court make up

Extreme anti-LGBTQ groups, including ADF, have united around Supreme Court Justice Brett Kavanaugh's confirmation to the court, assuming he would champion their issues and cement the conservative majority on the court. Like the Trump-Pence administration, these groups have been emboldened to push for discriminatory policies in the courts, such as overturning protections against conversion therapy for LGBTQ youth. ADF and others like it also have unprecedented influence over the administration; the White House even briefed ADF President Michael Farris about the FBI's Kavanaugh investigation not long after U.S. senators received the FBI's report. Farris and ADF argued twice before the Supreme Court during the last session, and ADF has played a role in more than 50 other cases before the high court.

Additional research by Kayla Gogarty and Brianna January.