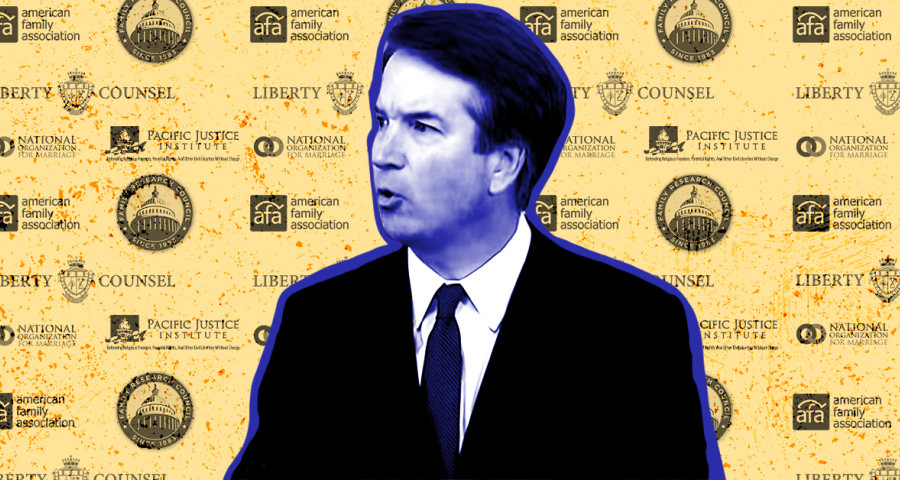 Research/Study
Extreme anti-LGBTQ groups are uniting behind Trump Supreme Court nominee Brett Kavanaugh
Extreme anti-LGBTQ groups such as the Family Research Council and Liberty Counsel are unifying behind President Donald Trump's nominee to the Supreme Court, Judge Brett Kavanaugh of the U.S. Court of Appeals for the District of Columbia Circuit.

Trump nominated Kavanaugh to the court on July 9, and soon after, extreme anti-LGBTQ groups started pouring in praise. As a result, LGBTQ advocates and groups have sounded the alarm. The highly influential Family Research Council (FRC), whose president, Tony Perkins, reportedly was "involved in discussions with the White House" on the nomination, promoted Kavanaugh "heavily" when he was initially nominated to the D.C. Circuit in 2005, and Perkins quickly responded to his Supreme Court nomination by pledging "to help move the grassroots to gain the confirmation of Judge Kavanaugh." He also praised Kavanaugh for previous rulings on "religious freedom and free speech" issues and for his "long and praiseworthy history of judging as an originalist." FRC's position is that "homosexual conduct is harmful to the persons who engage in it and to society at large" and "is by definition unnatural," and the organization promotes the idea that "every effort should be made to assist such persons to overcome those attractions," including by actively working against efforts to protect LGBTQ youth from the harmful and discredited practice of conversion therapy.

Other extreme anti-LGBTQ organizations mirrored FRC's messaging. Liberty Counsel praised Kavanaugh for a "pragmatic approach to judging" and compared his originalist judicial philosophy to that of notoriously anti-LGBTQ Justice Antonin Scalia. The group's founder and chairman, Mat Staver, said, "I support the nomination of Judge Brett Kavanaugh to the Supreme Court," and called him "the right kind of judge we need on the bench." Staver is known for using extreme rhetoric against LGBTQ people, including comparing them to pedophiles and saying that LGBTQ History Month is a "sexual assault on our children."

The National Organization for Marriage, a group that was instrumental in rolling back marriage equality in California in 2008, called Kavanaugh an "outstanding pick" who "will be strong on our issues" and a "constitutionalist." The group noted that it "intends to do everything [it] can to secure the confirmation of Judge Kavanaugh," including launching a "Marriage Hero campaign" to organize anti-LGBTQ people at a grass-roots level in favor of his nomination. A July 10 blog post outlined several reasons NOM supports Kavanaugh.

The Pacific Justice Institute (PJI), which in 2013 led a smear campaign against a transgender teenager who was harassed and received death threats after her name was leaked to the public, issued a statement calling Kavanaugh "fair and faithful to the Constitution" and noting that he had ruled in favor of PJI's clients in a case about prayer at the presidential inauguration. PJI's statement, however, was less enthusiastic than that of other groups and asserted that there are "important unanswered questions about his jurisprudence" and characterized his record on abortion issues as "mixed." The American Family Association (AFA) showed a similar hesitation and initially called on its supporters to oppose Kavanaugh's nomination. The following day, however, AFA issued another statement walking back its opposition and lining up more closely with other extreme anti-LGBTQ groups:

[A]fter hearing the concerns of some of our supporters, and after hearing the passionate defense of Judge Kavanaugh by many we consider to be friends in the pro-life movement, we are willing to let this process play out. We eagerly await the confirmation hearings when we hope to get clarification from Judge Kavanaugh on aspects related to our concerns.

Though extreme group Alliance Defending Freedom (ADF) claims to not "take a position on the merits of Supreme Court nominees," its Twitter account posted a New York Times op-ed by a liberal law professor making the case to confirm Kavanaugh. Several ADF staff and board members have also tweeted in support of the nomination or shared articles backing the choice. ADF is one of the most influential anti-LGBTQ groups in the country and is leading the fight against LGBTQ equality at nearly every level, including working to combat transgender student equality, codifying discrimination against the community via religious exemptions, and exporting its anti-LGBTQ agenda abroad.

It's clear that though a few anti-LGBTQ groups showed some initial hesitation toward Kavanaugh's nomination, they have quickly coalesced behind him. These groups are highly coordinated and would not support a nominee who they did not think shared their extreme anti-LGBTQ values. AFA's statement reversing its opposition to Kavanaugh due to "the passionate defense of Judge Kavanaugh by many we consider to be friends in the pro-life movement" is telling on its own; these groups know what they would be getting with a Supreme Court Justice Kavanaugh, and it won't be good for LGBTQ people.

Additional research by Rebecca Damante.