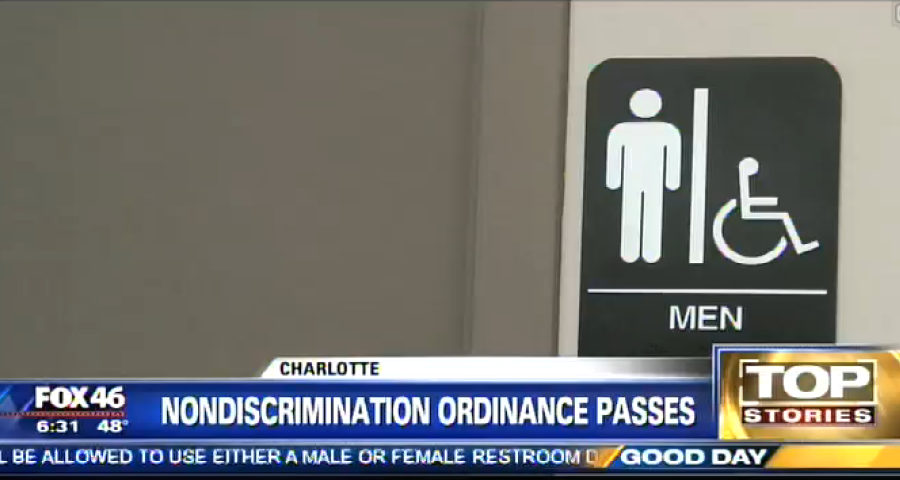 Research/Study
How Charlotte Media Are Helping Anti-LGBT Advocates Attack The City's Non-Discrimination Ordinance
Local TV news outlets in Charlotte, NC, have helped spread misinformation about a local, LGBT-inclusive nondiscrimination ordinance by uncritically parroting the myth that sexual predators will pretend to be transgender in order to sneak into women's bathrooms.

On February 22, the Charlotte City Council voted to expand the city's existing nondiscrimination ordinance to include "marital status, familial status, sexual orientation, gender identity, [and] gender expression." The ordinance prohibits discrimination in public accommodations, like restaurants and stores; passenger vehicles for hire, like taxis; and with government contractors. The changes go into effect April 1, but GOP legislators in NC have vowed to repeal the measure when the state's General Assembly resumes on April 25.

Opponents of the ordinance have peddled the widely-debunked horror story that the ordinance's nondiscrimination protections for transgender people would allow male sexual predators to sneak into women's restrooms and commit sexual assault. Experts including law enforcement officials and victims' rights advocates in localities with similar laws on the books have debunked the "bathroom predator" myth, calling it "beyond specious."

In their reporting on the debate over the ordinance, television news stations in Charlotte uncritically parroted the "bathroom predator" myth. A Media Matters study found that local Charlotte affiliates for CBS, ABC, NBC, the CW, and FOX frequently repeated the "bathroom predator" talking point without debunking the myth:

 

A February 22 report from NBC affiliate WCNC illustrates the type of reporting that allows anti-LGBT activists claims about bathroom predators to dominate coverage, with a large portion of the segment focused on restroom access and no critical debunk of the myth:

WCNC described the ordinance's protections for the transgender as "allow[ing] people to use any public restroom they choose regardless of their sex." This type of misleading language was common throughout coverage -- outlets used variations of "any bathroom they want" to falsely suggest the ordinance allows for people to pick and choose bathrooms on a whim.

These descriptions aren't just inaccurate -- they help anti-LGBT activists reinforce the "bathroom predator" talking point by suggesting the ordinance would create a free-for-all in public bathrooms. 

With North Carolina GOP legislators intent on overturning the ordinance this April, the "bathroom predator" myth isn't going away anytime soon. In the coming weeks, Charlotte TV outlets have a chance to follow journalistic best practices in covering LGBT nondiscrimination protections and tell audiences the truth about opponents' bathroom horror stories.