Senators Criticize George Will for Trivializing Sexual Assault
Four senators have written a letter condemning Washington Post columnist George Will's recent column, which dismissed the epidemic of sexual assault on college campuses and asserted that the 1 in 5 women who experience sexual assault in college have a "coveted status."
On June 8, Will penned a syndicated op-ed that appeared in The Washington Post and The New York Post, wherein he dismissed "the supposed campus epidemic of rape, aka 'sexual assault,'" and asserted that the definition of sexual assault is unnecessarily broad because it includes forms of harassment beyond rape. Will went on to dispute the veracity of the statistic that 1 in 5 women experience sexual assault in college on the grounds that victimhood "is a coveted status that confers privilege," encouraging victims to "proliferate."
Will's column was roundly condemned for its stigmatization of sexual assault victims, shoddy math, and dismissal of the pervasiveness of sexual assault and the trauma its victims face, and prompted calls for Will's resignation.
On June 12, Democratic Senators Richard Blumenthal, Dianne Feinstein, Tammy Baldwin, and Robert P. Casey, Jr. wrote a letter to Will, censuring his column's trivialization of "the scourge of sexual assault," and requesting that Will listen to students who have experienced sexual assault firsthand: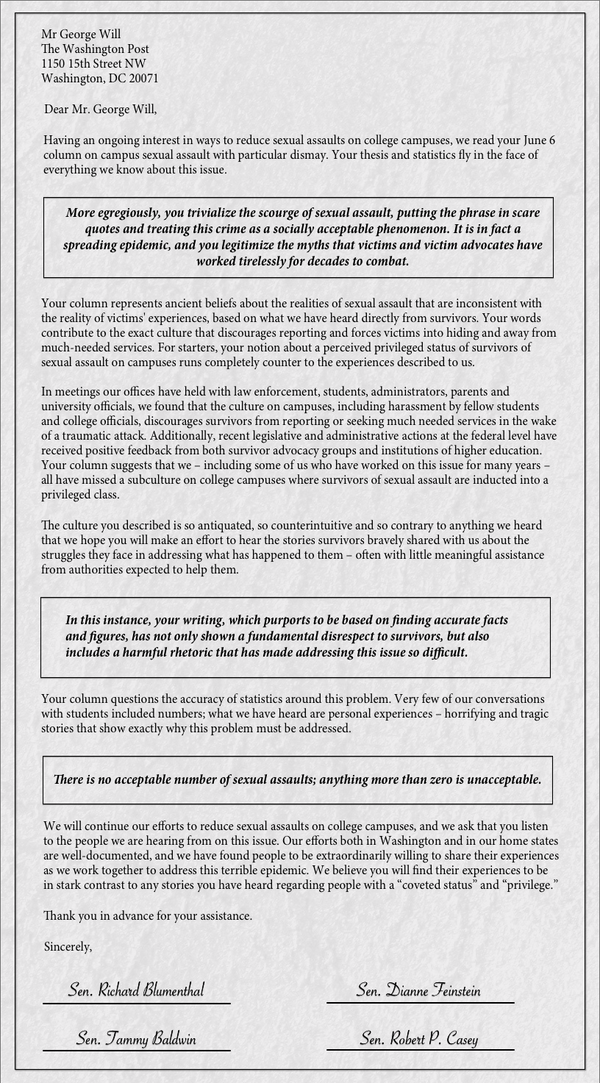 Posted In

Network/Outlet

Person
We've changed our commenting system to Disqus.
Instructions for signing up and claiming your comment history
are located here
.
Updated rules for commenting are
here
.