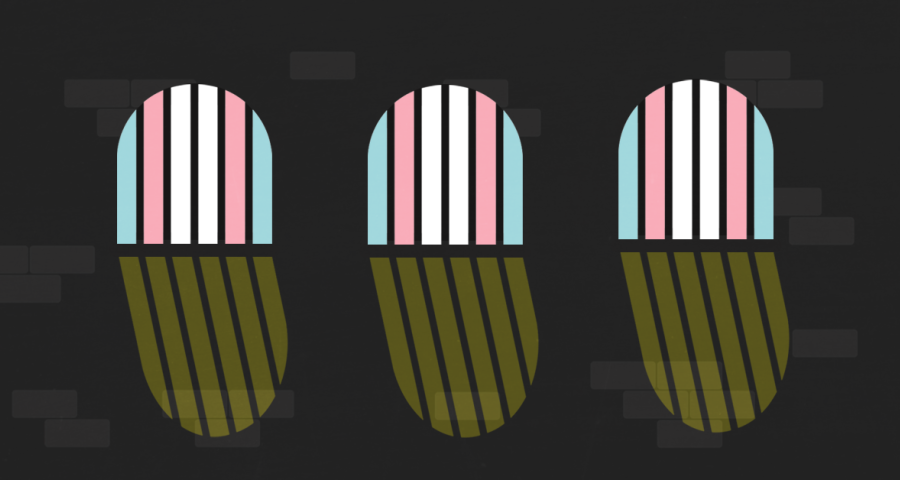 Research/Study
Recent reporting on violence against trans inmates illustrates the dangers of Trump administration rescinding protections
Anti-LGBTQ hate group Alliance Defending Freedom is negotiating with the Trump administration to undo Obama-era guidelines protecting transgender inmates
The Trump administration is considering undoing protections for incarcerated transgender people after reportedly being in "negotiations" with anti-LGBTQ hate group Alliance Defending Freedom (ADF). Transgender inmates are frequently housed with members of the opposite gender and experience the highest reported incidence of sexual violence in prisons and jails. The dangers they face are illustrated by a number of recent media reports on lawsuits trans women have filed regarding their treatment while incarcerated.

On January 4, The Dallas Morning News reported that ADF is representing plaintiffs in a lawsuit against the U.S. Bureau of Prisons (BOP). The suit demands that the bureau "remove all transgender inmates" from a female-only prison in Fort Worth, TX. In an effort to settle the lawsuit, ADF is "in negotiations with the federal government" over undoing policies that protect transgender inmates. The article predicted that the Trump administration was "likely to undo" those policies. ADF lawyer Gary McCaleb, who has also been active in ADF's work against transgender student equality in schools, told The Dallas Morning News that he was "pretty confident" that the BOP would change some of its transgender inmate protections, particularly on the issue of whether transgender women are housed with non-trans prisoners. ADF's work here is just one piece of its relentless campaign against LGBTQ equality.

In weighing whether to remove protections for incarcerated trans people, ADF and the Trump administration will likely be taking aim at two pieces of Obama-era guidance. One is a January 18, 2017, "Transgender Offender Manual," which gave guidance on the treatment of transgender inmates and sought to "ensure the Bureau of Prisons (Bureau) properly identifies, tracks, and provides services to the transgender population." The other guidance likely to be affected is the Justice Department's 2012 standards under the Prison Rape Elimination Act of 2003 (PREA) that require detention facilities to "incorporate unique vulnerabilities of lesbian, gay, bisexual, transgender, intersex and gender nonconforming inmates into training and screening protocols." Those rules say that "in deciding whether to assign a transgender or intersex inmate to a facility for male or female inmates, … the agency shall consider on a case-by-case basis whether a placement would ensure the inmate's health and safety, and whether the placement would present management or security problems."

According to Slate's Mark Joseph Stern, transgender protections under PREA can work as "a mechanism through which trans inmates essentially sue prisons for violating their rights under federal law." Thus, the attempts by ADF and the Trump administration to alter those policies could affect transgender inmates' ability to sue for inhumane treatment.

Recent coverage of a number of lawsuits filed by transgender women who reported sexual and physical violence and harassment in prisons and jails demonstrates the countless hardships transgender inmates encounter. In November, the Pittsburgh Post-Gazette reported that a transgender woman filed a lawsuit against the county and jail officials after she was "placed in a male holding cell" in Allegheny County, PA. The woman was "raped and physically assaulted by [an] inmate -- despite her cries for help and seeking assistance through the cell's emergency call button." The woman also said she was "harassed physically and called derogatory names" and had men watch her shower and strip-search her.

On January 5, the Associated Press reported that a transgender woman incarcerated in Illinois "is seeking a rarely granted transfer to a female prison" after experiencing "sexual assault, taunting and beatings" in male prisons. Her lawsuit described "how guards and fellow inmates would regularly single her out for brutal treatment," saying "that guards made her and another transgender inmate perform sex acts on each other as the guards hurled slurs and laughed." The AP reported on another filing from her lawyers that said it had been "devastating psychologically" for her to be unable to present "herself as a female" while incarcerated. The article noted the "greater risk of abuse" for trans inmates, including that "nearly 40 percent reported being victims of sexual misconduct by other inmates and guards — compared to around 4 percent of the general prison reporting such abuse."

On that same day, Reuters reported that the state of Massachusetts "asked a federal judge to dismiss a lawsuit filed by a transgender woman" who is housed in a men's prison. In her lawsuit, the woman said that she has been subjected "to strip searches by male guards" who "routinely groped" her and forced her "to shower in the presence of male inmates." In yet another January report, the New York Post wrote that a transgender woman who was incarcerated in the notoriously violent Rikers Island jail complex is suing New York City and correction officials after being "beaten so severely by several guards that they broke her jaw, knocked out teeth and left her with two black eyes."

In December, Aviva Stahl wrote a piece for The Village Voice, titled "New York City Jails Still Can't Keep Trans Prisoners Safe," analyzing the state of incarcerated transgender people in the city's jails. Stahl's report noted that advocates say the city's Department of Correction has failed to protect transgender prisoners and that "some trans women have been denied entry" into the city's Transgender Housing Unit (THU) or "been transferred into male facilities after their external genitalia were observed in medical exams." Stahl noted that these failures are violations "of national prison anti-rape standards," the very standards that could be affected by the negotiations between the ADF and the Trump administration. The article added that transgender people have "the highest reported incidence of sexual violence of any demographic group studied, more than eight times the rate for prisoners overall," according to the Bureau of Justice Statistics. A 2007 study found an even higher rate for transgender women: "59 percent of transgender women housed in men's prisons had been sexually abused while incarcerated, as compared to 4 percent of non-transgender inmates in men's prisons."

These abuses are happening even with the Obama-era protections in place. If ADF is successful in getting the Trump administration to rescind these limited protections, trans lives and bodies will be at still further risk.