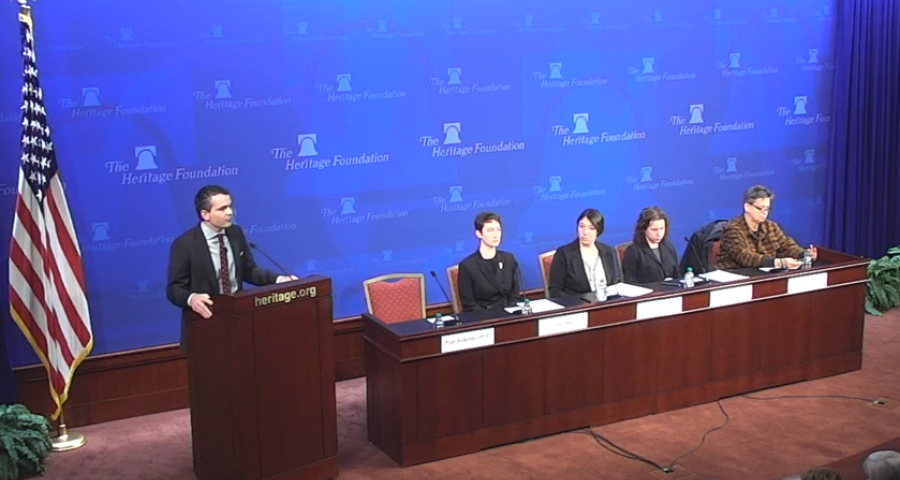 Research/Study
Anti-trans activists "from the Left" joined right-wing Heritage Foundation to rail against trans people
Trans-exclusionary radical feminists, or TERFs, use a veneer of progressivism and feminism to advocate against trans equality
On January 28, the vehemently anti-LGBTQ advocate Ryan T. Anderson hosted a panel attacking the Equality Act, a bill that would add "gender identity" and "sexual orientation" to existing nondiscrimination laws, and the talk featured several "trans-exclusionary radical feminists," or TERFs. TERFs claim trans identities threaten women's safety and equality and actively work to deny their existence and rights. During the event, the panelists, who were identified as "from the Left," demeaned transgender people and used anti-trans language, with one saying, "It's not a fucking 'she'" in reference to transgender women.

The event was held at the Heritage Foundation, a conservative think tank that has railed against LGBTQ equality for decades. The New York Times has written that the group is "stocking Trump's government," including by recommending "some of the most prominent members of Trump's cabinet." Anderson, a senior research fellow, is one of the group's most vocal anti-LGBTQ figures. He wrote an entire book dedicated to denying trans identities and reportedly helped craft the Trump-Pence trans military ban.

TERFs, who often refer to themselves as "gender-critical" or "radical feminists," are anti-trans activists who are becoming increasingly visible. They have historically opposed trans-inclusive measures and denied trans identities. In 2018, TERF groups throughout the United Kingdom lobbied against improving the country's Gender Recognition Act of 2004, a "piece of legislation regulating how trans people can legally change [their] genders" that currently "requires trans people to jump through numerous hoops to 'prove' that" they are trans. TERFs have cited the thoroughly debunked myth that allowing trans people, in particular trans women, to access restrooms and other facilities that align with their gender identity poses a threat to women's safety.

The Heritage Foundation panel identified its panelists as people "from the Left" who disagree with the Equality Act. One panelist, Hacsi Horvath, an adjunct lecturer at the University of California, San Francisco, says he formerly identified as transgender. His work also appears on 4thwavenow, an anti-trans online community that was critical in the creation and spread of the flawed concept of rapid-onset gender dysphoria (ROGD). The theory posits that trans teens are coming out as such due to "social contagion," but it relies on a study with a shoddy methodology that is under review by the academic journal that published it. Though all the Heritage panelists advocated against accepting trans identities -- and some even referred to the Gender Recognition Act as the "Women Erasure Act" -- Horvath made some of the most extreme anti-trans statements throughout the event.

From the January 28 Heritage Foundation panel "The Inequality of The Equality Act: Concerns from the Left":

HACSI HORVATH (PANELIST): We have to get this gender identity out of the Equa -- the Women Erasure Act. But also, … I don't play along. I don't say "trans woman." I don't say "she, her." I don't care if it hurts their feelings. This is reality, and it gaslights everybody else if we have to -- it gaslights yourself. And you begin to internalize it, like, "OK, she" -- it's not a fucking "she" -- sorry. I can't help it. It's -- just say it in reality, English language, what is happening here, and don't play along with it. So, I just don't play along. I won't.

The act of misgendering -- which LGBTQ-inclusive education advocacy organization GLSEN defines as "the experience of being labeled by others as a gender other than one that a person identifies with" -- is considered harassment, and it stigmatizes trans people, lowers their self-esteem, and erases and invalidates their identities.

Horvath also parroted 4thwavenow's messaging on ROGD, calling it a "mass craze" and saying trans identities are "the new eating disorder" or "the new goth."

Julia Beck, another panelist at the Heritage event, was removed from Baltimore's LGBTQ Commission in 2018 after other members became aware of her anti-trans animus. Two other panelists, Kara Dansky and Jennifer Chavez, are board members of the TERF organization Women's Liberation Front (WoLF), which has teamed up with extreme anti-LGBTQ group Alliance Defending Freedom (ADF) in an ongoing court case that seeks to dismantle a trans-inclusive policy at a Pennsylvania high school.

The Heritage Foundation's panel is just one example of the growing alliance between TERFs and conservative groups. Along with TERF group WoLF siding with ADF on its anti-trans court case in Pennsylvania, TERF groups in Massachusetts joined with the anti-LGBTQ Keep MA Safe campaign to support its anti-trans referendum to overturn to state's comprehensive nondiscrimination protections, which ultimately and resoundingly failed in the voting booths. And TERF groups in Canada joined conservatives in testifying against that country's trans-inclusive nondiscrimination law. TERFs often identify with the left, and even though some identify as queer, they have made it clear that they are willing to take part in conservatives' "divide and conquer" strategy to attempt to fracture the LGBTQ movement and erode trans equality.