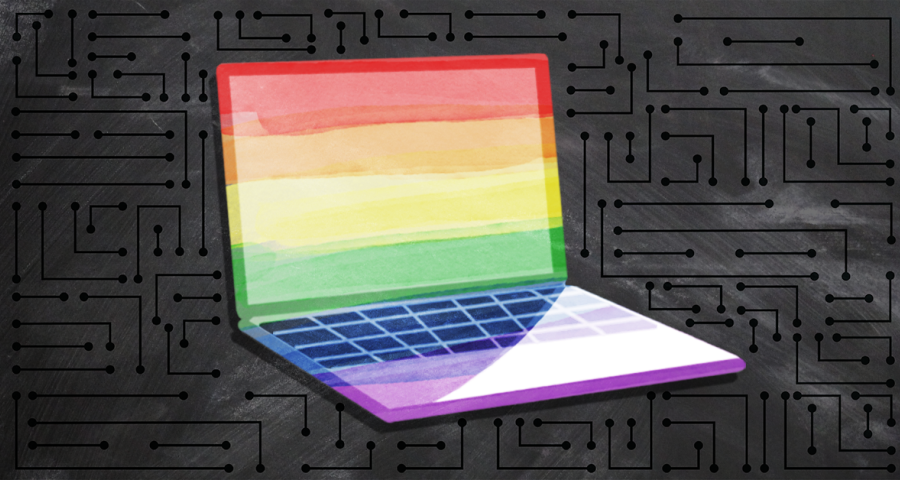 Research/Study
How the hoax that the LGBTQ community is embracing pedophiles went viral
Right-wing groups and figures have worked for years to smear LGBTQ people by associating them with pedophiles, but this summer, a myth that the LGBTQ community is embracing pedophiles went viral on social media with the help of anonymous right-wing message boards, fake news-purveying websites, and the conservative media echo chamber.

The online forum 4chan has led similar misinformation campaigns since at least 2016, but a July post on The Daily Caller escalated the false narrative that pedophiles were attempting to join the LGBTQ community. This narrative has garnered more than 875,000 Facebook impressions across multiple outlets and via numerous stories in the time since The Daily Caller's piece was published.

Far-right anonymous message boards have led misinformation campaigns to associate pedophiles with the LGBTQ community for years

Each year since 2016, anonymous message board 4chan -- a hotbed of far-right extremism, hoaxes, and harassment campaigns -- has initiated or bolstered misinformation campaigns attempting to connect LGBTQ people to pedophilia. Most notably, users have falsely claimed that the LGBTQ community is adding a "P" for "pedosexual" to become the "LGBTP" community. Fact-checking website Snopes debunked two "LGBTP" misinformation campaigns that originated on 4chan in 2016 and 2017. Both campaigns partly targeted LGBTQ people in a failed attempt to trick them into supporting pedophiles.

When right-wing hoaxes first start on 4chan, they are generally isolated to a small base of far-right users. Those users then take these myths to more mainstream platforms like Facebook, Tumblr, and Twitter, and fake news purveyors and other right-wing websites also pick them up, helping to escalate them. For example, the 2016 campaign called on users to begin pushing the narrative on Tumblr, and the 2017 campaign suggested people "push pedo acceptance particularly on the LGBT bandwagon via twitter sockpuppets etc." A sockpuppet account is "a fictional identity created to bolster some point of view." These campaigns also typically use images and hashtags to increase engagement, including a fake "LGBTP" poster and hashtags like #GaysForPedoSexuality and #loveisageless. Snopes' report included an archived Facebook post that shared the fake "LGBTP" poster in December 2017. Additionally, questionable websites published and reposted stories pushing 4chan's misinformation.

In yet another rebranding of the fake "LGBTP" campaign, a 2017 Reddit thread -- which appears to also have been inspired by 4chan -- falsely claimed that a new "clovergender" identity was emerging and asserted that such people are "attracted to young children, sexually or romantically," because "their mind fails to develop past the age of 13" and they "are actually children at heart." In January 2017, disgraced pharmaceutical executive and criminal Martin Shkreli, who was later suspended from Twitter for harassing a journalist, tweeted about the myth. Snopes also reported that a Facebook page was created to accompany the campaign. The report called the hoax "part of a years-long tradition on the part of 4chan and 8chan to dupe the media and social media with fantastical claims of non-existent trends and events," and said that its "underlying intent … appeared to be undermining the legitimacy of transgender identity." Also in January, far-right activist Mark Collett posted a video on YouTube titled "The LGBT Agenda is Helping to Normalise Paedophilia," which was flagged as "inappropriate" but garnered more than 140,000 views. In July 2017, another video pushing the myth of "pedophile acceptance" and including a fake "LGBTP poster" received more than 676,000 views.

Right-wing media, spearheaded by The Daily Caller, made the misinformation go viral this year

The multiyear online effort to associate the LGBTQ community with pedophiles finally had its moment in July, after false stories tempered the "LGBTP" narrative by focusing instead on a small community of pedophiles who refer to themselves as "minor-attracted persons" (MAPs). Those stories falsely asserted that the community had created a MAPs "pride" flag, which was found to be fake, and that the group of pedophiles was attempting to join the LGBTQ community. The fake flag was sourced from random social media posts that appear to be part of yet another anti-LGBTQ misinformation campaign. Though an LGBTQ news outlet fell for the hoax first, right-wing website The Daily Caller launched it into the far-right echo chamber, resulting in more than 875,000 combined Facebook engagements across several posts.

The first major piece to come out about the topic was a July 7 post on LGBTQ website Gay Star News, which received 3,300 Facebook engagements according to social media analysis tool BuzzSumo. Another LGBTQ website, One True Voice Online, reprinted the story that same day. Gay Star News posted an update three weeks later calling the flag "a hoax" at the very bottom of the post and did not change the headline or content of the piece. A Google reverse image search reveals that the flag image had infrequently circulated online in late June and early July on platforms such as Twitter, Facebook, and 4chan, as well as in a post on the website for a community-based app called Amino. Gay Star News used several of those posts as evidence to publish its story.

Despite Gay Star News' major error, it wasn't until The Daily Caller wrote up the story in a July 9 post -- which received more than 78,000 Facebook interactions according to CrowdTangle -- that the hoax began to pick up. The post dubiously asserted that pedophiles, rebranded as MAPs, "seek to be a part of the LGBT+ community, even going so far as to make a 'Pride' flag for Gay Pride Month" and are following "in the liberal trend of rebranding things by giving them more 'politically correct' names." The post also embedded a tweet from an unverified account with less than 1,000 followers featuring the so-called pedophile pride flag:

But this flag is not real, and the use of a random Twitter post to source a report raises major editorial red flags. Snopes investigated and found that "the image was created as part of a troll experiment on Tumblr." Its report noted:

Pedophiles did not coin the term "minor attracted persons" (or MAPS) to rebrand themselves in 2018 in order to gain entry to the LGBT community. Organizations such as B4UAct have been using the term "minor attracted persons" for years to refer to "adults who experience feelings of preferential sexual attraction to children or adolescents under the age of consent."

Snopes also found "no evidence that this flag originated in earnest as a MAPs Pride Flag," instead reporting that it "appears to have originated" in a June 13 Tumblr post in which the poster admitted to designing the flag. Snopes added that the poster's profile page has changed from stating "Support NOMAPS," an acronym for "Non-Offending Minor Attracted Persons," to stating that "Y'all need a therapist, not a community" and noting that the poster is "not here for a MAP Community." (It is important to remember that the 2016 4chan thread included several posts encouraging users to spread their disinformation campaign on Tumblr.)

There is essentially no evidence indicating that groups of pedophiles are actively attempting to join the LGBTQ community, and there are no legitimate LGBTQ organizations or activists working to include pedophiles in the community. LGBTQ news outlet Hornet reviewed the websites of several MAPs groups, noting, "If you look over these groups' sites, you won't see any Pride flag, let alone the one pictured above." The post also observed that "a Pride flag seems to run counter to their entire mission" because the groups "are about helping people deal with pedophilic attraction to control and get rid of it, not embrace it." Snopes also reached out to a major MAPs community, the "Prevention Project," which had not heard of the flag.

Although it was clearly fabricated, The Daily Caller's story was the beginning of a snowball effect that resulted in close to a million social media engagements. Prominent fake news purveyor YourNewsWire (now NewsPunch.com) wrote up the Daily Caller's piece and it went viral, garnering 472,000 Facebook engagements according to BuzzSumo. BuzzSumo also found that it was one of YourNewsWire's top five pieces of content over the past year. Several other websites -- many of which publish fake news -- pushed the story and drew high levels of engagement, including The Free Thought Project (116,900 engagements), Now the End Begins (102,100 engagements), Louder with Crowder (61,000 engagements), and Neon Nettle (6,600 engagements). The majority of these websites quoted extensively from The Daily Caller's piece, or even copied it entirely.

Prominent anti-LGBTQ outlet LifeSiteNews also published a story on the topic that said, "'Gay Liberation' was always about sexual liberation for all, no matter what age." Its post cited Gay Star News and garnered 11,300 Facebook engagements. Right-wing propaganda website The Western Journal also relied heavily on The Daily Caller for its post on the topic that received 24,600 engagements. Even the United Kingdom edition of LGBTQ magazine Attitude parroted the The Daily Caller's story, using the same tweet as a source as well as the same testimonial from a MAPs group. Although he did not adopt The Daily Caller's exact framing of the story, far-right conspiracy theorist Alex Jones mentioned the "LGBTP" myth as real at least three times after the misinformation campaign went viral this year. On YouTube, far-right personality Laura Tam, who calls herself "Roaming Millennial," uploaded a video using the fake MAPs flag and also pushing the hoax. Tam's video received nearly 200,000 views.

The Daily Caller's piece was also shared on far-right anonymous message board Kiwi Farms, which regularly leads harassment campaigns, including one that led to the suicide of a transgender woman. There were nearly 300 posts discussing the piece in Kiwi Farms' thread. There were also hundreds of comments in a Reddit thread about The Daily Caller's piece, further demonstrating that these forums can gin up misinformation campaigns and escalate them through right-wing media validators -- and that hoaxes continue to grow in the right-wing echo chamber, including back on the message boards.

These misinformation campaigns have real-world consequences

These anti-LGBTQ pedophile hoaxes have not just been limited to the internet; there have been several instances of this narrative causing real-world consequences in the last few years. Even political figures and regulatory agencies have fallen for these hoaxes, publicly sharing them on social media.

Twice over the summer, someone in Oregon posted fake flyers pushing the pedophile hoax. In late July, a "Pedophiles are people too" sign that included a pride flag appeared near an elementary school in West Linn, a Portland suburb. Conservative actor James Woods, who has more than 1.7 million followers on Twitter, posted an image of the poster on July 31, writing, "And so it begins…" On June 19, hundreds of fake posters advertising a "Central Oregon Gay Pride" sponsored by the National Association of Man-Boy Love (NAMBLA) -- a largely defunct pro-pedophilia organization -- appeared in Bend, OR. The posters used the acronym "LGBTQP" and wrote, "Bring the kids! XOXO." They also featured "a stolen image of an actual child — Instagram star, vogue dancer, and 8-year-old draganista Desmond is Amazing," according to LGBTQ outlet them. Desmond's mother, who runs his social media accounts, issued a statement in response, saying their family was "offended, angry, and yes, hurt." "The fake posters hurt our family intensely as well as many of his fans," she told them. "To know that someone would take a photo of a beautiful 8-year-old boy and use it as hate propaganda is shameful and despicable."

These misinformation campaigns have not been limited to the U.S. South Africa's Film & Publication Board, which regulates media in the country by classifying content with age guidelines, tweeted the 2017 "LGBTP" poster from its verified account last December. It retracted the tweet the following day and admitted it had fallen for "a hoax." In Brazil, the son of fascist President-elect Jair Bolsonaro posted the same fabricated poster days after The Daily Caller published its piece in July. He has not deleted the tweet.

EU vs Disinfo, a website run by the East StratCom Task Force created by the European Council "to address Russia's ongoing disinformation campaigns," wrote in August about a similar disinformation campaign in Serbia that targeted the European Union. Serbian outlets asserted that pro-LGBTQ legislation was "preparing the ground for legalising paedophilia" there. EU vs Disinfo noted that "equating sexual minorities to paedophilia is one of the frequent techniques of pro-Kremlin disinformation" and linked to a Serbian outlet's post that featured several of the "LGBTP" memes and images circulated on far-right message boards and other social media in 2016 and 2017.

Anti-LGBTQ groups and individuals have spent years smearing the LGBTQ community by associating them with pedophiles

Extreme anti-LGBTQ groups and individuals have long employed the myth that LGBTQ identities are linked with pedophilia to smear the community and fearmonger about equality. Alan Sears, founder of the influential and extreme anti-LGBTQ group Alliance Defending Freedom (ADF), called pedophilia and "homosexual behavior … often intrinsically linked" and falsely asserted that "there is a definite link as well between child molestation and later homosexual behavior" in his book The Homosexual Agenda. The 2003 book was on the recommended reading list for ADF's Blackstone Legal Fellowship program as recently as 2015. Family Research Council (FRC) President Tony Perkins has called pedophilia a "homosexual problem," and he falsely claimed that science shows "a correlation between homosexuality and pedophilia" in 2010. After the Boy Scouts lifted its ban on gay leaders in 2015, Liberty Counsel Chairman Mat Staver said the organization would become "a playground for pedophiles" and that there would be "all kinds of sexual molestation."

Anti-LGBTQ groups like these have major influence over local, state, and national policy debates as well as public opinion, and their work smearing the LGBTQ community by falsely linking it to pedophilia has certainly been effective over the last decades. But the recent coordinated effort from far-right message boards, right-wing outlets, and fake news purveyors helped bring one of their common narratives to a wider audience and spread the misinformation like wildfire. In today's fragmented media ecosystem, where anonymous users can organize misinformation campaigns that are heedlessly repeated by websites with no editorial standards, it's not hard to see how old myths can become new again.

Additional research by Brianna January.