The Six Worst Media Reactions To Hillary Clinton's Pneumonia Diagnosis
While attending a 9/11 memorial event in New York, Democratic presidential nominee Hillary Clinton felt "'overheated'" and left early, appearing "unsteady" as she entered her campaign van, NBC News reported, noting that she has been diagnosed with pneumonia. Some media figures used the episode to declare that Clinton was "as sick as a bitch" and "having a seizure of some kind."
Hillary Clinton Diagnosed With Pneumonia
NBC: Hillary Clinton "Diagnosed With Pneumonia," Left 9/11 Event Due To Feeling "Overheated." On September 11, NBC News reported that Democratic presidential nominee Hillary Clinton had been "diagnosed with pneumonia" by her doctor the previous Friday. The issue came up when Clinton was seen leaving a 9/11 memorial event early and "appeared unsteady as she departed in an SUV." The Clinton campaign responded to NBC News' inquiries by saying Clinton left due to feeling "overheated":
Hillary Clinton has been diagnosed with pneumonia, according to a note from her doctor put out by the campaign on Sunday.

The revelation came just hours after she abruptly left a Sept. 11 memorial service at Ground Zero in New York City where she appeared unsteady as she departed in an SUV. The campaign said in a statement that Clinton felt "overheated."

Nick Merrill, a spokesman for Clinton, said Clinton would remain at her home in Chappaqua, N.Y., to rest. A planned trip to California for events Monday and Tuesday was canceled, he said. [NBC News, 9/11/16 [1]] 
Right-Wing Media Have "A Cheshire Cat Grin" Because Clinton Is "Literally Ready To Drop Dead"
Drudge Report: "Will She Survive?"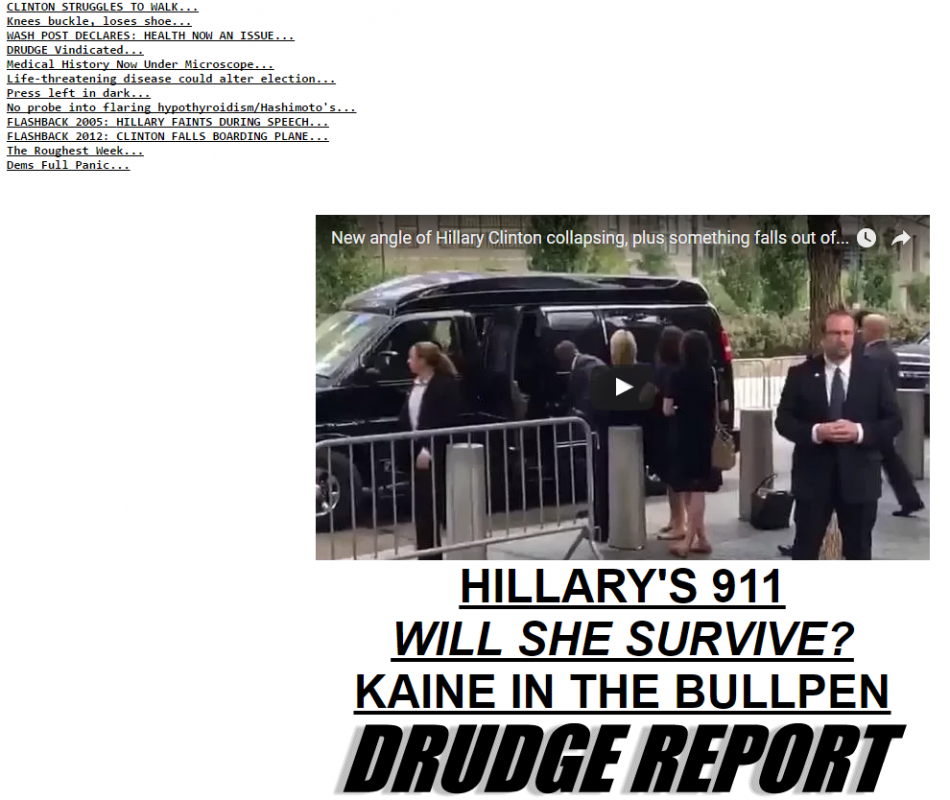 [Drudge Report, 9/12/16 [2]]
9/11 Truther Alex Jones: I Was "Just Literally In Ecstasy" Watching Clinton Illness Video Because The "Hand Of God Is Upon This." On the September 12 edition of his radio show, conspiracy theorist Alex Jones, an ally of Republican presidential nominee Donald Trump, said he'd "been containing a Cheshire Cat grin all day" over the video of Clinton leaving the 9/11 memorial event, and that it had him "literally in ecstasy" because the "hand of God" made Clinton ill:
ALEX JONES (HOST): Yes, I've been containing a Cheshire Cat grin all day long. My dad, we were out at the lake with the kids when this news came in. [Infowars reporter] Lee Ann [McAdoo] was texting me, so was [Infowars reporter Joe] Biggs. I went and saw the video. And I went, "Yeah! Yeah!" I was just like, just literally just in ecstasy. And my dad said, "That is horrible, celebrating over that sick woman even though I hate her too." And I went, "No, this is a devastating victory against the enemy and more of the avalanche of them being discredited and the hand of God is upon this." And it's only going to get better the more good people take action. That's why evil always fears us and does everything they can to try to contain us throughout history and suppress us because they're scared of us. Look at these hunchbacked demons. They're nothing. [Media Matters, 9/12/16 [3]]
Neo-Nazi Website Daily Stormer: "The Dog Is As Sick As A Bitch"; "She Is Literally Ready To Drop Dead." The Daily Stormer, a white nationalist hub that backs Trump, declared "sick as a bitch" Clinton was "literally ready to drop dead" and "may be in critical care before the election":
We made a mistake when we told you Hillary fit as a Japanese viola – turns out the dog is sick as a bitch.

[...]

After video of the collapse was released, they had to say something. So they come up with this pneumonia nonsense. She may or may not have pneumonia – she probably doesn't – but that isn't what's causing these problems.

I think she is literally ready to drop dead. She might be in critical care before the election.

Here's the thing: there is no way she is going to be able to do the debates. She is definitely in a whole lot worse shape than she was during the Bernie debates, and Bernie was a soft target. [The Daily Stormer, 9/12/16 [4]]
Radio Host Rush Limbaugh: "Her Head Is Bobbing Up And Down As Though She's Having A Seizure." Radio host Rush Limbaugh declared on his September 12 radio show that Clinton's "head [was] bobbing up and down" as she approached the van, "as though she's having a seizure of some kind." Limbaugh also speculated that her "neurological behavior -- the spasms, the seizures --" are signs of a hidden, more serious condition:
RUSH LIMBAUGH: The real point is how sick is she? How sick do they know she is? And are they not telling us the full extent of it? Haven't been any health records released, Bill Clinton's health records have never been released, so we don't know. He's been strangely absent during all of this -- I wonder why. The video that we saw is fascinating in that it looks like Mrs. Clinton -- it looks bad. It looks -- she falls. It looks like she faints and before that her head is bobbing up and down as though she's having a seizure of some kind. And people are holding her on each side of her. One woman, looks like her doctor, taking her pulse even as she's walking up toward where the van is going to eventually drive up and stop and pick her up. Then there's this near collapse and they just shove her in the van. 

They don't take her to a hospital, they take her to her daughter's apartment, where she emerges an hour and a half later, looking 200 percent better. I'd like to know what they gave her in that hour and a half. There's a lot of people that would like to access it.

[...]

Maybe they simply canceled the [fundraising] trip because they admitted she's got pneumonia and it would not make sense for her to get on an airplane and fly for five or six hours, and then get off and start doing a bunch of fundraising; that wouldn't look good after having told everybody she's got pneumonia. So maybe they're sitting her down just to make the diagnosis of pneumonia stick. But there are a lot of people who are very much concerned that it's much more than that. Because the fainting and the neurological behavior -- the spasms, the seizures -- are not things usually associated with pneumonia, even walking pneumonia. So that's the real question is just how bad is it? And how much are they continuing to keep from us? 

But put yourself in their shoes again now. They obviously -- this is the problem the Hillary team has. And I don't mean to exclude her from it -- she's the one suffering from whatever it is and it isn't good. She's on blood thinners to the extent -- this we know -- she's on blood thinners to the extent that if she falls and suffers a cut, it could be catastrophic. She's essentially on anti-stroke medicine. [Premiere Radio Networks, The Rush Limbaugh Show, 9/12/16 [5]]
Fox Host Brian Kilmeade: "Democrats Now Reportedly Considering A Replacement" For Clinton. On the September 12 edition of Fox News' Fox & Friends, co-host Ainsley Earhardt opened the show with "new questions surrounding Hillary Clinton's health." After fellow co-host Steve Doocy claimed that Clinton "passed out" at the 9/11 memorial, Brian Kilmeade speculated that the Democrats may be "considering a replacement" for her as their presidential nominee:
AINSLEY EARHARDT: New questions this morning surrounding Hillary Clinton's health.

STEVE DOOCY: That's right, the Democratic nominee now forced to cancel some campaign events out in California after she passed out yesterday at the 9/11 memorial as she was trying to get into the Scooby van.

BRIAN KILMEADE: It was stunning to see. The Democrats now reportedly considering a replacement? 

DOOCY: What? [Fox News, Fox & Friends, 9/12/16 [6]] 
WND's Joseph Farah: "The Attitude About Hillary Clinton's Health ... Went From Dismissing" Stories About It "As Nutty 'Conspiracy Theories'" To Treating The Issue With "Genuine Concern, If Not Panic." WorldNetDaily's Joseph Farah asserted that after Clinton left the 9/11 memorial event early, "the attitude about Hillary Clinton's health among the nation's 'mainstream' media went from dismissing them as nutty 'conspiracy theories' to genuine concern, if not panic." From the September 11 post:
In the blink of an eye Sunday, the attitude about Hillary Clinton's health among the nation's "mainstream" media went from dismissing them as nutty "conspiracy theories" to genuine concern, if not panic.

A series of uncontrollable coughing fits during public speeches didn't do it.

Compelling video of apparent, inexplicable seizures didn't do it.

The opinion of nationally recognized medical authorities didn't do it.

Virtually none of that was even reported by what we euphemistically call the "mainstream" media.

But when Mrs. Clinton prematurely left a memorial service marking the 15th anniversary of 9/11 in New York City, walking gingerly and collapsing as aides tried to get her into a van, the dam of silence collapsed. [WorldNetDaily, 9/11/16 [7]]
Posted In

Network/Outlet

Person

Show/Publication

Stories/Interests