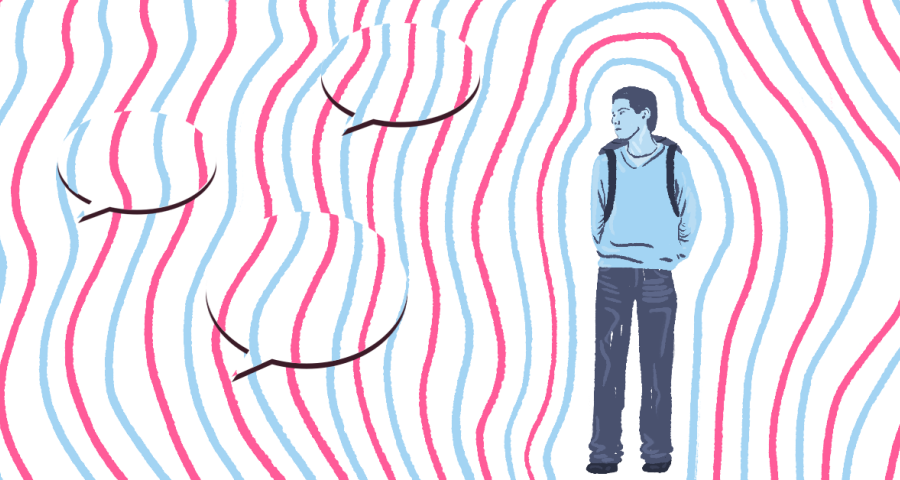 Research/Study
Virginia TV news failed to explain why it was wrong for a fired teacher to repeatedly misgender a trans student
Outlets framed coverage around concern for his job rather than the student's well-being
Virginia TV news stations dedicated 90 segments to a story about an anti-trans high school teacher who was fired for repeatedly misgendering a student. The school board deemed those actions discriminatory; however, the news segments included considerably more voices in favor of the teacher than the trans student, and all failed to mention why misgendering someone is demeaning or harassing.

On October 31, Virginia high school teacher Peter Vlaming was placed on administrative leave for refusing to identify a transgender student by his proper pronouns. According to The Associated Press, "Vlaming told superiors that his Christian faith prevented him from using male pronouns for the student," and the West Point School Board voted unanimously to fire him for repeatedly violating the district's anti-discrimination policy after a public hearing on December 6. Following the board's decision, students and parents held a walkout and began circulating petitions in support of Vlaming, which have collectively garnered more than 15,000 signatures. Vlaming is considering legal action against the school district.

Coverage failed to note the harms of misgendering trans people

Despite extensively covering the story with 90 segments between December 4 and 12, not a single anchor or reporter explained why misgendering a trans student would be considered harassment or noted that those actions stigmatize trans folks and erase their identities. However, 33 of those segments did include language that Vlaming's actions were "hostile" or "threatening"  -- nearly all of which were from one of two short clips of school administrators speaking during the hearing.

For instance, several stations aired a clip of Superintendent Laura Abel testifying that "by failing to follow the directive" to refer to the student by the correct pronouns, Vlaming was "discriminating" and "creating a hostile environment." Stations also aired a clip of the school's Principal Jonathan Hochman during the hearing, saying, "I can't think of a worse way to treat a child than what was happening. That was very threatening."

GLSEN, an LGBTQ-inclusive education advocacy organization, defines misgendering as "the experience of being labeled by others as a gender other than one that a person identifies with." Misgendering not only invalidates the identities of trans people, but it can also have negative effects on their self-confidence and mental health. Trans adolescents already experience high levels of attempted suicide -- particularly transgender boys and nonbinary young people -- but a March study by researchers from the University of Texas at Austin found that "when transgender youths are allowed to use their chosen name in places such as work, school and at home, their risk of depression and suicide drops."

School districts and states around the country have adopted affirming policies to respect trans identities and to condemn bullying based on gender identity or sexual orientation. GLSEN's Model School District Policy on Transgender and Gender Nonconforming Students encourages schools to respect students' names and pronouns to improve their experiences and reduce the harms caused by non-affirming practices like misgendering.

Tech companies have also passed similar policies to prevent anti-trans harassment on social media platforms. In September, Twitter banned "targeted misgendering or deadnaming of transgender individuals" as part of its "hateful conduct" policy, acknowledging that those practices are meant to "dehumanize, degrade or reinforce negative or harmful stereotypes." Media Matters' Parker Molloy praised the decision in a November 29 op-ed for The New York Times, noting that misgendering and deadnaming are used to deligitimatize trans identities and can discourage trans people from voicing their opinions:

As a transgender woman, I find it degrading to be constantly reminded that I am trans and that large segments of the population will forever see me as a delusional freak. Things like deadnaming, or purposely referring to a trans person by their former name, and misgendering — calling someone by a pronoun they don't use — are used to express disagreement with the legitimacy of trans lives and identities.

Defenders of these practices claim that they're doing this not out of malice but out of honesty and, perhaps, even a twisted sort of love. They surely see themselves as truth-tellers fighting against political correctness run amok. But sometimes, voicing one's personal "truth" does just one thing: It shuts down conversation.

Virginia TV news coverage featured considerably more statements in support of the anti-trans teacher

In addition to framing their coverage around Vlaming's firing instead of how such harassment is harmful to students, Virginia TV news stations also aired considerably more statements that were sympathetic to the anti-trans teacher than the trans student. Virginia stations covered the story a total of 90 times between December 4 -- when station WRIC (ABC) says it broke the story -- and December 12. Throughout those segments, there were 82 clips of quotes or statements read in favor of Vlaming compared to 52 clips of quotes or statements read in favor of the student or the school board's actions holding Vlaming accountable. (Repeated instances of the same person being quoted in one segment were counted as one statement.)

Melissa Joskow / Media Matters 

Furthermore, while the majority of clips supportive of the student came from repeated airings of two short clips of school officials speaking at the hearing or readings from official school district statements, many segments showed lengthy or multiple clips of Vlaming, his lawyer, and students defending his actions. For example, a segment on WVEC 13 featured multiple clips of a student supportive of Vlaming interspersed throughout the segment.

From the December 6 edition of WVEC's 13News Now:

Only one segment included a quote from a parent, friend, or student supportive of the trans student at the center of the case, which was read by a reporter on WRIC's 8News. Additionally, stations aired five quotes that appeared neutral to the story, either calling for more discussion, describing the events, or saying that the situation was not good for either side.

WAVY-TV 10 had particularly one-sided coverage, airing 18 statements or quotes in favor of Vlaming throughout 15 pieces of coverage compared to only 7 statements or quotes in favor of the student or school board's actions.

Similar cases have emerged that are being supported by extreme anti-LGBTQ group Alliance Defending Freedom

While Vlaming's story plays out in Virginia, several similar cases around the country are already being supported or litigated by the influential and extreme anti-LGBTQ group Alliance Defending Freedom (ADF). In November, ADF attorneys announced that they had filed a federal lawsuit representing Nicholas Meriwether, a Shawnee State University professor who received a formal warning for not using the appropriate pronouns to address a transgender student. Additionally, an ADF-allied attorney said in June that the group was working with an Indiana high school teacher who also cited his religious beliefs for refusing to address transgender students by their appropriate names and pronouns.

As Vlaming considers legal action and Virginia TV news stations continue to cover developments in his case, it is more important than ever that media contextualize the harms of misgendering trans people and give them a voice in these stories.

Methodology

Media Matters searched iQ media for any mentions of "school," "teacher," "Virginia," "fired," "transgender," or "trans" within 25 words of "pronoun," as well as any mentions of "Peter Vlaming" or "West Point High School" from December 4-12 in all media markets serving Virginia: Norfolk-Portsmouth-Newport News; Richmond-Petersburg; Roanoke-Lynchburg; Harrisonburg, Charlottesville; Tri-Cities, TN-VA; Washington, D.C.-Hagerstown; Bluefield-Beckley-Oak Hill; Greensboro–High Point–Winston-Salem; and Raleigh-Durham (Fayetteville).

Additional research by Brennan Suen.