Far-right media smear Democratic women wearing suffragette white at State of the Union by comparing them to the KKK
After dozens of Democratic congresswomen wore "suffragette white" to the 2019 State of the Union address, some far-right media figures smeared them by comparing them to the Ku Klux Klan.
Rep. Lois Frankel (D-FL) wrote on Twitter that she and some of her colleagues were wearing white outfits to "honor all those who came before us & send a message of solidarity that we're not going back on our hard-earned rights!"
Far-right media seized on the pro-women's rights action by depicting the congresswomen as members of the KKK.
Far-right troll Jack Posobiec wrote, "I haven't seen so many Demcorats (sic) dressed in white since Republicans freed their slaves":
During an Infowars broadcast covering the State of the Union speech, a doctored image depicted Klan hoods on the congresswomen while host Alex Jones said, "You wait until those women are running the country for foreign banks and the Chicoms and up against the Russians and everybody else. I mean, my God. Look at them. I mean, this is pathetic."
Other Infowars personalities made similar claims on Twitter.
Ann Coulter promoted a tweet from right-wing New York radio host Mark Simone that depicted the women as wearing Klan hoods: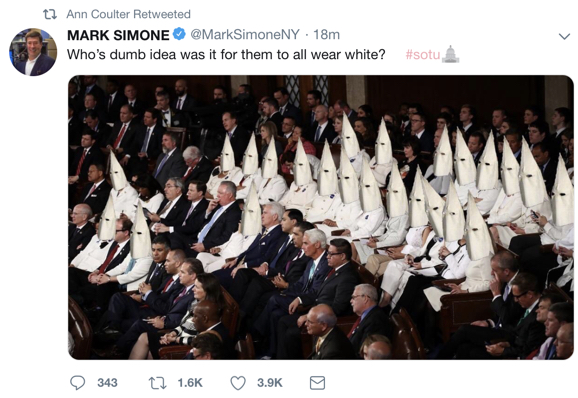 Turning Point USA's Richard Armande Mills wrote, "All they're missing are hoods and grand-wizard [Virginia Gov. Ralph] Northam to lead the way."
Pro-Trump YouTuber Joey Salads also likened the congresswomen to the KKK: